Courtesy Photo/Taresa Anthony

CCUSD still needs to justify K-3 override
By Linda Bentley | August 19, 2009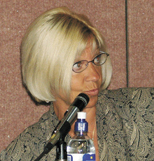 District double-dipped all-day kindergarten funding while increasing superintendent's pay by more than 30 percent

CCUSD – Looking back at the last five years of annual reports submitted to the state by Cave Creek Unified School District, which begins with July 2003 and ends with June 2008, one thing in particular stands out and that's the superintendent's salary.

MORE ...

Minuteman president linked to property tax scam
By Linda Bentley | August 19, 2009
PHOENIX – On Aug. 14, Arizona Attorney General Terry Goddard announced he had filed a complaint and obtained a temporary restraining order to stop the perpetrators of an alleged fraud that claimed property owners qualified for a "property tax reduction review."

Minuteman Civil Defense Corps (MCDC) President Carmen Mercer, pictured at a border watch operation at Three Points, Ariz., has been implicated in a property tax scam.

MORE ...

Backyard visitor in Scottsdale
August 19, 2009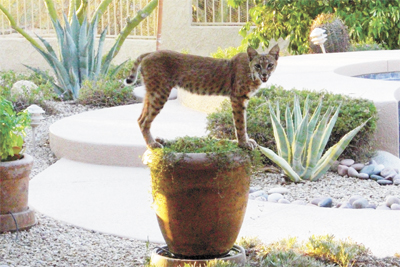 This beautiful bobcat, a frequent visitor in the Broussard's backyard, was photographed last Wednesday in Scottsdale. He drank water from their pool and then jumped up on a plant pot.



Courtesy Photo/Deb Broussard

Stubborn old men whittling away at scarce town resources
By Linda Bentley | August 19, 2009
CAVE CREEK – Neighbors Kenneth L. DePue, 66, and Jimmy P. Moore, 71, who reside in Petite Acres trailer park at 6800 E. Cave Creek Road, became engaged in a fist fight back in March in the middle of the trailer park.

MORE ...

A sign of the times

August 19, 2009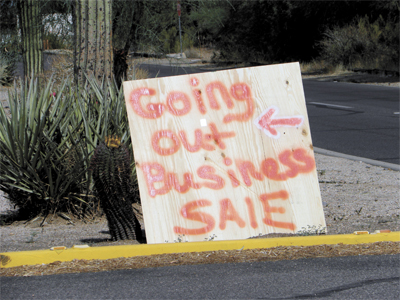 This sign propped up in the median on Cave Creek Road last week reflects the harsh reality of our current economic times. There is nothing government can do to keep mom and pop shops from going out of business across the country.
Photo by Linda Bentley