PVCC at Black Mountain now open
August 19, 2009
Enroll now! Classes begin Aug. 24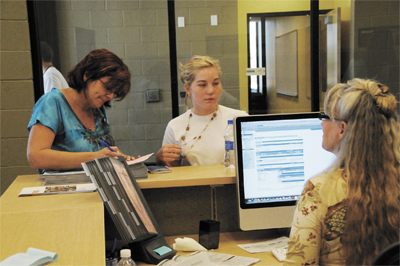 Registration for fall semester classes at Paradise Valley Community College at Black Mountain is underway. Fall classes begin Aug. 24 at the new education site located just south of Carefree Highway on 60th Street.

"Paradise Valley Community College at Black Mountain is the first partner to open its doors in the Black Mountain Campus, a multi-generational facility providing lifelong learning opportunities, community services plus health and wellness programs," says Jacalyn Askin, vice president of Administrative Services at PVCC. "This project will serve as a model for collaborative endeavors nationwide. By consolidating resources, the partners – PVCC, the Desert Foothills Family YMCA and the FCF (Foothills Community Foundation) – are able to bring to the Northeast Valley a remarkable gathering place for people of all ages to exercise both their minds and bodies."

All three partners are joining in for a Grand Opening celebration on Oct. 17.
The fall 2009 schedule of credit and noncredit classes offered at Black Mountain has been mailed to neighboring zip codes. The class schedule also is available at Cave Creek, Anthem and north Phoenix libraries, area retailers and schools. Interested students also can view the class schedule online at www. paradisevalley.edu/sc. Click on the Black Mountain button on the right end of the menu bar at the top of the screen.

Site Coordinator Loretta Mondragon invites the community to stop by PVCC at Black Mountain for on-site registration, advising, placement testing and new student orientation. Or, register for classes online at www.mymaricopa.edu.

Textbooks and supplies may be ordered online at www. pvc.maricopa.edu/bookstore/
The list of classes offered this fall, both credit and non-credit, is impressive and the site is easy to use. Registration options include online, operator assisted (phone), fax, mail and walk-in. Tuition is reasonable and financial aid is available.

For more information about PVCC at Black Mountain, call 602-787-6700 or go to
www.paradisevalley.edu/blackmountain.

Paradise Valley Community College at Black Mountain is located at 34250 N. 60th St. Founded in 1985 at Union Hills and 32nd Street, PVCC has an annual enrollment of more than 14,195 students and an additional 6,000 students enrolled in non-credit and continuing education programs.

Courtesy photo: Jessica Kaiser, 17, a junior at Cactus Shadows High School, registers for English and American Literature classes at PVCC at Black Mountain with her mother, Lori. "It's more affordable to the parents," Lori Kaiser said of the community college's dual enrollment program with the high school. "We're encouraging her to take as many classes as she can now."
DFL Friends donate books to Navajo schools


August 19, 2009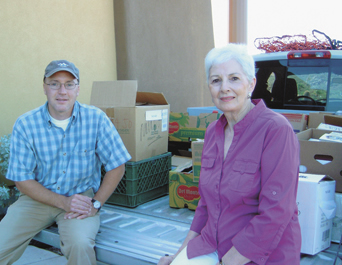 CAVE CREEK – The Friends of the Desert Foothills Library have donated several boxes of used books to the school children and families living in Kayenta, Ariz. on the Navajo Reservation. Dennis Preisser, the librarian for the intermediate and high school in the town, is delighted and grateful for these donations which have been ongoing every three months or so. He holds book fairs and other events, awarding the books to students who then take them home and share with their families and community members. Merilyn Volkmann, president for the Friends, spoke for the book sale co-chairs, Marilyn Law, Ashley and Thomas Whittington and the volunteer group about these generous gifts. "We are so blessed with book donations at the library. This gives us the ability to donate to many other groups that can use the books." Some of those groups have been soldiers in Iraq, visiting nurses, public school libraries and senior centers.

The Friends of the DFL hold monthly book sales on the first weekend of each month at the library. These reasonably priced and bargain books are also available every day during the library hours in the Friends Book Store. For more information visit www.desertfoothillslibrary.org or call 480-488-2286.

Courtesy Photo
American Legion Post #34 Auxiliary to host fundraiser spaghetti dinner on Aug. 25
August 19, 2009
Includes Care Packages from Home drive and send-off barbeque

CAVE CREEK – The American Legion Post # 34, in Cave Creek is "Adopting" the 2/285th Avn. (Aslt) Arizona Army National Guard. The Post will help in supporting the morale of the unit prior to deployment with a send-off barbeque, care packages, send-off bags, helping families in need while the troop is away, a welcome home dinner when they return and continuing support thereafter.

The Aug. 25 fundraiser is from 5 – 8 p.m. at American Legion Post #34, 6272 E. Cave Creek Road. The $10 per person cost includes an all you can eat spaghetti dinner. Drinks are available at an additional charge. Don't forget the door prizes! All funds raised after expenses will go toward support of the 2/285th Avn. (Aslt) Arizona Army National Guard. The project is a joint effort of the American Legion Post #34, The Sons of the American Legion, the Ladies Auxiliary, and the Cub Scouts all of Cave Creek.

The drive is being chaired by Post Vice Commander Leo Reardon working with members Joyce Berish, Pratt Ashworth, and Bob Knox, and Steve Halasz.

Local grocery store Albertsons is donating 700 hotdogs and buns, and Bashas' workers are volunteering their time to help cook and serve the troops for the BBQ. Volunteers are needed.

The American Legion Post will have a collection barrel for donations to the "Care" Packages.
List of items needed.

For more information contact Service Officer Steve Halasz at 480-329-7670 or vice Commander Leo Reardon at 480-595-6088. To volunteer for events contact Bob Knox at 602-568-2031.