"Cheering" for a brave teammate
By Pete Mohr | August 19
, 2009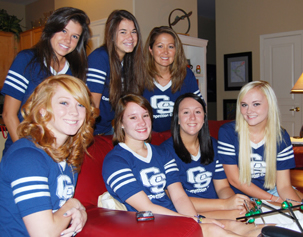 Courtesy Photo: Last Thursday, Aug. 13, Cheer's Head Coach Rika Cuff and her five captains visited Ali: (front, l-r) Kacey Lowry, Bailey and cast! Jaime Varner, Amber Howell; (back, l-r) Kendall Warren, Coach Cuff.


CAVE CREEK – Warning! This article is not for the squeamish; but it is one of incredible physical courage and indescribable surgical skills that deserves to be told, albeit belatedly.

Late morning, Friday, July 3: Creeker Ali Bailey, 16, a rising CSHS junior and member of Varsity Cheer, was jet skiing in tandem with a friend on Lake Bartlett. The wake from a boat in front of them caused the two jet skis to horribly collide, knocking Ali into the water. She recalls, "From the limpness of my leg, I knew right away that my femur was broken; but when I surfaced, I realized that my left ankle and foot were barely attached to my lower leg. I could see my ankle bone sticking out." Holding on to her ankle and foot, Ali somehow managed to climb aboard the companion ski, and was then helped onto a boat from which she was transferred to a Maricopa County Sheriff's Office Rescue Unit that took her to shore. There a paramedic team, responding to 911, stopped the bleeding and stabilized her all-but-severed extremity for air evacuation to St. Joseph's Hospital.

Immediately, Ali was rushed into surgery for over five hours, her orthopedic trauma team brilliantly led by Dr. Maftali Attias. One week later, Dr. Joseph Zoldos boldly grafted a muscle from her inner thigh to strengthen her ankle. Thanks to Drs. Attias and Zoldos and their teams, Ali Bailey will walk again! Mom Shelly and Dad Scott: "There is no way our family can adequately express our thankfulness and appreciation to everyone who helped save Ali's ankle and foot."

Ali convalesces (as patiently as possible!) at home, looking to November before she can put any pressure on her left foot. She gamely faces the prospect that it may well take up to two years before she walks again. CCUSD is supportively providing home-bound schooling that will enable Ali to complete her junior year on-schedule.

Sonoran News, in a misfiring attempt at humor: "Well, young lady, I guess I won't be seeing you at the Spirit Line Championships next January." Her reply (which I deserved): "Oh, no. I'm going – just not competing."

Coach Cuff: "We already miss Ali; but her fantastic courage will be a lifelong inspiration to all of us! And, of course, she'll be on the sidelines with us at all home football games."

Ali Bailey, may God continue to bless and heal you!
Air Falcons debut Aug. 27
By Pete Mohr | August 19, 2009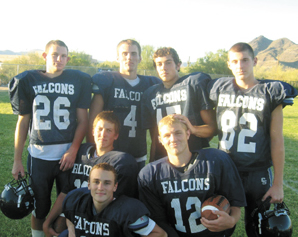 How the Falcon Air Corps could smile for this photo-op after practicing Monday, Aug. 17, in 105-degree temps is a testament to their improving conditioning, which Head Coach Chad DeGrenier and his staff are counting on to make a 4th quarter winning difference this season.

Falcons won't play at home until Friday, Sept. 25 (Homecoming vs. Paradise Valley); but you can see 'em debut their Air Show at Falcon Field, Thursday, Aug. 27, in a 6 p.m. scrimmage against Coronado.

Standing, l-r receivers Max Gersh, Brady Dombrowski, Tommy Murphy, John Leonard; (middle, l-r) quarterbacks Paul Walsh, Dillon Classen;
(foreground) receiver/return man Joree Schneider.

"One if by ground, two if by air!"
~ Paul Revere
STS Foundation Receives 2009 Best of Scottsdale Award
August 19, 2009

WASHINGTON D.C. – STS Foundation has been selected for the 2009 Best of Scottsdale Award in the Charitable Organization category by the U.S. Commerce Association (USCA).
The USCA "Best of Local Business" Award Program recognizes outstanding local businesses throughout the country. Each year, the USCA identifies companies that they believe have achieved exceptional marketing success in their local community and business category. These are local companies that enhance the positive image of small business through service to their customers and community.

STS Foundation has been placing and supervising teenage international exchange students across the USA since 1986. The company hopes to place nearly 400 students for the 2009-2010 school year.

Secondary school exchange programs have been part of our culture in the USA since 1949. Today, about 30,000 exchange students visit our shores for a semester or a full year program. Programs like STS Foundation help foster international relationships and goodwill in communities across the USA each year. The goodwill exhibited by families willing to host is essential in maintaining the success of the program.

STS Foundation has a diverse pool of student coming from over 25 countries around the world. The students are interviewed in their home countries and only those that exhibit the highest academic standards and moral character are chosen for the program. Once the students have been accepted on the program, local representatives across the USA begin interviewing prospective host families. The screening processes for host families are standard across many exchange programs. Host families are responsible for providing meals and a nurturing and caring environment for the students. The students themselves are responsible for having medical insurance and pocket money while on the program.

Various sources of information were gathered and analyzed to choose the winners in each category. The 2009 USCA Award Program focused on quality, not quantity. Winners are determined based on the information gathered both internally by the USCA and data provided by third parties.