Baby, it's hot outside
By Leslie Nichols | August 12, 2009
Last month was the hottest month on record. August may prove to be a scorcher as well, which means that your horse will continue to be miserable in this heat.

There's a lot published on how to help your horse beat the heat. However, if I can sum up the one thing Arizonans need to think about in this heat, it would be: water.

The normal water intake for horses is 8-10 gallons of water a day … but there's nothing normal about living in the Sonoran Desert! My horses are drinking 20 or more gallons a day this summer. Expect your horse to double what he normally drinks the rest of the year.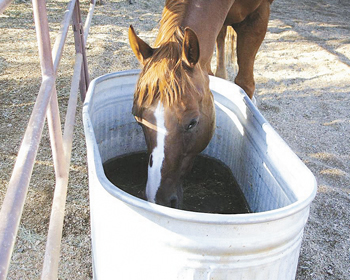 Courtesy Photo/Leslie Nichols: Be sure your horse has unlimited access to cool water in these last weeks of summer.
Putting out water isn't enough, It must be unlimited and it must be cool. Unlimited means either an automatic waterer or a tub that never goes empty.
Cool water. This means your horse is drinking from inside a cool barn, his bucket is filled every several hours, or he is drinking from a very large trough. Put your hand in his water.
If you could take a bath in it, chances are good your horse is sipping not drinking this water.
Worse yet, warm water grows algae overnight. Your horse may not like the taste or smell of it so summer troughs need to be cleaned often. Steel water troughs located in the sun get very hot; add cool water often, or cover it with shade.
Watch your pasture herd for water bullies. Young and older horses tend to wait in the rear until the coast is clear and what is left may be warm, taste funky or be inadequate.
If you can, rinse down your outdoor horse in the afternoon, but let him roll in the dirt because the mud will protect his skin from the heat. Before you work your horse, rinse down his body. After your work out, rinse him, scrape off the now very warm water, and then rinse again. Repeat a third time if possible.
Cooler temps are just around the corner. Until then keep the (cool) water flowing and your horse should do fine.
Friendly family oriented training and teaching program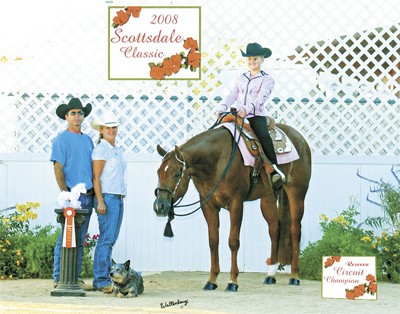 SR Tucker is determined to pamper you and your horse! Please visit them at their beautiful new location, The "Cool" Winter Rose, 6740 E. Jomax Rd. Specials on lessons and training/beginner to competition level welcome. Visit their website at www.SRTuckerQuarterhorses.com, call 602-677-9506 or e-mail Stacy at tuckerquarterhorse@msn.com. SR Tucker Quarter Horses, LLC – Over 30 years in the horse industry!