Coach DeGrenier's Football "Leap of Faith" has paid off
By Pete Mohr | August 12
, 2009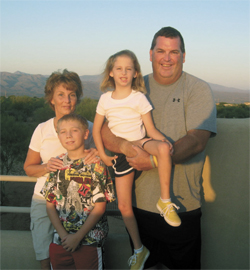 Photo By Pete Mohr: "FAMILY COORDINATOR" Sara Bradshaw, husband Matt, with Parker, 11 and Kendall, 7
CSHS – Over his soon-to-be (Oct. 4) 42 years, Matt Bradshaw has been the beneficiary of two significant "leaps." The first occurred in 1992, when lovely client Sara Nelson of (then) Salt Lake City's Smith Foods took a "leap of love" by marrying Interwest Brokerage's handsome young salesman!

They moved to The Valley two years later, where Sara Bradshaw would become the "right arm" of a Tempe-based producer/broker of specialty food products. Matt Bradshaw continues his "day job" with Interwest, a family-owned enterprise. He's successfully "moonlighted," 2005-2008, as defensive coordinator for the Football Falcons. The Bradshaws' "joint venture" is raising Parker, 11, and Kendall, 7, sixth and second graders, respectively, at Pinnacle Peak Elementary.

In 2005, Head Coach Chad DeGrenier, critically in need of a defensive coordinator after the embarrassment (for which he was not responsible) of the previous season's 0-10 disaster, took a "leap of faith" (Bradshaw's term) by accepting Assistant Coach Chris Frederiksen's introduction and enthusiastic sponsorship of Bradshaw and hiring the Utah native, who had played varsity football (offensive lineman) and baseball at the University of Utah.

Bradshaw's defense philosophy is simple: "I coach an 'attacking' defense: that is, attacking the gaps. There isn't a down or a situation I won't blitz on." He quickly won Coach DeGrenier's confidence: "Chad does the 'O,' I do the 'D'. And when he's not here, he asks me to stand in for him. I always feel complimented to do so."

In 2005, the first DeGrenier-Bradshaw season, the Falcons broke even at 5-5 and made the 4A State Playoffs, narrowly missing an upset of #4-seeded Queen Creek. Postgame, "Coach D." confidently promised his emotionally-exhausted warriors, "Next year, fellas, we're going to win the State Championship."

And they did, thanks in no small part to the emergence of "The Bradshaw Bad-Asses", led by (seniors) defensive end Trace Stephens and middle linebacker Sean January. In their 15-game 2006 State Championship season, the "D" posted four shutouts, yielding 135 total points, 9 points per game average!

In 2007 and 2008, the north Scottsdale "Bear" would be the first to acknowledge that his defense lacked both consistency and intensity. Can they, will they, regain both in 2009? He answers, with objectivity, "We've got talent. I see more intensity, more excitement in the kids; but we've got to keep working hard on fundamentals and discipline. My job? To prepare the defense as best I can – and make sure there are no surprises!"

Congratulations to Defensive Coordinator Matt Bradshaw, Sonoran News' 2008-2009 Boys Coach of the Year.
"Ozzie" to S.F. Bay!
By Pete Mohr | August 12, 2009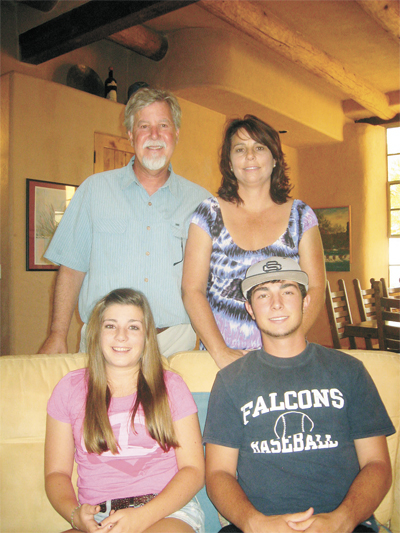 Photo By Pete Mohr: My apology to Austin Edwards (CSHS '09) and his parents, north Scottsdalians Kevin and Stacy Edwards, for the area code snafu that delayed publishing "Ozzie's" good news. On Aug. 24, he'll report to Patten University, Oakland, Calif., where he'll compete to play second base for Coach Darren Wright's Lions, a Division I member of N.A.I.A.'s Cascade Collegiate Conference. Sister Hollis, 15, a sophomore, stays home to take the field for Head Coach Danica Gianni's Lady Falcons next spring. "I'm really excited!" Edwards told Sonoran News. "Going to college in the (San Francisco) Bay area's going to be awesome!" The Edwards credit former Oakland A's catcher Rafael Melchione (Arizona Core Baseball, Gilbert) for successfully bringing their son to Coach Wright's attention. Falcon fans will remember that at Falcon Field, last March 22, "Ozzie," who'd make 2nd Team All-Region, got Chaparral's attention with a two-run homer in the bottom of the 1st that jump-started the 'Birds to an historic 14-4 "mercy rule" victory over the Chappies. Congratulations, "Oz," and good luck!
~ Pete Mohr
Paradise Valley Community College
August 12, 2009

Paradise Valley Community College has named Jon Levy as the new Men's Coach for the Pumas' Golf Program. Formerly the Men's Golf Coach at Scottsdale Community College from 2003-2007, Levy led the Fighting Artichokes to four-consecutive ACCAC titles during his tenure, as well as 5th, 5th, 8th, and 1st place finishes in the NJCAA DI National Championship. He also garnered NJCAA National "Coach of the Year" honors after his final '07 season before taking a position with the Phoenix-based Gateway Tour, where he has served as the Director of Communications since January of '07.

"It's exciting to have Jon be a part of our department and golf program," said PVCC Athletic Director, Greg Silcox. "He brings a wealth of experience, knowledge, and contacts within the golf world along with him, so we are extremely fortunate to have him join us as his resume and track record at Scottsdale Community College speak for themselves."

"Most importantly though, it is our student-athletes who will benefit from Jon's involvement, so we look forward to the positive changes that will come to the program with his arrival," said Silcox.

Prior to coaching at SCC, Levy played professional golf for five years on various mini-tours before coming to the Phoenix area and assuming the role as the head instructor at Rio Salado G.C. in Tempe. He is 32-years old and resides in Scottsdale.