Late Breaking News
Maricopa County Sheriff's deputies responded to a call Tuesday morning reporting a body under a tree in a wash area of the 5700 block of E. Saguaro Road in Cave Creek. The badly
decomposed body was identified as a local man in his 70s. A spokesperson for MCSO said a neighbor identified the man but said MCSO could not release his name pending notification of next of kin. The cause of death has not yet been determined, although foul play is not suspected.
Water conservation encouraged through dry, hot spell
By Linda Bentley | August 5, 2009
'We're selling more water than we can produce'
CAVE CREEK – Mayor Vincent Francia announced the next council meeting will be held on Sept. 21.

During Call to the Public, Utilities Manager Jessica Marlow cautioned because of the dry, hot spell we've been having, devoid of monsoon rains, the town was selling more water than it could produce and storage was down to 40 percent.

MORE ...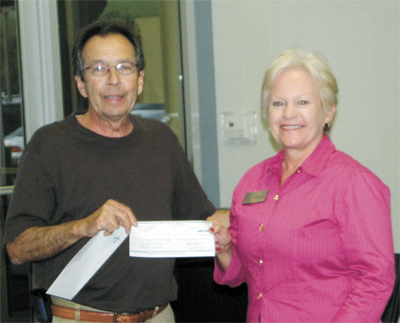 Vincent Francia presented Desert Foothills Library Director Kris Bishop with a check for $45,124 on Monday, a result of the town having entered into the Maricopa County Reciprocal Borrowing Program, which enables all county residents in participating cities and towns to use other participating libraries without incurring a library card fee.
Photo by Linda Bentley
Accusations fly over Carefree's Eight Sundial Circle purchase
By Curtis Riggs | August 5, 2009
Tension high as the new and the old Council Square off
CAREFREE – Tension and hard feelings have been simmering since the Eight Sundial Circle purchase late last year boiled over at Tuesday's town council meeting.

Present and former councilmen raised accusations of rushing to purchase the now vacant building for $850,000. The discussion was marred by claims of finger pointing and laying blame among new and former council members.

MORE ...
Call for new blood on P&Z thwarted by town hall recount
By Curtis Riggs | August 5, 2009
Hitchon survives confusion
CAREFREE – For the briefest of moments it appeared the town council had ushered in real change on Monday evening by appointing four new Planning and Zoning Commissioners.

MORE ...

Return to post office sends recall numbers skyward

By Curtis Riggs | August 5, 2009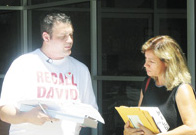 Getting ready to take effort to next level
CAREFREE – The Recall David Schwan campaign has picked up momentum since organizer Ryan Ducharme was allowed to resume collecting petition signatures at the Carefree Town Hall/Post Office last week. He intends to collect many more signatures than the 203 he is required to submit by Oct. 26 to force a March 2010 recall election.

MORE ...
Strange and beautiful plant

August 5, 2009

An "Arizona Queen of the Night" cactus (peniocereus greggii) growing under a mesquite tree in North Scottsdale bloomed the night of July 27-28. This plant is an uncommon oddity native to Arizona and Sonora, Mexico, but it is not particularly rare.

It typically lives under creosote bushes or trees, which provide support, protection and camouflage for the stems that can grow to 10 feet.

Like many night-blooming cacti, the fragrant flowers typically open in June and only last one night. They are followed by a 3 inch long red fruit.

Probably the most unusual aspect of this strange plant is its huge, ball-shaped root tuber, which supposedly can reach upwards of 100 pounds.
Photo and caption submitted by Anne Prine