Leonard Suarez new to CSHS, but an experienced A.D.
By Pete Mohr | August 5
, 2009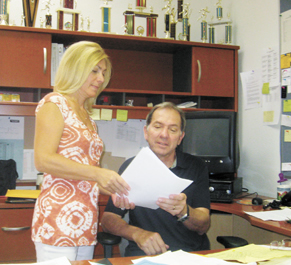 Photo By Pete Mohr: Athletic Department Secretary Bonnie Nystrom at the desk of her new boss, Athletic Director Leonard Suarez.
CSHS – The search for a new athletic director to replace the departed Dale Nicol dragged on (tortuously) (interminably). Pick your adverb. To my frustrated complaints, (then) Principal Gay Leo kept responding. "We have to go through the process."

Tuesday evening, July 14, 2009, the CCUSD Governing Board confirmed Steve Bebee as new Cactus Shadows principal. Only nine nights later (July 23), Bebee telephoned Tucsonian Leornard Suarez to offer him the CSHS athletic directorship, for which Suarez had interviewed earlier in the day before a search committee … comprised of Bebee, Assistant Principal Rick Swearingen, Boosters President Ruth Varner, Men's Club President Tim Collins and "Dean" of Falcon Coaches Patty Egan. No "Educrat" tedium in that decisiveness! Hooray!

Suarez, approaching his 61st birthday, had "retired" from Tucson's Sunnyside High School, a perennial sports power, in December 2008 after seven years as an assistant principal and athletic director. "I've spent my entire life in athletics," he volunteered to Sonoran News.
"When I saw the Cactus Shadows position on A.I.A.'s website, I contacted Principal Bebee on July 20 to ascertain if the position were still available. From a distance, I'd seen Cactus Shadows grow from 2A to 4A, and [unknown to Bebee] I'd admiringly known my Cross Country and Track colleague, Patty Egan, for many years. I'm humbled – and very pleased – to be here."

Suarez graduated from NAU in 1971 (B.A., Social Sciences Education, with a minor in Physical Education), where he captained Cross Country. While teaching and coaching at his Bisbee High School alma mater (1971-2000), Suarez earned his Masters in Secondary Education from NAU in 1979 and received his principal's certificate from University of Phoenix in 2001.

Suarez, initially, will be "watching, observing and listening," while facing the immediate priority of bringing on board a new coach for Boys Golf. Baseball, Boys Soccer and Girls Tennis are waiting in the wings. Suarez: "I'm looking for dedicated coaches who'll help make Cactus Shadows an all-around athletics leader."

Suarez and his wife, Maria, are proud parents of three adult sons: Jeff, Leonard Jr. and Kevin. For the immediate future, Suarez will reside with Leonard Jr. in Chandler.

I was about to exit our July 29 interview, when Suarez, almost as an afterthought, quietly disclosed that he is a member of two Hall of Fames: Arizona Track and Field and Cross Country Coaches Association (1998) and Arizona Athletic Administrators (2001).
Welcome and best wishes, Leonard Suarezes!
"Falcons of a feather ... room together!"
By Pete Mohr | August 5, 2009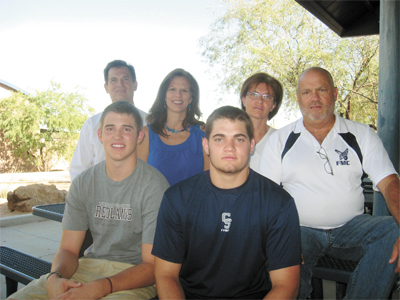 Photo By Pete Mohr


And that's what former Falcons Nick Bennett and Anthony Stephens, both CSHS '09, will do at The University of Redlands (Redlands, Calif.), where they'll play football for the Division III "Bulldogs." Reporting day is Aug. 20. Both expect to line up at their familiar positions: Bennett, offensive tackle and Stephens, running back. Stephens was the "workhorse" for the '07 Falcon offense, but was slowed his senior season by a hamstring injury and two high ankle sprains. Bennett started every game last season at OT and was the back-up center for the varsity Basketball Falcons. Bennett (left foreground) and Stephens, with their respective parents:
(l-r) George and Carol Bennett and Louise and "P.J." Stephens.

Good luck, guys! ~ Pete Mohr
Cactus Shadows High School Alum and UA Student, Rona Zhou, studies "hidden" virus
Tucson – Rona Zhou, a University of Arizona (UA) student, is taking advantage of an opportunity to be involved in cutting edge research. She works on the Human Cytomegalovirus (HCMV) with UA Assistant Professor, Dr. Felicia Goodrum, as part of the UA Undergraduate Biology Research Program (UBRP).

Dr. Goodrum is one of this year's recipients of the Presidential Early Career Award for Scientists and Engineers, which is "the highest honor the United States government can bestow."

"I decided to study CMV latency because of the challenge," Dr. Goodrum explains, "it is of one of the most poorly understood phenomena in virology." She enjoys the risks and challenges of studying science that has real significance, though many people are not aware of the importance of CMV.

Rona admits that she never knew the importance of Cytomegalovirus before joining Dr. Felicia Goodrum's lab. "At first I was intimidated by the long name, because I hadn't heard of it before, and thought it was like HIV or Polio virus … and maybe influenza," She remembers, laughing, "but now I realize it's importance, and think people should be educated about CMV."

"There is a huge divide between scientists, physicians, and the public" Dr. Goodrum notes, "especially in the case of CMV." It is often overlooked by physicians and unknown to the public because there is no obvious disease, but it can cause serious illness in people with weak or suppressed immune systems.

There are several known pathologies of CMV – the congenital infection, which can cause devastating effects on the unborn child, the potentially fatal disease related to immunosuppressed individuals like organ transplant patients and AIDS patients, and actively being researched is a CMV caused increase of heart disease and age-related immune senescence in healthy people.

UA graduate student, Lora Grainger, observes that herpes viruses are the only viruses that are able to remain latent in the body and wonders how CMV may have shaped human evolution.

Despite the serious research topic, Rona seems to be enjoying her time in the lab. "The atmosphere in the lab is really positive and productive. The lab is always alive with possibilities; it is compelling."

Peter Knepler, graduate student in the Cancer Biology Interdisciplinary Graduate Program, feels that "everyone in the lab is willing to drop what he/she is doing and help a fellow lab-mate." This impression influenced his decision to join the lab and a fellow graduate student in Goodrum's lab, Alex Petrucelli, feels that the unique combination of cellular biology, molecular biology, virology and immunobiology is what drew him to the lab, "I love how the people here are constantly collaborating." Louis Cicchini, undergraduate researcher remarks, "There are so many different projects going on, but in the end they are all connected. It is like we're electrons on the motherboard of cytomegalovirus: we all shoot off in different directions, traveling different circuits, but eventually we all wind up back at the central processor."

Rona was able to stay in Tucson this summer because of the Undergraduate Biology Research Program (UBRP) that has been supporting student involvement in biologically relevant research labs since 1988. Carol Bender, Director of the Undergraduate Biology Research Program and Related Programs, says that UBRP has grown tremendously because this program is an excellent model for a research university like UA. "Students cannot just study in the classroom, but must work in the real world, and do something about it."

Joe Divita, a student that joined Dr. Goodrum's lab through UBRP last year agrees, and thinks that UBRP provides a great opportunity for undergraduates to understand the process of scientific inquiry behind the theories learned in the classroom. "UBRP has provided me with a valuable experience, with a core foundation of skills and knowledge that will enable me to communicate effectively with the research community."

Dr. Goodrum is very positive about Rona's addition to the lab. "She has been very impressive in the past few weeks, and has embraced a challenging project when she did not have to. She has valuable input in designing the experiments and asking the right questions. She has been a super-duper member, bringing her enthusiasm, hard work, energy, and appreciation for science."