New York Steak Dinner for $11 at Silver Spur Saloon
July 29, 2009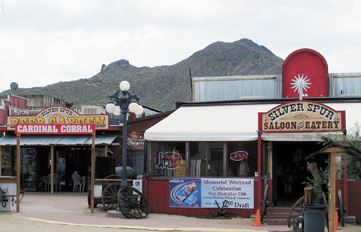 COURTESY Photo: Summer food and drink specials abound at the Silver Spur in Cave Creek's Frontier Town.
CAVE CREEK – What's all the buzz about the Silver Spur Saloon and Eatery at Frontier Town? Plan your next lunch or dinner there to find out! Choose from a variety of dishes ranging from fresh soups and sandwiches and flavorful fajitas to smoked brisket and ribs.
Bring this article to the Silver Spur Saloon and receive a 10 ounce delectable New York Steak Dinner and a baked potato, for just $11.

"Come check out our summer inventory beverage blowout special while supplies last," said Marc Peagler, proprietor of Silver Spur Saloon. "We're serving $2 select rum, vodka, or tequila with a choice of mixer. We are also hosting a special Ladies Night on Thursday nights out in the Beer Garden starting at 6 p.m. And, between 3:33 and 4:44 p.m., we offer the cheapest Sam Adams draft beer in the country for only 75 cents."

The restaurant recently re-instated its Birthday Club.

"Be sure to sign up for our weekly e-newsletters to receive a free dessert on your birthday," Peagler said. "And follow us on Facebook and Twitter where we post updated coupons, deals, daily specials, and information regarding our live music every Friday and Saturday nights and other special events."

Silver Spur Saloon can be found on Facebook at: www.facebook.com/silver.spur and on Twitter at the handle: www.twitter.com/silver_spur.

Frontier Town is a western-themed, family-friendly town that pays tribute to the miners, ranchers and cattlemen who settled in Cave Creek in the late 1800s. Located in the heart of Cave Creek at 6245 E. Cave Creek Road, Frontier Town is just minutes from north Scottsdale.

Patrons visiting Frontier Town not only can dine at The Silver Spur Saloon, they can stroll through a myriad of gift shops and view authentic artifacts from the Old West, including covered wagons, and a 13 step hanging gallows. Patrons can relax in the outdoor beer garden and even have their hair cut in the old western barber/beauty shop. Parking and admission is free.

The restaurant, which books weddings through www.wonderfulweddings.com, is hosting a Bridal Fair exhibit at its fountain patio and wedding courtyard from 9 a.m. to 2 p.m. on Saturday and Sunday, August 8 and 9.

Call 480-488-3317 or visit www.SilverSpurSaloon.com.