Slow and steady wins the 'adoption' race!
By Pete Mohr | July 29, 2009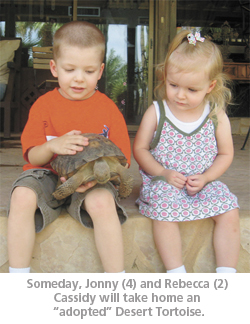 Aug. 22 is last 2009 "Adoption Day"

SCOTTSDALE – "Adoption Day" was a success on Saturday, July 18 by Phoenix Herpetological Society (PHS), the Arizona Game and Fish Department (AGFD) designated refuge for abandoned or rescued Desert Tortoises. Three more of these peaceful creatures, protected by Arizona law, have been registered and adopted out by Wendy Cassidy and Tiffany Mayne to excited new families. (Children love tortoises!)

You've desert-landscaped your front yard with one or more Saguaro cacti, the most prominent symbol of Arizona's natural environment. Now you're thinking about "adopting" a Desert Tortoise for your backyard? Great idea, but adoptions are not automatic.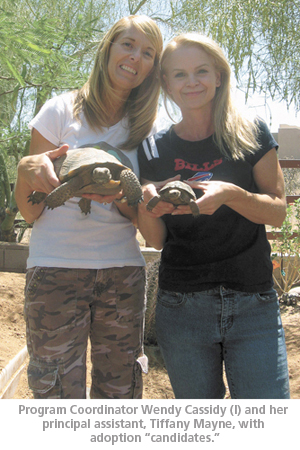 According to Adoption Program Coordinator Cassidy: "It's a common misconception that care and maintenance of a Desert Tortoise is simple: just let him (or her) roam around in the backyard and throw some lettuce out to them every so often. Not true! Adopting a Desert Tortoise represents a long-term commitment. These animals have a lifespan of up to 70 years or longer. They have very specific requirements for a suitable habitat; and initially, there's a $70 adoption fee, which covers a health screening and implantation of an identification microchip (registered with AGFD) by our program's experienced staff."

She continued, "Tortoises do make great pets! With proper habitat and care, they can become part of a family for a long time. They have distinctive personalities and are of a curious nature. Tortoises are smart, friendly and fascinating creatures that bond with their caretakers. It's not uncommon for a tortoise to respond demonstrably when hearing or seeing their owner, similar to a dog or cat – just a bit slower!"

AGFD recommends an 18' x 18' reliably enclosed habitat, preferably a grassy area in which native desert plants or shrubs are already growing or can be planted. In the Phoenix area, a tortoise habitat must include an insulated above-ground burrow for shade and hibernation (usually mid-October through mid-March). Adoption applicants must submit a photo of the habitat they've created, of which the burrow is perhaps the most important feature.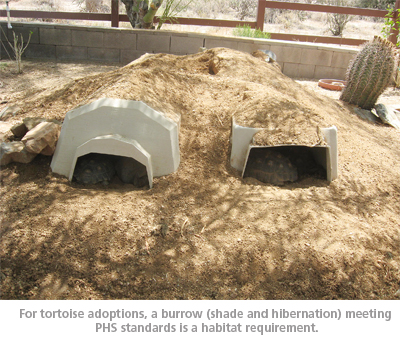 Dog owners are not usually approved as adopters. PHS Curator Dan Marchand explains, "Adopters must ensure that their dog does not have access to the tortoise. To a dog, no matter how gentle, a tortoise looks like a moving chew toy. A tortoise's softer undershell, which covers its vital organs, is no match for a dog's persistent chewing."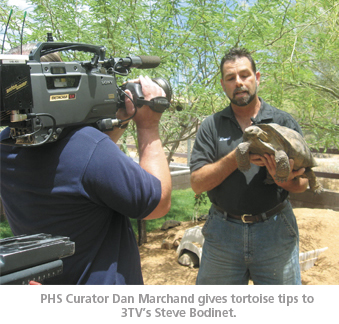 Unfortunately, abandoned (recently resulting from foreclosures) and rescued tortoises received at PHS far outnumber potential adopters. With a clear understanding of the guidelines for adoption, serious applicants are more than encouraged. To start the application process, contact Cassidy at 602-705-2240 or e-mail her at
wendy@phoenixherp.com or call Marchand at 602-550-7029.

The last "Adoption Day" in 2009 will get underway at PHS, 9 a.m., Saturday, Aug. 22. Adoptions will resume in April 2010. Will you … can you help win an important survival "race" for one of Arizona's most unique creatures?

Photos by Pete Mohr