Nate "The Rabbit" Reed Benefit Bull Riding Friday, July 31
July 29, 2009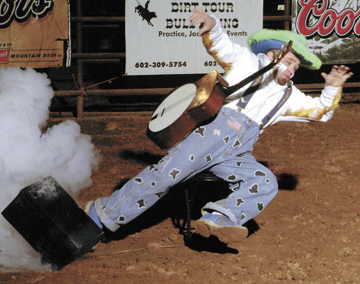 COURTESY Photo: Nate Reed has selflessly saved numerous cowboys from injury in his role as "funny man in the can."
Join with our community to help this dedicated rodeo man.
At the Buffalo Chip Saloon, 6811 E. Cave Creek Road

CAVE CREEK – Nate Reed has dedicated his rodeo career not only to making people laugh in the arena as the "funny man in the can" but also as one of the premier bull fighters in the Southwest. He has selflessly saved numerous cowboys from injury. On July 4, Nate suffered a serious injury to his leg while fighting bulls in Taylor, Arizona. To date, he has endured five surgeries and has a very long road to recovery ahead of him.

Dirt Tour Bull Riding, in cooperation with The Buffalo Chip Saloon, will be hosting a Benefit Bull Riding on Friday night.

There will be a silent auction starting at 6 p.m. that will continue until after the second ride, about 10:30 p.m. Auction items include guns, furniture, antiques, handcrafted items, livestock, gift certificates and more.

Be sure to get your 50-50 raffle tickets early in the evening because the raffle winner will be drawn between rides. Look for ticket sellers among the crowd; they will also accept donations.

A Calcutta of Bull Riders will be held at 8 p.m. Most of you are familiar with a Calcutta, but for those of you who aren't … as each bull rider is introduced, the audience will be allowed to bet on their favorite rider to win. The money collected from bids for all riders goes into a pot which will be split with 50 percent of the proceeds going to help Nate and 50 percent to the Calcutta winner.

Raffles will be held throughout the evening. There will also be a very special live auction in the arena between rides.

Nate will probably never be a bull fighter again, however we hope to see him in the arena doing what he loves to do and that is to make the crowd laugh! He plans to be in attendance at the event on Friday.

Please plan to join his fans and friends in helping one of the best bullfighters in the Southwest and his family.