Is the self-centered person in your life driving you nuts?
Keep reading ...
by Kathy Radina, M. Ed. | July 22, 2009
We had just been seated at her favorite restaurant, when Aunt M. decided it was too hot in our booth. No problem, the hostess moved us to a table under the air conditioning vent, and agreed to turn the thermostat down.

After the water had been served and the drink order taken, Auntie M. decided it was hard to see because the light from the window was too bright. When we tried to talk her out of a second move, she yelled, "I can't see!" We changed tables.

Peace at last? We could only hope. Now the music was too loud. My Uncle H. asked her if she could try to adjust. To which she yelled, "I'm paying for this!" not the entire bill, mind you, just her portion, but, H. asked to have the music turned down, and Aunt M. was happy … for the time being.

Is my Aunt M. a full-blown Narcissist, or just a little too self-centered? Let's see. Selfishness is defined as: Someone who is concerned exclusively with oneself: seeking one's own pleasure or well being without regard for others.

A Narcissist would have the above traits, AND several of the following: Someone with an exaggerated sense of self-importance, lack of empathy, a belief that he/she is special, a sense of entitlement, requiring excessive admiration, showing arrogant or haughty behaviors and/or taking advantage of others to achieve his/her own needs.

Distinguishing between selfishness and narcissism is important because selfish people can change, and Narcissists typically won't. When a selfish person realizes he is causing others discomfort, he can choose to do something different. A true narcissist can't. It's almost as if the self-importance is hard wired in their bodies. For example, when my friend Heidi returned from the Vet with a red, tear streaked face and said, "We had to put Lucy to sleep. She was just too sick."

Her husband replied, "Oh that's too bad, and by the way, I'm out of deodorant."
This wasn't the first time he failed to notice her, and continued to think only of himself. He is a Narcissist.

As if it isn't bad enough that Narcissists don't consider others, they also have the belief that we feel the same way about them that they do. (Holy Cow!) Just like you and I both know when it is raining, the Narcissist assumes that we both know when he or she is unhappy.
And since we both supposedly know, it is especially disturbing to the Narcissist that we aren't doing anything about it, like getting the deodorant, or harassing the waitress.

If you live, work or play with a Narcissist, you know what it's like when they are unhappy. The reaction can be anything from anger and acting out to pouting and the silent treatment. They have no problem letting us know how we have disappointed them.

The solution? If you think you are dealing with a selfish person, you may want to tell them what you need. If you are clear and your requests are consistently ignored, you might be dealing with a Narcissist. The Narcissist doesn't understand that you may have needs, and they often don't think your needs are important, especially when compared to theirs. If you find that you may be dealing with a genuine Narcissist, you may want to seek help in dealing with them, or managing to live with them. It can be very hard. My Uncle hasn't figured out that Aunt M. is a hard-wired Narcissist. If he does, he won't try to reason with her, or suggest that she can manage her upset. He will let her have her way, and avoid being yelled at in public.

In conclusion, let me leave you with this Old Vaquero Saying,
It's nice to be important, but it's more important to be nice.

Kathy Radina, M.Ed. is a counselor in Carefree.
She can be reached at 480-488-6096 or visit www.kathyradina.com

Healthy and delicious – There's no slowing Oregon's super berry
July 22, 2009
SALEM, Ore. – Freshly harvested Oregon Blueberries – one of the joys of summer – are on the way and this year's crop is looking bigger and better than ever.

A bumper crop of fresh blueberries is good news for customers who have increasingly become aware of the advantages of buying local and buying fresh.

While we tend to think of Oregon blueberries as simply a tasty summer treat, blueberries have been named one of the Super Foods for a healthy mind and body.

While Oregon blueberries may have advantages when it comes to taste and quality, it's the international interest in nutrition and healthy eating that have fueled the growth.

"In general, blueberries are the richest sources of antioxidant phytonutrients of the fresh fruits and vegetables that we've studied," says Dr. Ronald Prior of Tufts University.

Antioxidants refer to the negative oxidation properties or compounds found in blueberries.
Certain natural fruits and vegetables supply the body with chemicals which react against particularly harmful oxidants associated with elements ("free radicals") which can damage a wide variety of functions and internal processes.

More on health – Five-a-Day The Color Way

Just one-half cup of blueberries helps you on your way to meeting the USDA's recommended goal of five to nine servings a day of fruits and vegetables. The Five-a-Day The Color Way program suggests that to achieve optimal health benefits, we should choose colorful fruits and vegetables daily from each of the five color groups. Blueberries are a proud member of the Blue/Purple group. These tasty little berries are, in fact, powerful disease fighters. Research shows that blueberries contain natural compounds that help our bodies stay healthy and may help prevent age-related diseases, including Alzheimer's, macular degeneration and some forms of cancer. With only 40 fat-free calories per half-cup, blueberries are also a great source of fiber and vitamin C. A serving of blueberries is a quick way to help meet the USDA's recommendation of colorful fruits every day.

Blueberry-shrimp salad with lemon vinaigrette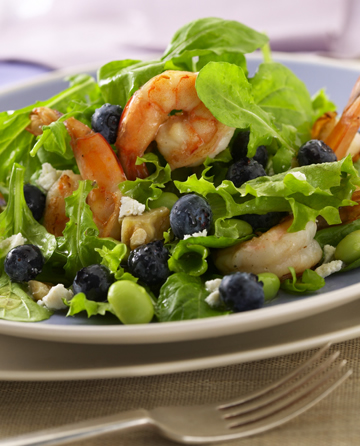 3/4 pound (about 20) shelled medium-size shrimp, boiled or grilled
1 cup fresh blueberries
1/2 cup toasted walnut pieces
1/2 cup edamame or green peas, cooked
5 ounces (about 4 cups) mixed salad greens
Lemon Vinaigrette (recipe follows)
2 ounces (about 1/2 cup) firm white cheese, such as feta, crumbled

In a large salad bowl, toss shrimp, blueberries, walnut pieces, edamame or peas and salad greens. Evenly divide salad onto six plates; drizzle with Lemon Vinaigrette. Sprinkle cheese around edges of salad.

Lemon Vinaigrette: In a small mixing bowl, whisk 1/4 cup vegetable oil, 2 tablespoons lemon juice, 1 teaspoon sugar, 1/8 teaspoon salt, 1/8 teaspoon coarsely ground black pepper, and 1/8 teaspoon ground red pepper.

YIELD: 6 portions

Blueberry cheesecake for carb counters
3 tablespoons graham cracker crumbs
2 containers (6 ounces each)
low-fat vanilla yogurt
1 cup fat-free cottage cheese
4 ounces fat-reduced cream cheese
1 tablespoon cornstarch
1/2 cup egg substitute
Blueberry Sauce, recipe follows

Preheat oven to 350°F. Spray bottom and side of a 9-inch pie plate with vegetable cooking spray; sprinkle with graham cracker crumbs, and tilt to coat evenly. Place a coffee filter or two layers of paper towels in a strainer; stir 1 container of the yogurt and spoon it into the filter; set aside to drain, stirring occasionally, about 30 minutes.

Meanwhile, in a food processor, blend the remaining container of yogurt, cottage cheese, cream cheese and cornstarch until smooth. Add the eggs and pulse until combined.
Carefully pour into the crumb-coated pie plate; smooth top. Bake until set in the center, about 30 minutes.

Meanwhile, prepare the Blueberry Sauce.
When pie is set, spread the drained yogurt over the top; bake 5 minutes longer. Cool to room temperature on a wire rack. Chill until cold. Serve with Blueberry Sauce.
Blueberry Sauce: In a medium-size saucepan, over medium heat, stir 2 cups fresh or frozen blueberries with 2 tablespoons sugar (or granulated non-nutritive sweetener) and 1 tablespoon each lemon juice and water until berries are soft, about 5 minutes; chill.
YIELD: 8 portions

Per portion, including 1-1/2 tablespoons blueberry sauce: 152 calories; 19 g carbohydrate; 4.5 g total fat (2.6 g saturated fat); 1 g fiber.
Blueberry-watermelon frosty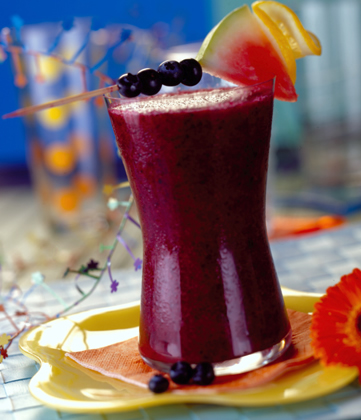 1 container (6 ounces) frozen lemonade or limeade concentrate, unthawed
2 cups fresh blueberries
2 cups watermelon cubes, seeds removed
1 cup ice cubes

In a blender container, combine lemonade concentrate, blueberries and watermelon. Purée until very smooth. Add ice cubes; blend until mixture is slushy. Add sugar, if needed.

YIELD: 4 portions (about 5 cups)