"Athlete-of-the-Year" Kyle Short has learned the pace of winning
By Pete Mohr | July 22
, 2009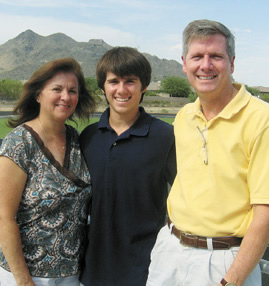 Photo By Pete Mohr: Kyle Short (c) with his parents Yvonne and Byron Short.
CSHS – In Cactus Shadows Track & Field records, you'll find Kyle Short's name only once: as a member of the 4 x 800m relay team that finished 5th at 2009 State, in the process setting a new CSHS mark of 8:10. His record-setting compadres? Walker Bohannon, Alex Kaufman and Keith Omundson.
Fitting that Kyle's name will go up in Barrett Gym as a record setter in a team event, because, as former Head Track Coach Patty Egan will tell you, "For Kyle, from his first Cross Country practice as a freshman, it's been all about the team." But at 2009 State, he took 2nd in the 1600m (mile) behind (Tucson) Sabino's Alex Evans, to whom he also been runner up at 2008 Cross Country, leading the guy harriers to a 2nd place behind (Tucson) Catalina Foothills. At State, he ended his CSHS career by winning the 3200m (two-mile).

But for Kyle, the only child of Creekers Byron and Yvonne Short, rather than talk about his 2nd place CC individual finish, he emphasizes former Boys Cross Country Head Coach Cara Van Eck's contribution of focusing on the entire team – not just the seven competition runners. For Kyle individually, "She knew my capabilities and pushed me beyond them … helped me run that little extra."

From Coach Egan, he had learned early on that distance running "was all about the pace … keeping within yourself … running smart." He comes close to disavowing my praising his mental discipline, a hallmark of all outstanding distance runners. Well into our interview, Kyle modestly reminds me he was Boys Cross Country captain and Boys MVP (Cross Country and Track) in both his junior and senior years. He earned eight Varsity letters.
Kyle maintained a pretty fair "pace" in the classroom, too, finishing in the top 10 percent of his class as a member of the International Baccalaureate Program. Actively recruited by Gonzaga and Fairfield Universities, he'll head for Connecticut come Aug. 22 because of Fairfield's "great business program," in which he'll concentrate upon a management curriculum. There's also the opportunity to run Cross Country for "a young, growing team" and to enter top-level competitions as a member of Fairfield's distance running club.
It's been right at six years since classmate/teammate Alec Stapp talked Kyle into running for Coach Don Larson at DAMS. "Pass with authority – and make it stick!" Coach Egan would later exhort. Quietly and determinedly, Kyle Short will "keep trusting in (my) own pace and training."

That self-confidence has yet to fail him.
Football Falcons dealt a tough schedule
By Pete Mohr | July 22, 2009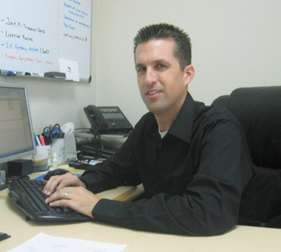 Courtesy Photo: DON'T BLAME Director of Media Marketing Brian Bolitho for the Falcons' tough 2009 schedule. He is the A.I.A.'s disseminator of sports-related information (like the football schedule appearing last issue) and State Tournament logistics. Without his patient assistance, this writer would've been "up a stump"
long ago!
CSHS – When the Falcons trek to Vail (just southwest of Tucson), Friday evening, Sept. 4, to take on 4A-I preseason favorite Cienega in their 2009 opener, it will mark the start of Chad DeGrenier's sixth season as head football coach. The 'Birds stand at a combined 26-30, including the 0-10 beat-down of 2004 and the 15-0 State Championship "magic" in '06. Coach D. would be the first to tell you that his '09 Falcs need to break even – at least 5-5.
But the 4A Conference schedule makers haven't made it easy on the 'Birds.
They'll follow their season's kick-off at Cienega with visits to Greenway and Shadow Mountain, both difficult in their houses. Then they finally return to Falcon Stadium for a September 25 Homecoming opener against Paradise Valley. Falcon fans can look to those first four games as a reliable barometer for the season's success.

The good news is the Falcons finish with three straight at home: Sunnyslope, Queen Creek, then McClintock, after having journeyed to Apache Junction and repeat State Champion Saguaro, back-to-back killer road trips. How – and by whom – were the scheduling "blocks" for 2009 and 2010 determined?

Brian Bolitho (see accompanying photo) helpfully directed me to 2009-2010 4A Conference President Joe Paddock (Athletic Director, Amphi District, Tucson) and Desert Sky Region Chairman Dwayne Folsom (Athletic Director, Apache Junction) for those answers, as best they were able to provide them.

I call your attention first to the Desert Sky Region Box. Note that of the expanded eight-team Region, only five schools will play football at the Varsity level in 2009-2010, translating that the Falcons will play only four Region games this season (Apache Junction, Saguaro, Queen Creek and McClintock). The 4A Scheduling Committee, comprised of the ten Region chairpersons, usually starts by "backloading" the applicable Region games into each team's schedule.

Last fall, for non-Region dates, Coach DeGrenier communicated his preferred opponents to (then) Athletic Director Monica Barrett, who forwarded this information to D-Sky Chairman Folsom. The ten Region "chairs" exert their best efforts to match each team's non-Region dates with the preferences submitted. President Paddock acknowledged that the schedulers try to avoid having a team open (or finish) with three consecutive road or home games. In the second year of the "block," home and road dates are reversed.

But those are the cards the Falcs have been dealt. Starting with three road games may not be all bad. Assistant Coach Chris Frederiksen observed to this writer, "Those three games could give us a chance to get all the kinks worked out away from home and see what we're really made of." With no cynicism intended, I believe that's called in my native Deep South, "Making lemonade out of lemons."

Hey, it's only hotter-'n-hell mid-July. Stay tuned!