Fourth Annual "Coyote Awards Ceremony"
July 22, 2009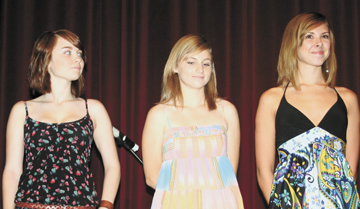 COURTESY Photo Alyssa England of Carefree; Merrit Thompson of Cave Creek; and Kelsey Hartley of Cave Creek were the top three Visual Art Youth Finalists in this year's Cave Creek Film & Arts Festival.
CAVE CREEK – A crowd of nearly 400 enthusiastic people attended the 4th Annual Cave Creek Film & Arts Festival "Coyote Awards Ceremony" on Saturday, July 18 at Cactus Shadows Fine Arts Center in north Scottsdale. Winners were announced in seven creative categories: film, visual arts, photography, short story, poetry, original song, and choreography.

A record 419 entries from throughout the state were submitted to this year's competition. The star-studded evening flowed like the Academy Awards, but instead of Oscar statues, winners received very distinguished Coyote Awards designed by Cave Creek artist Judy Darbyshire.

Thanks to the generous support of the Town of Cave Creek and other sponsors and individual donors, $18,200 in prizes was awarded.

Judy Bruce, president of the Cave Creek Film and Arts Festival (CCFAF) said, "We are also very grateful to Walmart, who, because of their generous support, will allow us to produce the 2010 Cave Creek Film and Arts Festival."

The Sonoran Arts League sponsored cash prizes in all seven youth categories. First place winners in the youth division, ages 12 to 18, received $500; second place youth winners received $250; and third place youth winners received $100. In the adult division, ages 19 and over, first place winners received $1,000; second place adult winners received $500; and third place adult winners received $250.

This year the Festival is sponsoring a "Coyote Card" designed to promote local businesses. The free card can be found at restaurants and merchants throughout Cave Creek and Carefree and at Cave Creek Town Hall.

"The more merchants you visit and have checked off on your 'Coyote Card' by Sept. 9, the better chances you have of winning prizes during our drawing at the Sept. 24 'Taste of Cave Creek' event," Bruce said.

The Cave Creek Film & Arts Festival committee members are already planning for next year's event and encourage interested applicants and volunteers to visit www.CaveCreekFilmandArtsFestival.com for more information.
Carefree Station Grill & Bar gives Arizonans three great reasons to love summer
July 22, 2009
All Day Drink Specials, Healthy Mexican Cuisine, and a Custom Sandwich Menu

CAREFREE – Just in time for rising temperatures, Carefree Station Grill & Bar is giving Arizonans three great reasons to love summertime in the desert. Nestled in the heart of scenic Carefree at Tom Darlington and Cave Creek Roads, the restaurant is serving up a special Spa Mex menu, lighter versions of their traditional Mexican cuisine, and a custom sandwich menu, Sandwich Heaven. Also, through the end of August all wine, beer and cocktails are 25 percent off all day, every day.

Popular items from the La Familia Mexican food menu can now be ordered Spa Mex style. Eliminating many of the excess calories and carbohydrates, several complete dishes are less than 500 calories. Instead of tortillas, tacos and burritos are served with butter lettuce leaves, thin sliced jicama and steamed cabbage leaves. Chargrilled seasonal vegetables and fruit are served in place of rice and beans.

Taco plates and burrito platters are served with a choice of shrimp, Ahi tuna, salmon, chicken, carnitas, or el carbon.

Sandwich Heaven is a new custom sandwich menu that lets you create your own heavenly sandwich or burger. Choose from a combination of seven types of bread, 13 main ingredients, 24 toppings, 18 specialty sauces and spreads and 12 cheeses. All sandwiches are served with a choice of French fries, sweet potato fries, house-made potato chips, coleslaw or a mixed greens salad.

Carefree Station is also offering the Cool Days of Summer Happy Hour special. Seven days a week, from open to close, all wine (glasses and bottles), spirits, beer and specialty drinks are 25 percent off through the end of August. The extensive wine list features more than 175 wines rated at 86 points or higher. The beer menu contains nearly 50 well-known domestics, in addition to unique import selections. All specialty cocktails from the Bev Heaven menu are created using a rare selection of liquor from smaller, high-end distilleries.
For more information or to make reservations, visit www.carefreestation.com or call 480- 488-8182. Carefree Station is located at 7212 Ho Hum Road, Carefree.
SMoCA hosts Summer Family Night: Dog Days of Summer

July 30, 5:30 p.m. | Scottsdale Museum of Contemporary Art

SCOTTSDALE – The Scottsdale Museum of Contemporary Art (SMoCA) invites children of all ages and their parents to celebrate the Dog Days of Summer, this year's fun iteration of the Museum's annual Summer Family Night from 5:30 to 7:30 p.m. July 30. This year's event will feature several special one-night-only activities including a puppet show titled, Silly Bunny and the Doggy Art Show, by the Great Arizona Puppet Theater.

$20 for a family of up to four people; $4 for each additional child.
For more information or to register, call 480-874-4641 or visit: www.smoca.org.