Animal Rescue Kids invite you to a wine tasting event!
July 15, 2009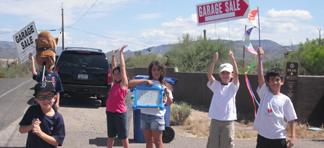 The Animal Rescue Kids Yard Sale held Saturday, July 11 helped raise money for Foothills Animal Rescue. With three weeks to go, only about $1,100 of FAR's $4,500 goal has been raised.
Animal Rescue Kids (ARK) is a summer club of amazing kids helping no-kill animal rescue organizations in our area that do great work finding homes for orphaned and abused dogs and cats. Over the past 4 years, Animal Rescue Kids has raised over $13,000 for the animals! We hope to add to that amount again this summer.
Our thanks to VINO 100 for hosting this event. There will be three tastings ~ $10/per person, $1/raffle ticket. Ten percent of all proceeds of wine sales purchased during the event will be contributed to ARK. A few ARK children will be
Wine Tasting Event
7 – 9 p.m. Friday, July 31
Hors d'oeuvres, fabulous wines
Over $1500 in raffle drawings
VINO 100
30835 N. Cave Creek Rd.
present to sell raffle tickets; however this is an adult event.
Although the going is tough in the current
economic situation, ARK will give it a good
shot with their last event on July 31.
Auction items can be donated until July 21. Questions? Call 480-595-6595.
Elvis lives!

By Chuck Neal | July 15, 2009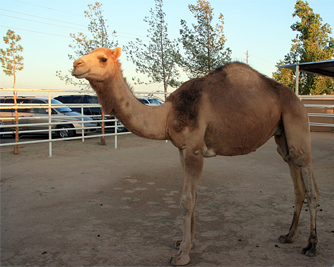 Courtesy photos/Chuck Neal, Perreaud Photography
NEW RIVER – On Saturday, June 27, Elvis celebrated a second birthday. No, she can't sing or shake her hips, but she is alive and well and living right here in New River. Elvis is a camel of the dromedary style.
Her owners Jerry and Pam Conrad acquired Elvis when she was 5 days old and hand fed her every four hours for six months. Elvis' mother was too ill to nurse, so that's why Jerry and Pam bought Elvis from a Scottsdale couple and then took over as surrogate mothers.
The party was attended by over one hundred well wishers and admirers of all ages. Jerry and Pam graciously supplied cake and refreshments for all the attendees. Beulah, Elvis' friend at the camel compound, was also present for the party. Beulah is an older camel the Conrads own.
Elvis has risen to fame by playing a part in the Christmas pageant at one of the Valley churches.
It was exciting to watch the children of all ages as they petted Elvis and wished her happy birthday.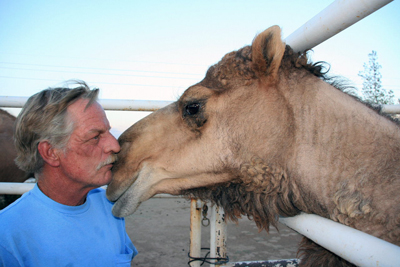 Jerry Conrad and Elvis.
Elvis recently celebrated her second birthday.
Local families invited to host exchange students
PHOENIX – Local families are invited to host international exchange students coming to the area this fall.

The students are aged between 15 and 18 and will have their own spending money and health insurance. They will attend your local high school for the 2009-2010 school year. Our students are proficient in English and must maintain satisfactory academic progress while in school here.

Host families are responsible for providing meals, a place to sleep and a nurturing and safe environment. We place a large emphasis on supporting host families and will have a local representative who will maintain monthly contact with the family. All types of families are welcome to apply to host including empty nesters, older couples, young couples, families with/without children and even single parents.

Below are some profiles of students for next fall. We have over 200 additional students to choose from.

For more information on hosting call David 480-970-6337 or toll free 1-800-522-4678 or e-mail david@stsfoundation.org.

STS Foundation is a not for profit foundation and is dedicated to intercultural exchange. For more information visit www.stsfoundation.org.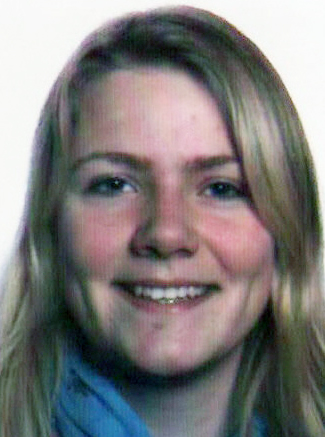 Hello! My name is Martina and I come from Milan, Italy. I'm 17 years old. I live with my parents and my two older brothers, Andrea (22) and Federico (20). My Dad is a manager and my Mom is a home maker. I am an active Catholic and attend church with my family regularly. I have 8 years of English and French. My favorite hobbies are golf, jogging, meeting friends and playing volleyball. I was recently ranked 16th in the under sixteen bracket of the National Golf Championships. I also like to jog about 10k most days. My Mom says that I'm a little shy at first when meeting people but after a while you have to tell me to stop talking! I don't have any allergies and I am an A student at school. I can't wait to meet you and your family on my exchange program in the USA.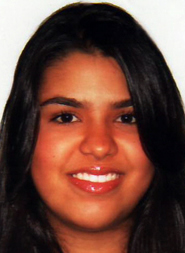 Hi, my name is Idun and I come from southern Sweden. I am 16 years old and my birthday is in October. I have 3 sisters aged 18, 12 and 7. My father is an Engineer and my mother is an Assistant Professor. My two biggest hobbies are cheerleading and gymnastics. Our gymnastics team has been ranked 4th or 5th consistently over the past few years. I have been practicing cheerleading for 1 year and I love it. I hope to try out for your high school cheerleading squad. I am enrolled in our Nature Science Program at school. My classes are in the sciences and my favorites are Biology, Chemistry and Math. I love animals and have an A average at school.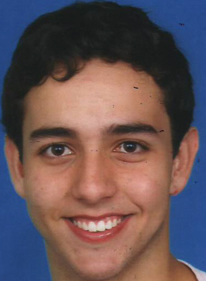 Hello, I'm Felipe from near Sao Paulo in Brazil. I am 16 years old. I have 11 years of English and have a B grade average in school. I like to eat healthy foods and I do not smoke or drink alcohol. I consider myself to be a very chatty boy. My favorite hobbies are soccer and swimming. I have participated in our Regional Championships in swimming but soccer is my favorite sport. I would love to continue playing soccer and try a new sport while I am in the USA. My teacher says that I am very mature for my age.