Cave Creek Film & Arts Festival Coyote Awards gala set
By Curtis Riggs July 15, 2009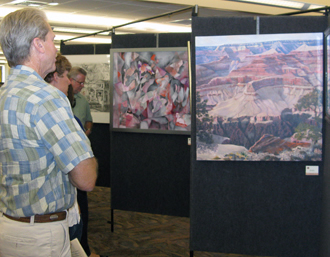 Photo by Curtis Riggs: A large crowd attended the Cave Creek Film & Arts Festival Fine Art and Photography Showcase event at the Desert Foothills Library on Friday. Festival category winners will be announced at the Coyote Awards Ceremony. The gala event will be held at the Cactus Shadows Fine Arts Center on Saturday from
5 to 6:30 p.m.
Saturday, July 18,
5 – 6:30 p.m.

CAVE CREEK –The Coyote Awards Ceremony festival gala will be held from 5 to 6:30 p.m. on Saturday, July 18 at the Cactus Shadows Fine Arts Center, 60th Street south of the Carefree Highway. Attendees are encouraged to dine in one of their favorite area restaurants following the event.

Festival entries increased significantly, by 73, this year. The categories with the most entries in the festival this year were visual art (110 youth and adult entries combined), photography (82), and original song (73). Poetry and short story entries were close behind with 61 and 42 entries respectively.

There were 36 films entered this year and the choreography division, which was started just last year, had 15 entries.

Festival Chairwoman Judy Bruce reminisced about how the festival started four years ago as a film festival with 12 entries. "This year there are 419 entries of world-class art," she said, adding the festival is helping Cave Creek become "arts town U.S.A."

Mayor Vincent Francia, who was the impetus in the festival growing to include all forms of art, said the quality of the entries has increased along with the quantity of entries this year. Showcases for each festival division were held throughout the community during the past week. "The talent in the showcases was amazing," he said. "The festival now has a life of its own. It has become a signature event for Cave Creek."

Original Song Division Chairman Kevin Glenn attributed the 12- to 73- increase in songs this year awareness of the event by an official with the Arizona Songwriter's Association.

Photography Division Chairman Jerry Sieve saw the number of youth entries in this category nearly double this year while the adult entries more than doubled. "The quality of the youth entries was way up this year," he said. "Photography is the most accessible form of art for young people."

The festival became better known throughout the Valley and state this year despite less effort being put into marketing it. The most entries were from Scottsdale with 108. Phoenix came in second with 86; there were 90 entries from Cave Creek, ten from Tempe and nine from Tucson.

For the CCFAF finalists in all seven categories, please see sidebar on right ...

| | |
| --- | --- |
| Ann Otis | Bryce Alan Broome |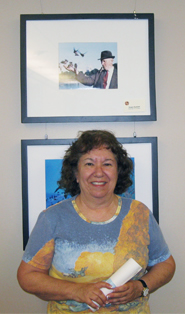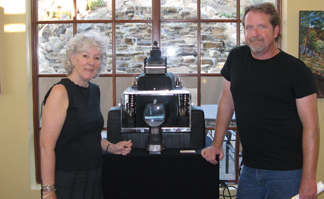 Chairperson Marty Gibson and Steve Gompf
July 17 "Cinderella" is a shoe-in for summer fun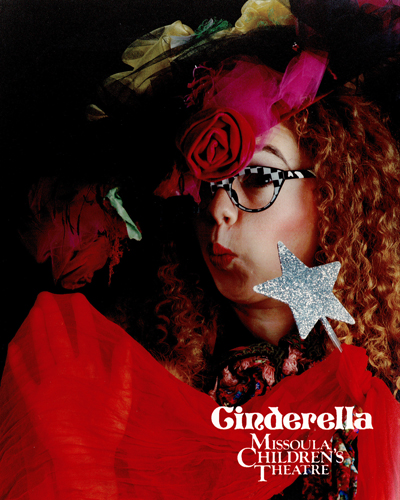 CAVE CREEK – It's all about the shoe, or maybe it isn't! Things aren't always what they appear to be in the renowned Missoula Children's Theatre version of the classic fairy tale, "Cinderella," presented by Desert Foothills Community Education at 7 p.m. on Friday, July 17, at the Cactus Shadows Fine Arts Center.

"Cinderella" is an enduring and enchanting tale of 'a dream come true' through the magic of a very special Fairy Godmother. When Cinderella's stepsisters try to keep Cinderella from attending the ball, Mice and Pumpkins race to her aid. There's also Cleo the Cat, Fido the Dog, Lords and Ladies, Town Criers, the King, Beggars, Pumpkin Coach, and Prince Charming in this musical theater production with an amusing and enlightening twist. And, yes, there is the famous glass slipper.

Sixty young local actors, directed by Brendan Mack and John Huddlestun of Missoula's Children's Theatre, appear in the DFCE production of "Cinderella," which was conceived and written by Jim Caron with music by David W. Simmons.

Tickets for the Desert Foothills Community Education production of Missoula Children's Theatre's "Cinderella," are available at the door: $3 for students; $5 for adults; free for children five and under. The Cactus Shadows Fine Arts Center is located at 33606 N. 60th Street, one half mile south of Carefree Highway. Call 480-575-2070 for more information.