Independence Day sparks patriotism
By Linda Bentley | July 8, 2009
CAVE CREEK – Mayor Vincent Francia and Vice Mayor Ernie Bunch sent out a joint e-mail on Monday stating, "Nothing like being among 5,000-plus fellow Americans for Independence Day fireworks celebrations," while noting such was the case at Harold's Cave Creek Corral on Friday, July 3 and again at Frontier Town on Saturday, July 4.

MORE ...

Click here to see more fantastic Independence Day weekend celebration photos.

Photos by Rusty Childress


Everyone seems to have opinion about David Schwan recall
By Curtis Riggs | July 8, 2009
Volunteer thrown off town hall/post office property
CAREFREE – The Recall David Schwan campaign is creating excitement which helps offset the summer doldrums.

MORE ...


Nacho Ramos still fighting for the rest of his freedom
By Linda Bentley | July 8, 2009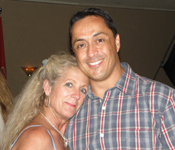 'They might as well just send someone to come
live with us'
PHOENIX – "It was like pulling teeth," said Ignacio "Nacho" Ramos, about getting permission from his parole officer to not only travel out of the state of Texas for the first time since being released from prison in February in order to attend an Independence Day event at Camp Vigilance in San Diego, but to have enough time to make a pit stop in Phoenix to thank his supporters there.

MORE ...

Good ol' boy supporters rage

By Curtis Riggs | July 8, 2009

CAREFREE – On Tuesday evening, after hearing the disgust from many long-time residents about the Recall Mayor David Schwan effort and the best ways to skirt Arizona's Open Meetings Law, the Carefree Town Council took up an issue which has plagued it since late last year.

MORE ...

Business on Easy Street not so easy this summer
By Curtis Riggs | July 8, 2009
Vacancies spike as uncertainty continues
CAREFREE – The number of out of business, for sale and retirement sale signs on Easy Street buildings serve as evidence of how rough the current recession has been on local merchants and property owners.

MORE ...


Obituaries
James Kevin Skane
W. Vincent Thelander, Jr.

MORE ...