Sean January to Univ. of North Texas
By Pete Mohr | July 8, 2009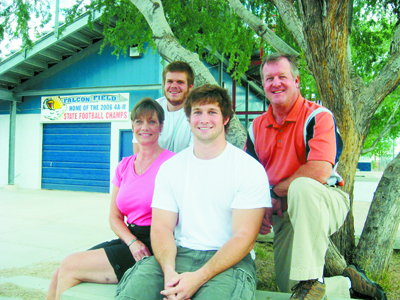 Photo By Pete Mohr
Tim and Lori January, sons Sean (CSHS '07) [foreground] and Cody (CSHS '09)
DENTON, TEXAS – The American Heritage Dictionary defines "persevere": "To persist in or remain constant to a purpose, idea or task in the face of obstacles or discouragement." Sean January, the dominant defensive player on the 2006 Football Falcons State Champions and two years a linebacker for the SCC "Artichokes," persevered in his quest to play Division I college football. He never gave up.

On Aug. 7, January will report for his first practice with the University of North Texas (formerly North Texas State) Eagles, Denton, Texas. The Eagles are known colloquially as "The Mean Green." Their most famous football alumnus? NFL Hall of Famer "Mean Joe" Greene.

January becomes only the second '06 Falcon to sign with a D-I school. Kyle Watkins may start at tight end this season for UNLV. For "The Mean Green," January will line up at weak side linebacker.

Recruiting Coordinator Chuck Petersen called January with the good news in mid-June. "Nobody worked harder," Dad Tim January admiringly compliments; but the understandably-excited Sean isn't slacking off. "I'm going to go down there in the best shape of my life," he vows. Strength-conditioning at Ethan Vanning's "Triple Threat" (Tempe) and speed training with 1996 Olympic decathlon champion Dan O'Brien four days each week, January is now a bigger, stronger 236 lbs., up from his Cactus Shadows playing weight of 190.

At Sunbelt Conference UNT, Sean will have a built-in cheering section: grandparents Don and Pat January (Don, a well-remembered former PGA tour member) and Bill and Janet Thompson, all living in the Greater Dallas area.

On Saturday, Sept. 18, "The Mean Green" travels to Tuscaloosa, AL to challenge Coach Nick Saban's Alabama Crimson Tide. Sean January will be ready. "Captain Crunch," congratulations and best wishes!
Coach Cuff includes Chung, Knuteson as 'Coaches-Of-The-Year'
By Pete Mohr | July 8, 2009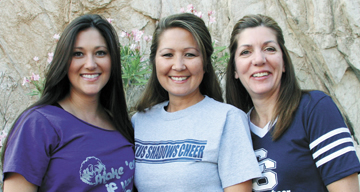 Theresa Chung, Rika Cuff, Cindy Knuteson
CSHS – Winning one State Championship is a salutatory accomplishment. But four in a row? A "Grand Slam?"
This writer can't find the adequate superlative to recognize that feat, recorded 2006-2009.

Head Cheer Coach Rika Cuff was appropriately appreciative when informed of her selection as Sonoran News Girls "Coach of the Year" for 2008-2009, but immediately asked (make the "insisted") that her award be expanded to include Assistant Coach Theresa Chung and JV Coach Cindy Knuteson. Glad to oblige, Coach. Congratulations ladies!

"Our Competition Cheer's accomplishments these last four (Championship) seasons wouldn't have been possible without them," Coach Cuff praised. Chung, a former dancer for the Arizona Cardinals, is primarily involved in the team's choreography. Coaching JV, Knuteson oversees the "farm system," ensuring the flow of talent to Varsity continues uninterrupted.
Commencing with the 2009-2010 season, Coach Cuff will become Spirit Line Director in addition to her Cheer responsibilities. Assistant Coach Chung's "promotion" will be highlighted later this summer. JV will remain under Coach Knuteson's valuable guidance.

Coach Cuff: "The girls are already working hard toward winning our fifth 'Spirit Line' title in a row. We have ten seniors on our squad this year, providing leadership that should give us a good shot." Cheer and Pom (formerly "Dance") will, as always, deliver entertaining performances at Falcon home football games as they prepare for their 2009-2010 competitive season.
Meet the Football Falcon seniors … Zack Sexton
By Pete Mohr | July 8, 2009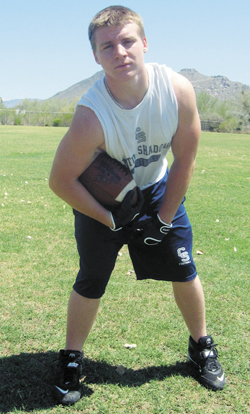 Defensive Zack Sexton
"It's not the size of the dog in the fight: it's the size of the fight in the dog!"
That familiar adage describes 5'7" linebacker-tailback-fullback Zack Sexton. There's plenty of fight in this young man, whose determination and all-around effort were singled out at the 2008 Football Awards banquet.
For Head Wrestling Coach Merle Nelson, Zack competed last season at the 152 lb. class. For Defensive Coordinator Matt Bradshaw, he currently weighs in at 175, "shooting for 180-185." He'll make it.
Zack is the son of Creekers Robert and Beverly Sexton. He played "flag" football at age 5, and hasn't missed a football beat since. Nor in the classroom, where he posts a solid 3.5 GPA.
Zack has earned three varsity letters, two wrestling and one football. He'll play both ways again this year – at outside linebacker and as tailback (running back) and fullback. When called on, Zack can tough out the tough yards.
He describes being a Football Falcon as "a brotherhood."
His goals for this 2009 season? "More rushing yards and more tackles." And for the team? "We've definitely got to make the playoffs. We're closer this year. By pulling together, we should have a good season."
Zack Sexton will fight to make that happen. He doesn't know how to play (or wrestle) any other way.