Cave Creek Cross now in Christ Anglican courtyard
By Curtis Riggs | July 1, 2009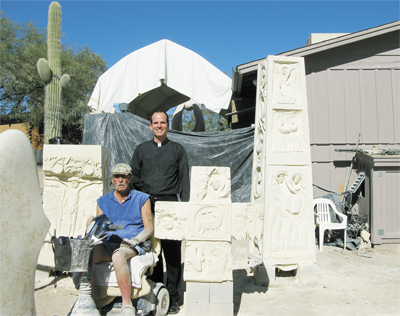 Photo by Curtis Riggs. Cave Creek sculptor Robert Thornley, seated, and Christ Anglican's Father Steven Dart with the top panels of the Cave Creek Cross.
CAVE CREEK – Sculptor Robert Thornley got back to his artistic roots recently when he created the 18-foot-tall Cave Creek Cross for the local Christ Anglican Church.

Thornley used to carve intricate human features when he was sculpting Western pieces. He now concentrates on more abstract pieces.

The cross tells the story of the redemption of Jesus Christ. It includes panels of Christ on the cross, Matthew, Mark, Luke and John. Additional panels are of the Lamb of God and Mary Magdalene holding baby Jesus.

"I didn't need much practice. It's always been there," Thornley said. The panels he created for the limestone cross is modeled after the Eighth Century Ruthwell Cross in Scotland.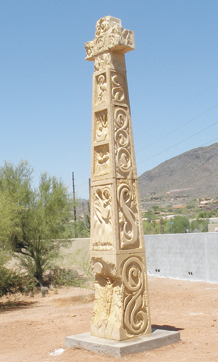 There will be a blessing of the cross after services (approximately 11:15 a.m.) on Sunday, July 5. The church is located at New River and Cave Creek roads.

There will be a dedication of the cross in November when the Anglican bishop can attend, said Christ Anglican's Father Steven Dart.

Dart said the Cave Creek Cross, and its Ruthwell Cross predecessor, is the telling of the oldest English poem on record, The Dream of the Rude.

The Ruthwell Cross was knocked over by religious zealots in the 17th Century.

Dart said the cross is, "intended to be an expression of the devotional life of the Christ Church parish and a witness to the eternal truths of the Christian Faith."