Youth Football grows, a strong lead-in to its 8th season
By Pete Mohr | June 24, 2009
CAVE CREEK – Friday, September 20, 2002, was not a memorable date in Falcon Football history. By halftime of the Birds' home opener, the Coronado Dons had romped to a 34-0 embarrassment. The 7-7 second half "tie" offered no solace.
But all was not lost! Excitedly gathered in the north end zone for halftime recognition were approximately 50 young boys, the foundation of what would become Cave Creek-Carefree Youth Football (CCCYF). In writing the Coronado disaster,
Sonoran News
encouraged, "The 'cavalry' is coming!" And it is several years arrived.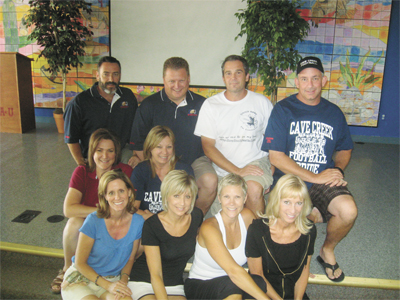 Photo By Pete Mohr

DEDICATED LEADERSHIP: Photographed following the June 13 wrap-up of its third (and final) registration for the upcoming 2009 season were Youth Football Board Members (front, l-r) Vickie England, Kim Mulqueen, Dalena Boeckmann, Debbie Gladstone; (middle, l&r) Lisa Ringwald, Lori Kirby; (back, l-r) Scott Saville, John Skummer, Dan Larson, Ken Smerz. Not available for photo: President Craig Eckhardt, Denise Bergstrom, Mike Palomino.
Appearing last issue was a profile of perhaps the most significant Youth Football alumnus to date, probable Falcon starting quarterback Dillon Classen, whose right arm can make the difference in whether or not the Falcs can bounce back from two consecutive 3-7 disappointments.

Information Director Dan Larson is "very positive" about the imminent 2009 season (practice will start, Monday evening, Aug. 3) – and with valid reason. When CCCYF closed the books on its three official registrations, 335 football aspirants had signed up: 125 flag and 210 tackle. The 335 number represents a modest increase over 2008, in spite of the recessionary economy.

Take into consideration that CCCYF's parent league, Central Arizona Youth Football League (CAYFL), has recently been joined by associations from Scottsdale, north Phoenix and Anthem, resulting in a shrinking of its potential territorial growth. Larson: "We're excited to have these associations as new members of our League."

As a major contributor to CCCYF's health, Larson cited the quality and experience of coaching volunteers. "Our coaching is getting stronger; and that's what keeps kids coming back." He also noted appreciatively that CAYFL's affiliation nationally with American Youth Football, headquartered in Miami, FL, derives a continuing benefit from "autonomy and flexibility. There are no 'dictators' at either the League or national level."

Larson is too modest to call attention to perhaps CCCYF's most important resource, the dedication and enthusiasm of the Association's parent community. At the June 13 registration event, this writer couldn't miss 'em, starting with the ten Board Members present.

Congratulations, CCCYF. May your eighth season be the most enjoyable and successful to date. Come cheer on the "Future Falcons," Saturday mornings, at … where else? Falcons Stadium.
Meet the Football Falcon seniors … Paul Walsh
By Pete Mohr | June 24, 2009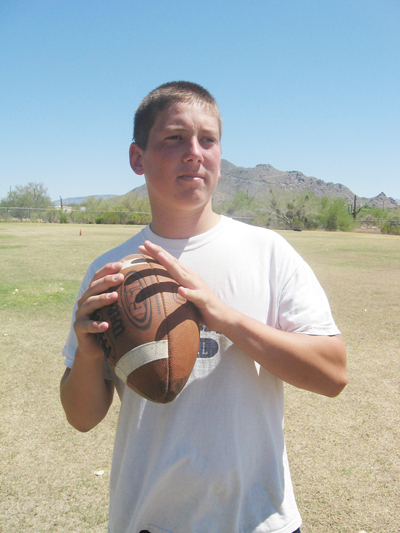 QB Challenger Paul Walsh
This writer placed a call to Head Football Coach Chad DeGrenier, Monday morning, June 22: "Coach, which senior would you like me to profile this week?" He responded, unhesitatingly, "Paul! (Walsh) He played great for us last weekend in San Diego." [The Falcons made their annual appearance in a Passing League Tournament at San Diego State, going 6-2, losing only to a California powerhouse – and to Brophy College Prep in the quarterfinals.

With Dillon Classen previously committed to a scouting combine at Colorado University, "back-up" quarterback Paul Walsh was at the throttle. Typically, Walsh declined comment on his performance, emphasizing to this writer, "All our receivers played great!" He was, however, quietly up-front in acknowledging, "I would like to start. Dillon's my friend; but I believe I have a shot."

Quarterbacking the JV Falcons at McClintock near the end of his sophomore season (2007), Walsh got crunched, breaking his left arm just below the shoulder. For two months, he was in an elevated cast that left him looking like a bizarre character in a horror movie! I thought Paul Walsh would never play football again. W-r-o-n-g!

Last season, he was the valuable "second link" (the holder) for the placekicking team of Tyler Souva (long snapper), Walsh, and kicker Bryce Redmond. He concurs with my assessment that when the Falcons reach an opponent's 30-yard line, Redmond is a definite scoring threat. "From that distance (a 47-yard kick), Bryce can consistently make 'em." But not without a good snap and hold.

Grown to almost 6' and weight-trained/conditioned up to 185 lbs., Walsh, born February 10, 1992, in Cincinnati, is the son of Creekers Rhonda and Rick Anderson. Younger brother, R.J., 14, will be seeking to start at QB for the Freshman Falcons. "Our Dad has been pushing us hard this off-season," Paul comments appreciatively.

What of this, his senior season? "My last chance to have fun playing football – and to do my best. We seniors have got to step up. I believe that bigger and stronger, we will."
Whether or not Paul Walsh wins the quarterback start, count on this modest young man to "step up." He already has.