Bryan's Barbecue Ribbon Cutting party attracts throngs of fans
By Curtis Riggs | June 24, 2009

'Keeps getting busier and busier'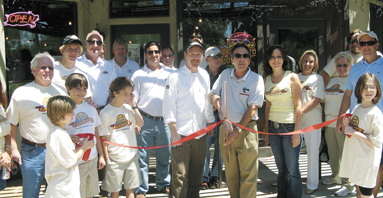 CAVE CREEK – Evidently people just love their barbecue around here.

The crowds at Bryan's Black Mountain Barbecue have been steady since Bryan and Donna Dooley opened their restaurant in the Las Tiendas center in April. On Saturday a large crowd formed for the ribbon cutting ceremony at 11 a.m. Many of these same barbecue lovers were still around for the grand-opening party that night.

"It's been great since we opened the business," Dooley said. "It just keeps getting busier and busier."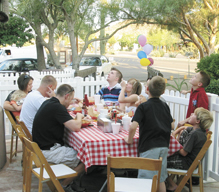 The Dooleys welcomed large crowds into their new eatery all day long. Cave Creek Mayor Vincent Francia, Carefree/Cave Creek Chamber of Commerce ambassadors, longtime Dooley family friends and fellow business-people from the two Desert Foothills communities were among the many who stopped by to partake in the tasty barbecue. Many of them danced to the Rockabilly sound of the Haymakers that night.

A lot of the grand-opening visitors had already eaten at Bryan's and knew what to expect when they bit into one of the fabulous pork sandwiches and pork, chicken and beef barbecue rib dinners. Both newcomers and regulars commented about the mouth-watering fare and how the Dooleys have brought a healthy dose of family fun to downtown Cave Creek.
Hilarity abounds as Desert Foothills Theater Gecko Teatro Presents "Yee Haw: The Wildest Musical In The West"
June 24, 2009

Thursday, July 2, 7 p.m. at Cactus Shadows Fine Arts Center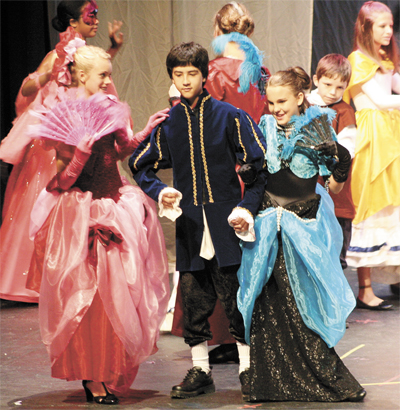 Courtesy Photo:
Students rehearse for DFT Gecko Teatro's 2008 summer camp performance of "One Upon a Dream: The Classic Cinderella Story"
Desert Foothills Theater (DFT) Gecko Teatro, the youth theater arm of Desert Foothills Theater (a division of the Foothills Community Foundation), presents a hilarious western musical melodrama as the final production of their 2009 Summer Theater Camp.

Nearly 40 students ages 7 – 14 bring this fun-loving show to life. Written by an English playwright who notes that every effort must be made to "use American accents" (no problem here), "Yee Haw: The Wildest Musical in the West" is a British pantomime.

"Traditionally performed at Christmas, with family audiences consisting mainly of children and parents, British pantomime is now a popular form of theatre, incorporating song, dance, buffoonery, slapstick, cross-dressing, in-jokes and audience participation. There are a number of traditional story-lines, and there is also a fairly well-defined set of performance conventions." – Wikipedia

Pantomime conventions often include the use of familiar tunes re-written with new words, the appearance of a pantomime horse or cow (in our show a horse) where the head and legs are played by one actor and the rear and back legs by another, and entrances designed so the good guy always enters from stage right and the evil villain enters from stage left. In Commedia Dell 'Arte the right side of the stage symbolized Heaven and the left side symbolized Hell.

"I am really excited to be giving our students the opportunity to learn a little bit more about a different theatrical style. The show is just so much fun for the actors and audience members alike. "Yee Haw: The Wildest Musical in the West"is a wonderful show for the entire family," said Lori Vander Maten, Director of DFT Gecko Teatro.

At the summer camp, students spend two weeks under the guidance of four Desert Foothills Theater Gecko Teatro instructors and highly qualified teen and college aides learning every aspect of theater production. "Students study acting techniques and apply them to their character development, memorize their lines, learn the songs, learn choreography, help build the sets and help create the costumes. It is a full-immersion theater camp," said Vander Maten. "It is truly amazing what they can accomplish in only two weeks."

"Yee Haw: The Wildest Musical in the West" is being offered for ONE NIGHT ONLY. Tickets are $8 for adults; $5 for students and are available at the door beginning 1 hour before the performance. Further details may be found at www.desertfoothillstheater.com