Summer scorchers
June 17, 2009

How to recognize and prevent heatstroke in pets

With the dog days of summer before us, pet owners should beware of the dangers of heatstroke in pets.
More...

Tortoise adoption days provide wealth of information

June 17, 2009

SCOTTSDALE – Desert tortoises offer a unique alternative to more traditional family pets, and can teach many of the same life lessons to children, including responsibility, compassion and commitment.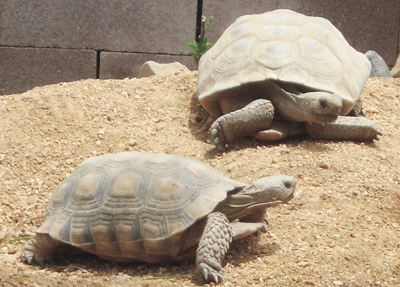 For approved applicants that are ready to adopt a desert tortoise, the Phoenix Herpetological Society (PHS) will be holding workshops to provide future custodians with a wealth of information on how to properly care for a captive desert tortoise.
Workshops will be held from 9 a.m. to 1 p.m. on Saturdays throughout the summer, including June 20, July 18 and Aug. 15. In addition, a special pre-hibernation clinic will be held on Sept. 26 from 9 a.m. to 4 p.m. to help adopters learn more about their tortoise's upcoming winter hibernation and how to properly prepare.
Adoptions are approved only after applicants have submitted an application and can demonstrate that they have a proper outdoor enclosure and burrow.
While these workshops are for already-approved adopters, anyone interested in becoming a tortoise custodian is encouraged to submit their application promptly in order to attend one of the free presentations.
Desert tortoises can live up to 100 years. They grow to be about 15 pounds and hibernate in the winter months. They eat plant material, including grasses, wildflowers and native cactus fruits. Once captive, desert tortoises cannot be released back into the wild. Captive animals can pass an upper respiratory disease to wild tortoise populations.
Game and Fish discourages tortoise custodians from allowing their animals to breed. Each year, there are more tortoises than good homes for adoption.
Tortoises adopted through the cooperative program between the Arizona Game and Fish Department and PHS are marked with identification and pass a health check before being available for adoption.
State law prohibits taking these creatures from the wild, and federal law bans the transport of them across state lines.
For information on the workshops, please visit
www.phoenixherp.com
. To learn more about adopting a desert tortoise, visit
www.azgfd.gov/tortoise
.