Cave Creek Museum seeks volunteers to help digitize nearly 25,000 documents
June 17, 2009

Summer projects also include developing teacher lesson plans for Museum web site and compiling photos from both Cave Creek and Carefree

CAVE CREEK – Preserving history sometimes requires thinking to the future, and Cave Creek Museum is doing just that this summer.

The Museum is seeking volunteers of all ages to help digitize nearly 25,000 documents dating back to 1870. Help is also needed to compile past and current photos from both Cave Creek and Carefree to create a comprehensive photo disk. And, thanks to a grant from APS, Cave Creek Museum will create and post teacher lesson plans on its web site.
More...

Urgent fundraising appeal
Please help

BELLEVUE, WASH. – KeepAndBearArms.com, a grassroots movement helping lawful people maintain their abilities to protect themselves, is experiencing a critical cash flow problem this spring and summer. They have many urgent needs at the moment – in particular getting caught up on bills owed.

They are also trying to expand the number of gun owners that visit their web site before Congress and many state legislatures take up new gun control measures. To do so requires placement of banner ads on other sites and ads in search engines like Google, Yahoo and MSN.

They plan on expanding their reach with more news, information, and grassroots action projects to expose and defeat the enemies of freedom.

Help them send a loud and clear message to the United Nations, Brady Center, Million Mom March, Violence Policy Center and the entire anti-gun rights movement.

At this time what is needed is funds. So, if you can join, renew, and/or make a mid-year contribution RIGHT NOW, it will help immensely. They need to raise $9,870 from generous donors to meet current obligations.

Donations can be made at www.KeepandBearArms.com or by mailing a check to: KeepAndBearArms.com, 12500 N.E. Tenth Place, Bellevue, WA.
Grand Opening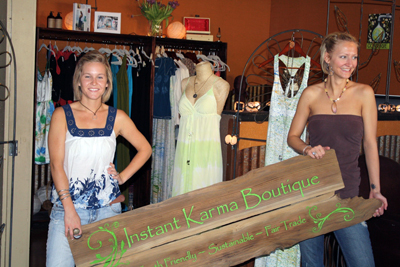 Instant Karma Boutique's Grand Opening event is from 7 – 10 p.m. Saturday, June 27 at the Cave Creek Coffee Company located at 6033 E. Cave Creek Road. For information please call 480-595-3165 or visit www.instantkarmaboutique.com.