Town core businesses have no apparent beef with Walmart
By Linda Bentley | June 10, 2009
We know from Zip Code analysis people from the area already shop at Walmart'
CAVE CREEK – On Thursday, local business owners were invited to participate in a meeting at the Buffalo Chip Saloon to address their questions and/or concerns about Walmart's proposal to locate in Cave Creek just south of the southeast corner of Cave Creek Road and Carefree Highway.

MORE ...

Walmart gets thumbs up from planning commission
By Linda Bentley | June 10, 2009
'Citizens ought to be able to buy their goods in the town of Cave Creek'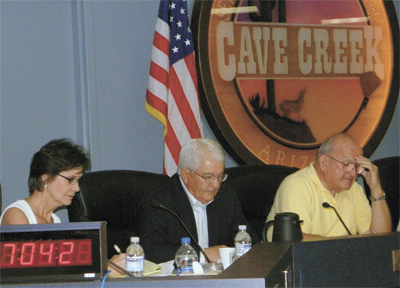 CAVE CREEK – Dan Baxley was voted in as the new chairman of the planning commission by a vote of 6-0 with Commissioner Shelley Anderson, who had only just been appointed that Monday, voting "here." Baxley is replacing the balance of Jim Bruce's term as chairman since Bruce was elected to council.
Although Commissioner Bill Allen nominated Vice Chair Reg Monachino, there was no second.

MORE ...
Cave Creek Council seat to be decided by luck of the draw
By Linda Bentley | June 10, 2009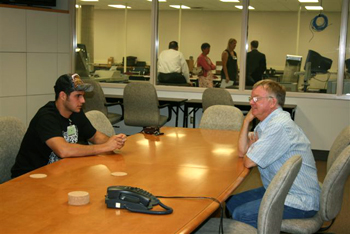 CAVE CREEK – Council candidate Adam Trenk (l) and former Councilman Thomas McGuire are pictured anxiously awaiting recount results at the Maricopa County Elections facility downtown on Thursday afternoon, June 4.

When it was all said and done, Town Clerk Carrie Dyrek forwarded an e-mail from Maricopa County Elections Director of Communications Yvonne Reed, with pictures from Thursday's recount, stating, "Don't forget to send me some pix of the 'draw' - I would love to add them to this file," making it clear the recount also resulted in a tie.

The results were subsequently filed with Maricopa County Superior Court where Judge John Buttrick ordered the election to be decided by a draw of cards using a new, unopened deck to be shuffled up to five times with the candidate drawing the highest card to be declared the winner. If a joker is drawn the person must draw again. If a tie is drawn, both must draw again until a winner is declared.

The draw will be held on Monday, June 15 at 5 p.m. in the Council Chambers at Cave Creek Town Hall. Magistrate George Preston will be officiating.
Council presented with White Paper and draft budget
By Linda Bentley | June 10, 2009
Citizens outraged over one-minute comment limit,
water bills
CAVE CREEK – Call to the Public brought Jim Hamberlin to the podium during Monday's council meeting to say he drove over 80 miles to attend the planning commission meeting on Thursday, representing a landowner who has owned his property for 40 years and was upset about the one-minute limit for public comments.

MORE ...
Changes make shifting council assignments moot
By Curtis Riggs | June 10, 2009
Committee functions eliminated instead
CAREFREE – Mayor David Schwan's assignment of council members to committees incited discord during Tuesday's council meeting.

MORE ...

Building center of budget problems for Carefree

By Curtis Riggs | June 10, 2009

$60,000 income still listed for vacant building
CAREFREE – What to do with the soon to be vacant Eight Sundial Circle building, which the previous town council purchased hurriedly at the end of 2008, is causing budget problems from both ends for the new town council.

MORE ...