My View
By Don Sorchych | June 3, 2009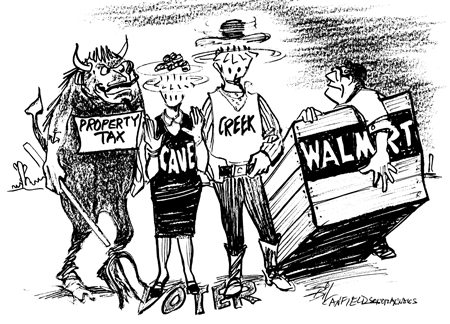 Walmart

We have printed many versions of a poll concerning Walmart on our web page. Earlier versions used cookies to deny multiple accesses. One reader wrote in and said, when I read your poll, I eat a cookie and vote then I eat another cookie, and on and on.

So GoDaddy gave us a better version and the one running currently is more accurate except for one thing; anyone can vote.

Our desire is to gauge the attitudes on Cave Creek voters and we can't. In fact 90 percent of the letters received by town officials are from Carefree and Phoenix residents although many claim they are Creekers. Some because their address is 85331 and they incorrectly think they are Cave Creek citizens and some just lie.

I can understand why many don't want a Walmart in Cave Creek and why many do. But while the dissidents would throw the baby out with the bathwater, reasoning people won't.
In the case of Carefree and Phoenix residents, it is none of their business. Further, Carefree already has two tax generators at the Carefree and Cave Creek Road corner. So who are they to claim foul? In the early nineties the zoning was residential and the Carefree Council converted the Northwest corner to commercial after a referendum, so don't tell me it was zoned commercial – it wasn't.

Phoenix is laughable as the city with the highest density and the most upzoning in the valley. Where did Home Depot go when Cave Creek dissented? Phoenix approved Home Depot in a heartbeat but their citizens, like Carefree citizens, don't have a vote on Walmart in Cave Creek.

The leader of the Dark Side, which is anti-Walmart, is actively against Walmart as she flies around on her broom.

The issue is simple; either a property tax or Walmart. We are indeed lucky Walmart plans to locate here. They could easily go to Phoenix and be indulged and they will go there if they have too. And it is likely, that like Home Depot, we will get the traffic and impact anyway. How can the dissidents claim they are for the town if they invite a property tax? Many are simply aginners.

For those of you who assailed Walmart at two recent meetings, I can only say tsk, tsk and hope you grow up someday and recognize you aren't the only ones who have rights.

Even though Washington is attempting to kill free enterprise, Walmart is a prime example of a system that has worked in this country like no other. What business is all about is improving the standing of shareholders in public companies. Shareholders are the owners and as long as the company is legally constituted and run, it is the bottom line that counts.
If Walmart builds, they will come.

Dissidents that demand Walmart move to commercial property on Carefree Highway might as well save their breath. Asking is one thing; demanding is another. Walmart wants to be in Cave Creek, at the location they purchased. Citizens will decide by vote if there is a referendum and there will be as sure as there are witches on brooms.

The latest gagger is the claim Walmart uses Italian ownership to avoid taxes.
So?

Courts will decide if it is legal but it is a CEO's job to avoid taxes if they can. How many more non sequiturs will crawl from under the rug?

Other complaints include the concept that establishment of Walmart will bring crime. That is nonsense. What it will bring is jobs and tax receipts. Non-citizens have taken a current episode in a Walmsrt store and blown it out of proportion as typical; it is no more typical than of any store.

What is really dishonest are people who write to the town asserting they are citizens when they are not. Non citizens, I repeat, cannot vote on Cave Creek matters, but they can lie.

Here is an example:
Jason Walsh wrote to Mayor Vincent Francia asserting he was a citizen of Cave Creek. He raged about how terrible a Walmart would be. The exaggeration is obvious and I included his letter as the first on the letters page.

The problem is he is a resident of Carefree. He lives in Canyon Creek Estates between Sentinel Rock and Lost Acres, at least a mile from the Walmart site, yet twice claimed he was a Cave Creek citizen.

Shame, Jason. If you are Catholic and do confession that will be a few rounds of the rosary.
He is not the only one to try to get attention as a citizen voter. We are collecting letters and will publish the cheaters.

If you think this isn't an organized campaign to defeat the Walmart application to build, listen up:

Wayne Befort P.E. of Carefree Mountain Estates in Carefree wrote, "I simply believe and hope that Cave Creek/Carefree will never sell their soles (sic). Allen Neely, from the same Carefree subdivision wrote, "I simply hope and believe that Cave Creek will never sell their sole (sic).

Bet neither won spelling bees in school either.

Proponents of Walmart are quiet, I hope they get active and push back the reckless and rude dissenters, avoiding mob rule. It wouldn't hurt to thank out of towners for their opinion and then develop your own. Voting against Walmart is voting for a tax, and no tax is uglier than property tax.

I was against Home Depot when they tried to establish in Cave Creek. I was caught up in the magic of Cave Creek and didn't think much about insatiable Phoenix on our borders.
I couldn't have been more wrong! We didn't get the tax receipts and Phoenix did. As an outlying business Phoenix didn't get the traffic and congestion impact, we did.
Learning from history is important and I won't join that clamor again.

Town staff, over the past several years, has developed a shield from the ravenous Phoenix advances with 4,000 acres of preservation land and a new commercial center. All of that has to be paid for.

And just because dreamers don't think Walmart has choices, how dare they insist Walmart locate in the new commercial center on Carefree Highway? Walmart is expert about location. The whiners are not.