Cathy's Organic SuperStore – for a healthier future
By Curtis Riggs | June 3, 2009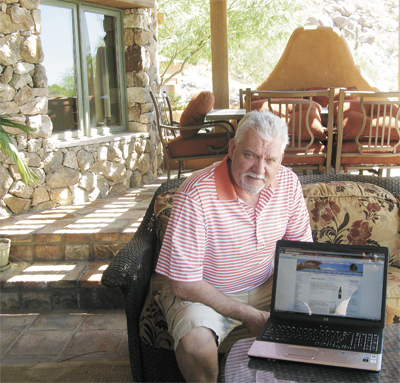 CAREFREE – Residents Brian Gallagher and his wife Cathy recently got so serious about their healthier lifestyle, they decided to make it easier for others following the same lifestyle path by creating a website dedicated to the use of natural, organic and healthier products.

The Gallaghers launched Cathy's Organic SuperStore, www.cathysorganicsuperstore.com in October of last year. The idea behind the website is consolidating and centralizing organic, natural and healthier products into one location so site users can find exactly what they are looking for.

"We are trying to fill a niche," said Brian, who is a walking testament to living a healthier life. Not that many years back doctors discovered he had both prostate and colon cancers.
After making major changes about what he put in his body and even what he put on it, Gallagher now pronounces himself "100 percent healthy."

The website includes 2,000 products including LoRocca organic wines, bedding and clothes made from organic cotton and even a water bottle, which has had the plastic chemical byproducts removed, and was recently featured on the Oprah Winfrey show.

"I thought what if people could find all their organic, natural and healthier products in one place?" he said. "I was also frustrated because 70 percent of the sites didn't give a phone number. We give our phone number and encourage people to call us."

Organic and natural supplements and health and beauty products can be found on the website.

Brian said launching the website was also about changing people's buying habits and the opportunity to offer the best natural and organic products available. He calls the new website and all of the opportunities for a healthier lifestyle the "wave of the future."
Members of Cathy's Organic SuperStore pay a $125 annually to use the website. For this they not only can find what they are looking for, they can also save as much as 70 percent on some products.

For more information visit the website or call 602-541-0777.

Photo by Curtis Riggs
Carefree resident Brian Gallagher launched the website, www.CathysOrganicSuperStore.com, last fall as a way of consolidating organic, natural and health products in one place.