Stagecoach Village condos slated for trustee sale

By Linda Bentley | June 3, 2009

California Department of Corporations issues 'Desist and Refrain Order'
CAVE CREEK – On Wednesday, June 10, 12 of the Stagecoach Village commercial condominium units are scheduled to be auctioned off to the highest bidder in a trustee sale to satisfy the balance of a $4.5 million loan issued by First Savings Bank in Las Vegas.

Stagecoach Village, LLC sold 12 condo units to Stagecoach Retail, LLC in December 2007 for $4,581,698, with no money down, a seller loan carryback and new conventional financing from First Savings.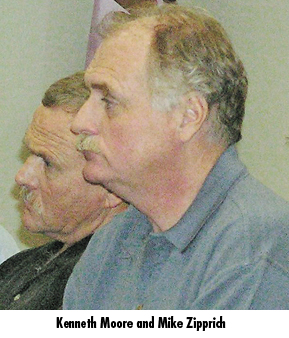 Stagecoach Village, LLC's managing members, who signed the deed in December 2007, were Mike Zipprich and Kenneth Moore, who, at the time was out on $100,000 bail with his passport relinquished, after being indicted in 2004 by a federal grand jury on 36 felony counts, including conspiracy, wire fraud, money laundering and income tax evasion for his participation in a criminal enterprise involving 14 other defendants.

A jury found Moore guilty on all 36 counts in May 2008 and he was subsequently sentenced to 12.5 years in federal prison.

Stagecoach Retail, LLC doesn't fair any better with its partners.

On March 31, 2009, Attorney Paul Rice filed a complaint in federal court in San Jose, Calif. on behalf of Mark and Delia Shepherd against Michael Sims, Sam Stafford, Melvin Russell "Rusty" Shields, S3 Partners, LLC, Alaris Development, LLC, Stagecoach Retail, LLC, Sonterra Retail Center, LLC, the Shields Foundation, and numerous other companies and individuals, alleging federal and state securities fraud, intentional misrepresentation, negligent misrepresentation and rescission.

The complaint states the Shepherds paid the defendants $660,000 to invest in two real estate projects, Sonterra Retail Center, LLC, located in Texas, and Stagecoach Retail, LLC in Cave Creek.

According to Rice, during the summer of 2007, defendants told the Shepherds their investment in both projects were "very secure," "very safe," "safe, secure, tried and true" and "secured by entitled land."

The Shepherds were told funds were secured through ownership in the land and their investment would receive a return of between 12 to 15 percent per year.

The defendants failed to mention the Shepherds stood to lose their entire investment, neither Sonterra nor Stagecoach had legal title to any of the land, neither project had sufficient funds available to obtain loans to complete development, Shields had previously been convicted of at least one felony and previously filed personal bankruptcy, while making false and misleading statements and omissions in reckless disregard of the truth.

Then, on May 11, 2009, California Corporations Commissioner Preston DuFauchard issued a "Desist and Refrain Order" against S3 Partners, a Nevada LLC dissolved in October 2008, the three partners to which the company's name refers, Shields, Sims and Stafford, along with several other defendants also named in the Shepherds' complaint.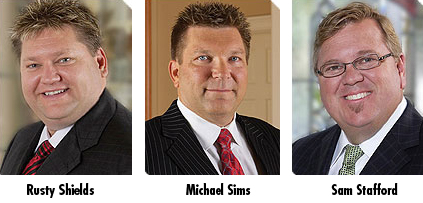 Licensed to sell insurance in the state of California, Sims had his real estate license suspended indefinitely in 1978 by the California Department of Real Estate.

Stafford, also from California, is a principal in Alaris Development, a Nevada LLC, which claims on its website (www.alarisdevelopment.com) to be "a member of the S3 Partners family of companies," specializing in offering real estate investment opportunities to investors.

Shields, who resides in either North Carolina or Florida, is the principal of Pinnacle Property Solutions.

According to the Commissioner, Sims, Stafford and Shields formed S3 Partners in February 2007 primarily for the purpose of seeking investment capital from individual investors to fund several separate real estate venture companies structured as LLCs.

The three, jointly and individually, solicited offers to sell securities through a number of methods, including "free lunch" and "free dinner" seminars.

Stagecoach Retail and Sonterra Retail were two of the LLCs through which S3 offered and sold interests.

According to DuFauchard, marketing and sales were intentionally targeted toward senior citizens and the three "used aggressive tactics to convince mostly elderly investors to free up investment dollars for S3's various LLC ventures."

The partners went so far as to urge investors to withdraw funds from their IRA accounts, which were being managed by reputable investment firms, and place them in IRA accounts that would permit investment with S3.

Sims, Stafford and Shields persuaded investors not only to refinance their homes for cash equity to invest with them, but to take out a second mortgage in order to make the payments on the first.

Investors were promised such high returns over such a short period of time, the two-mortgage plan seemed reasonable, even though it placed their homes at risk.

While DuFauchard described the investments offered by Sims, Stafford and Shields as securities, he also said the California Department of Corporations had not issued any permit, license or other form of authorization, approval or qualification to any person to allow the sale of such securities.

DuFauchard also noted S3 makes charitable claims, promoting itself as "a family of companies focused on real estate, financial services and charitable businesses for the purpose of directing resources to impact our local and global communities," and stating, "God created us to do something for him. S3 Partners empowers people to ignite their passion, discover their purpose and fulfill the plan God has for their lives …"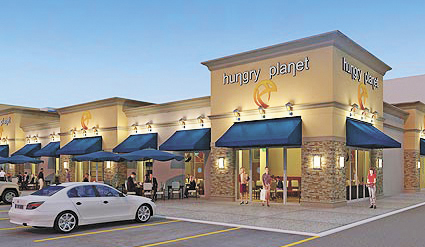 S3 names Hungry Planet, which it describes as "a chain of international cafés," and Crown Business Centers as its two nonprofit entities and claims to reinvest 100 percent of the profits into the communities where they are located as well as "assisting international mission and relief efforts."

DuFauchard believes the computer generated picture of a Hungry Planet restaurant, used in S3's brochures and on its website, could be "faked" and is intended to add credibility to their charitable giving claims, although it does not appear the companies, if they even exist, make any contributions to charity.

Although a Hungry Planet Restaurant was located in Ontario, Canada, in the "beautifully restored, vintage GM building in historic, downtown Perth," there is no chain of international cafés or anything resembling the picture.

DuFauchard ordered S3, Sims, Stafford, Shields and all other companies and affiliated entities under their direction and control, to "desist and refrain" from offering securities for sale in the state of California, including interests in LLCs, declaring the order "necessary, in the public interest, for the protection of investors and consistent with the purposes, policies and provisions of the Corporate Securities Law of 1968."