Local grandparents Rycroft watched granddaughter dance to fame
By Curtis Riggs | June 3, 2009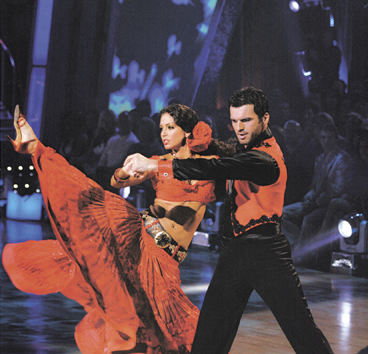 CAVE CREEK – While the two-stepping days of grandparents Tom and Nicky Rycroft are likely behind them, the Tatum Ranch couple were kicking up their heels every Monday night for the last eight weeks as they watched their granddaughter Melissa compete on Dancing With The Stars.

Melissa Rycroft won third-place on the ABC hit series. Olympic gymnast Shawn Johnson, who garnered a couple of gold medals in last summer's Beijing Olympics, won the Dancing With The Star competition.

Grandparents Tom and Nicky had no idea how far she would go. Dancers were eliminated every week by votes from a panel of judges and votes from viewers nationwide.

Tom and Nikki even got to go to Hollywood and sit in the front row for Melissa's finale.
"It was just like seeing a movie being made," Tom said of being at the ABC studio.
He admits it was better watching the competition on television, however.

This season's hit series was not the first time the Rycrofts were able to see their granddaughter Melissa perform on television. The 19 year old was a Dallas Cowboys cheerleader for the past two years and was also on ABC's The Bachelor last year.

"Two other women were injured so Melissa had to fill in," Tom said about Melissa's opportunity on Dancing With The Stars.

Tom said Melissa did not get stars in her eyes from all of the Hollywood lights and attention. He thinks she will continue with her plan to someday become a teacher.

This spring Cardinals quarterback Matt Lienert flew to Hollywood for one of the later shows and went backstage to meet her during the taping of the shows. Phyliss Diller, a TV star from the 1950s and 60's, also got the chance to meet Melissa and congratulate her on her dancing.

Tom said while she will likely make the most out of her present fame with a few commercials she has no plans to get into the entertainment business.

That is just fine with her grandfather who spent some time singing with big bands during the 1940s.

"Many are chosen, but few are called," he said about his Hollywood experiences.

Courtesy Photo:
Melissa Rycroft, whose grandparents live in the area, took third-place in the Dancing With The Stars finale. She is shown with dancing partner Tony Dovolani.