Cave Creek and Carefree final election results ... almost
Final election results has McGuire and Trenk in dead heat
By Linda Bentley | May 21, 2009
CAVE CREEK – Late Thursday afternoon, Maricopa County Elections released the final election results for Cave Creek.
MORE ...
Vanik beats write-in candidate Traynor by 11 votes
By Curtis Riggs | May 22, 2009
CAREFREE – While most of the surprises about this year's town council elections took place a couple of months ago, the official results from the May 19 election held a few more when they were released on Friday.
MORE ...
Is Fulcher fishing for fodder to discredit Coady?
By Linda Bentley | May 27, 2009
Kiwanis Club of Carefree may not be all that it should be
CAREFREE – Following one the most contentious elections in the town's history, Mayor Wayne Fulcher, who came in eighth in a field of ten with only 586 votes, was relegated to the May 19 runoff election until he withdrew his candidacy.
MORE ...

Walmart faces hostile crowd during neighborhood meeting

By Linda Bentley | May 27, 2009
Architect concedes he'll need to go back to address building height
CAVE CREEK – Even though it was raining, a good number of people packed the May 21 Walmart meeting at Cave Creek Town Hall about the Supercenter proposed for 20 acres to the south of the Bullington property at the southeast corner of Cave Creek Road and Carefree Highway, bounded by Olesen Road to the south and 56th Street to the east.

MORE ...
Nearly 400 Falcons solo into the world!

By Pete Mohr | May 27, 2009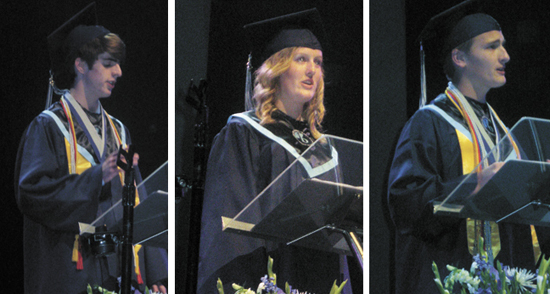 PHOENIX – A slow but steady rain for the second consecutive year couldn't dampen the jubilation inside Phoenix First Assembly as 390 Cactus Shadows seniors graduated to the whoops, hollers and air horns of celebrating parents, family members and barely-restrained friends! "You are the next greatest generation," emphatically stated Cactus Shadows High School Interim Principal Dr. Donna Lewis. "Go be the heroes you were born to be!" Salutatorian Alec Stapp, Student Body President Sonia Zaruba and Valedictorian and Senior Class President Kevin Hildebrandt (above, l.-r.) followed with encouragements as to how the Class of 2009 might most confidently meet Dr. Lewis's challenge. CCUSD Superintendent Dr. Debbi Burdick offered her own version of David Letterman's "Top Ten," her "No. 1" exhortation being, "Have passion in everything you undertake!" All in all, it was a wonderfully jubilant graduation, as every commencement exercise should be. "Zero nine is mighty fine!" Photos by Pete Mohr

Camp Creek homeowners still waiting four years later
By Curtis Riggs | May 27, 2009

Forest Service drafting Environment Assessment
CAMP CREEK – Tonto National Forest officials are accepting public comment on the plan to extend permits, which would allow homeowners to rebuild 11 cabins destroyed in the 2005 Cave Creek Complex Fire.

MORE ...
Obituary