Baseball's May 18 awards cap '09 on positive note

By Pete Mohr | May 27, 2009
Nine Falcon seniors continue base-running "tradition"

FALCON FIELD – I am, self-confessed, a sucker for traditions – especially those that are sports-related. On a Saturday morning in early-November 1995, I'm excitedly watching the Texas A & M "Fighting Aggie Marching Band" parade through downtown Fort Worth for the last time before the break-up of the Southwest Conference. The San Antonio lady I should've married caustically observes, "You're just like a little kid!" To which I replied, "Honey, your Daddy was an Aggie and you can't get excited about this?!" Some three months later, she would drum me out of her "stockade." Broke mah doggone hahrt!

Now you readers understand why I'm really "into" Falcon Baseball's tradition of having the seniors "run the bases" for the last time as the wind-up to the team's awards event (see accompanying photo).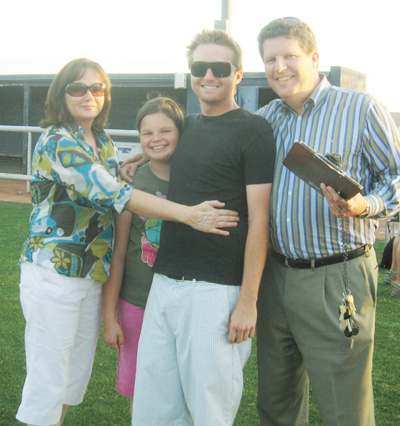 On May 18, those seniors were (in alphabetical order) Mike Basco, Jay Burke (in spirit), Ismael Castro, Gregg Clifton, Austin Edwards, Jackson Goulder, Steffen Miner, Anthony Pena and Chris Sabanosh. Congratulations, guys, on finishing your Falcon careers as Desert Sky Champions, denying Chaparral their 13th consecutive Region title in 4A Conference. (Come this August, the Chappies are "movin' on up" to 5A Conference - Division II.)

Freshman Coach Jeff Scapula (11-6-1) introduced his squad individually, announcing Sean O'Grady as frosh MVP. JV Coach Mike Baker (11-7) followed likewise, with Jaron Long honored as MVP. For you stat freaks, Varsity/JV/Freshmen combined for a 44-20-1 record. That's playing .676 baseball, fans, a winning percentage for which the D-Backs would kill!

"Now running the bases for his Baseball Falcons … Number 20 … Head Coach Tom Scala." Thanks, "Coach Tom." Wishing for you "smooth seas and following winds."

Photo by Pete Mohr
"BEST TEAM PLAYER" senior relief pitcher Gregg Clifton (shared with junior first baseman A.J. Zygutis) is congratulated by parents Gregg and Robin (and "little sister" Lillie) after the tradition of "running the bases" for the last time as a Baseball Falcon, Monday evening, May 18.

All-Region Honors
Co-"Players of the Year" - Jackson Goulder
(with Chaparral's Trey Ford)
1st Team - Ismael Castro, Chris Sabanosh
2nd Team - Mike Basco, Austin Edwards, Steffen Miner
Honorable Mention - Logan Davis, Nick Francis, Anthony Pena