Updated Election Results


Final election results has McGuire and Trenk in dead heat
By Linda Bentley | May 21, 2009
CAVE CREEK – Late Thursday afternoon, Maricopa County Elections released the final election results for Cave Creek.
MORE ...

Vanik beats write-in candidate Traynor by 11 votes
By Curtis Riggs | May 22, 2009
CAREFREE – While most of the surprises about this year's town council elections took place a couple of months ago, the official results from the May 19 election held a few more when they were released on Friday.
MORE ...
May 19, 2009 Preliminary election

Some results too close to call

Creekers pick Bruce and McGuire for council
By Linda Bentley | May 20, 2009
CAVE CREEK – Unofficial results have Planning Commissioner Jim Bruce and Councilman Thomas McGuire as the winners of Tuesday's runoff election for the two remaining Cave Creek Town Council seats.

While Jim Bruce appears to be a clear winner, it may still be too close to call for Thomas McGuire with challenger Adam Trenk trailing by only 17 votes.

Carefree voters still embracing change
By Curtis Riggs | May 20, 2009

CAREFREE – Preliminary vote totals released for the May 19 general election indicate voters continued to support the change in town government.

First-time council candidate Peter Koteas leads the five other candidates by 205 votes. His 621 votes amounted to 26 percent of the votes cast.

Voters also supported Prop. 404, winning by a 44-percent margin, with 550 votes cast for and 213 against. Prop. 404 will go into effect in 2011.

Exactly how much change there will be on the Carefree Town Council may not be known until Friday because Maricopa County Election officials have until then to verify the votes of write-in candidates John Traynor and Jim Peirce. Tuesday's preliminary vote totals show the two candidates garnered 23 percent of the votes cast. They received a combined 555 votes.
Council incumbents Bob Gemmill (416 votes), David Schwan (410) and first-time candidate Susan Vanik (390) appear to be in close contention for the remaining three open seats.

Traynor or Peirce could easily take one of the seats, however because of the large number of write-in votes cast.

Voter turnout on Tuesday was near 31 percent.
Remember ... Memorial Day

By Curtis Riggs | May 20, 2009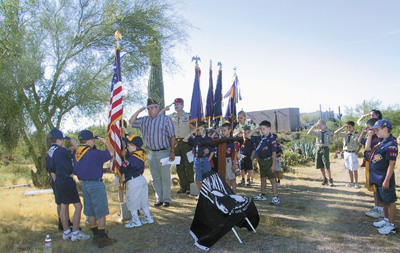 Cave Creek American Legion Post 34 will hold Memorial Day services at the Cave Creek Cemetery at 8 a.m. on Monday, May 25. Area Boy Scout and Cub Scout troops participate in the ceremonies every year, as do local veterans. The Cave Creek Cemetery is located at the southeast corner of Cave Creek and Pima roads.
Photo by Curtis Riggs
Forty percent of Cave Creek designated open space

By Linda Bentley | May 20, 2009

Annexation's seven-year journey sails to an end without Meeth
CAVE CREEK – During Monday night's meeting, Mayor Vincent Francia said there would a special meeting next Tuesday, May 26 for the sole purpose of canvassing the election and announced there will be council meetings held on the first three Mondays in June.

MORE ...
Scottsdale residents watching two major G.P. Amendments
By Curtis Riggs | May 20, 2009

Concerned about destroying zoning overlay
SCOTTSDALE – Activists, residents and government watchdog groups will be watching closely while two major General Plan Amendments make their way through the process at city hall this fall.

MORE ...
Scottsdale proposal would allow 100,000-pound planes
By Curtis Riggs | May 20, 2009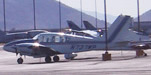 SCOTTSDALE – An aviation consultant's proposal to allow heavier airplanes to land at Scottsdale Airport is being seen as the next step before commercial air service.

MORE ...
Attempted drive through
By Curtis Riggs | May 20, 2009

The driver of this SUV could have been angry with Carefree voting options on Election Day or mistook the accelerator for the brake when his vehicle jumped the curb, smashed a flower planter and ran into the wall at the Carefree Town Hall/Post Office on Tuesday afternoon.
Photo by Curtis Riggs