Ninth inning rally saves Falcs; moved to Quarterfinals vs. S.D.O., May 13
By Pete Mohr | May 13, 2009
FALCON FIELD – May 9. By now, you know Prescott Head Coach John Irish's #15 Battlin' Badgers came (too) "close for Government work" to pulling off an "anything" upset of the #2-ranked Falcons. Down to their last three outs, the 'Birds pulled even at 8-8 on a hit batter, two walks and senior Austin Edwards' sacrifice fly blast to deep center. When the ball came off "Ozzie's" bat, it looked like a game-winning "Grand Salami," but the "Mariah" crosswind, still blowing from left to right, kept the ball in the park for Badger centerfielder Matt Kelly to make a highlight film catch. Deflation City! A strikeout and a 6-4 fielder's choice ended the threat; but the 'Birds had survived to play extra innings. "Whew!"

Over the next three Badger at-bats, only reliever Ismael Castro's unexpected (and unexplained) bloody nose slowed the Falcon "D" which put up two sensational throws by catcher Steffen Miner (one an alert pickoff throw to first baseman Chris Sabanosh); a crisp Mike Basco-to-Edwards-to-Sabanosh DP that snuffed the Badger 8th; and then, in the Prescott 9th, Logan Davis made the "Defensive Play of the Game," swooping in from short to bare-hand Mike Chriss' slow roller and make the out throw to Sabanosh. Hello, 'Mo'?

Falcon 9th: Francis walks on four pitches; moves to 2nd on Miner's fourth pass; and alertly takes 3rd on Edwards' fly to right center. Leadoff hitter Anthony Pena is walked intentionally. Bases loaded, one out. Davis smashes the first pitch into center, just beyond the reach of the diving 2nd baseman, Amando Apolinar. "The Falcons win! The Falcons win!" The sigh of relief from the Falcon Field Faithful (and this writer) could be heard clear to Sonoran News!

So Wednesday evening, it was on to Surprise Baseball Stadium, where the Falcs took on #10 Sandra Day O'Connor in the Elite Eight. [See accompanying Box for Quarterfinals match-ups.] Captain Jackson Goulder got the call to face the Eagles, seeking to earn his 10th win against no defeats. If the Falcons advance, Basco will start in Friday's 4 p.m. Semis, with Castro ready to open in Saturday afternoon's 3:07 Finals, both games at Tempe Diablo Stadium.

Guys, you "ducked a (near-fatal) bullet" last Saturday. Now fire up that 2006 "State Championship Express" and keep rollin'!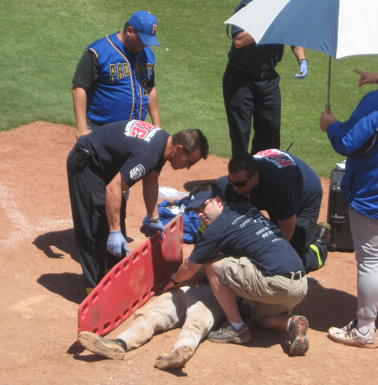 Photo by Pete Mohr
SCARY MOMENT: In the Falcon 5th, Drew Giardina (foreground), Total Sports Fitness, Scottsdale, prepares to help Scottsdale Fire emergency technicians lift Prescott catcher Renen Packer onto a stabilizing board for transportation to Scottsdale Healthcare (Thompson Peak). In making the "out" tag on base runner Nick Francis, Packer suffered a potentially-serious neck "stinger." Thankfully, an MRI soon had the tough Packer on his way back to Prescott. A concerned Badger Head Coach John Irish is at far left.



4A-I'S Elite Eight

Top Bracket: Wed., May 13, at Tempe Diablo Stadium
#4 Chaparral vs. #5 Nogales, 4 p.m.
#1 Cactus vs. #8 (Tucson) Catalina Foothills, 7 p.m.
Lower Bracket: Wed., May 13, at Surprise Baseball Stadium
#3 (Tucson) Canyon del Oro vs. #6 (Tucson) Cienega, 4 p.m.
#2 CSHS vs. #10 Sandra Day O'Connor, 7 p.m.

Short, 'Mods', Lazo, Gilbertson pace Track at Regionals
By Pete Mohr | May 13, 2009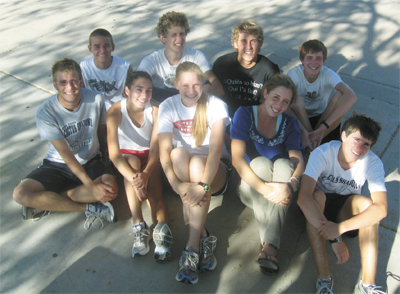 PHOENIX – A spectacular full moon illuminated the final four hours of last Friday's Desert Sky (and Pima) Regionals at Matadors Stadium, where the respective performances of Boys and Girls Track Falcons "far exceeded our expectations" according to Head Track Coach Jim Marando. The Guys (117.5) took an impressive 2nd behind champion Paradise Valley (125), with the Gals (122) a solid 3rd, trailing the winning Lady Trojans (141) and the Lady Matadors (130).

Senior Kyle Short "doubled" in the 1600 (mile) and 3200 (two mile). He won the 3200 on a courageous "kick" in the last 150 yards. I'll have difficulty topping that track memory! Lacey ("Mods") Modzeleski won the high jump and triple jump (breaking her own CSHS record), missing a third first (in the long jump) by one inch! Nationally-recruited soccer standout, sophomore Lauren Lazo, swapped shoes to qualify for State in four events. Senior Kurt Gilbertson did likewise. His surge to finish second in the 200m was impressive.

Listed are the Track Falcons whose placing performances qualified them (by events) for the 4A Conference - Division I State Championships, at Mesa Community College, Wed., May 13 and Saturday, May 16. Field events start at approximately 11 a.m., with track competition getting underway some five hours later. Congratulations, Track Falcons & Coaches. "Good Luck!" at State.

Photo by Pete Mohr: These Track Falcons will be among Falcon runners who'll continue the CSHS distance running tradition at State. (Front, l-r) Ben Cresswell (SR), Jesse Hass (JR), Shan England (SO), Natalie Omundson (SR), Kyle Short (SR); (back, l-r) Austin Miles (JR), Walker Bohannan (JR), Keith Omundson (JR), Alex Kaufman (JR).
Boys 4x800m Relay - 2nd
Kyle Short (SR)
Alex Kaufman (JR)
Walker Bohannan (JR)
Keith Omundson (JR)
Jordan Bagnall (SR) alt.
Boys 4x400m Relay - 3rd
Ben Creswell (SR)
Daniel Pages (JR)
Ryan Toomey (JR)
Kurt Gilbertson (SR)
Boys 1600m (mile)
Kyle Short (SR) - 1st
Alex Kaufman (JR) - 3rd
Boys 3200m (two-mile)
Kyle Short (SR) - 1st
Boys 100m, 200m
Kurt Gilbertson (SR) - 2nd
Boys Pole Vault
Gus Myers (SR) - 1st
Boys Long Jump
Jackson Donahue (SR) - 3rd
Boys High Jump
Kyle Gunter (JR) - 4th
Boys 4x100m Relay - 4th
Jackson Donahue (SR),
Kurt Gilbertson(SR),
Joree Scheider (SO),
Tommy Murphy (JR)
Girls 4x800m Relay - 1st
Natalie Omundson (SR)
Jesse Hass (JR)
Beau Bremer (SO)
Lauren Lazo (SO)
Shan England (SO) alt.
Girls Triple Jump (1st), High Jump (1st) Long Jump (2nd)
Lacey Modzeleski (SR)
Girls Discus - 4th
Alyssa Colan (SO)
Girls Pole Vault - 4th
Bailey Bowers (JR)
Girls 1600m (Mile)
Natalie Omundson
(SR) - 3rd
Girls 300m Hurdles
Beau Bremer (SO) - 1st
Girls 400m
Lauren Lazo (SO) - 2nd
Girls 800m
Lauren Lazo (SO) - 2nd
Girls 4x400m Relay - 2nd
Beau Bremer (SO) Lauren Lazo (SO)
Noelle Crow (SR) Anna Torosian (JR)