Programs to keep kids entertained this summer
May 13, 2009

Public library summer reading program keeps summer from turning kids' minds into jello

As another long summer away from school approaches, many parents are wondering how to keep their children busy doing something constructive.

While certain TV shows and video games can be educational, nothing seems to beat good old fashioned reading. Or for very young children, being read to. Summer reading programs are a great way to provide children regular opportunities to read books, play writing games, and listen to stories. While children might be more focused on the fun and prizes involved, educators know that these sorts of programs help little kids get ready to read and big kids raise scores.

A study conducted by Jimmy Kim at Harvard's Center for Evaluation found that reading four or five books over the summer months had an impact on fall reading achievement comparable to attending summer school. (Kim) Another study concluded that, "children who read more than a half an hour per day during the summer had significantly higher reading comprehension gains by the fall compared with children who did not." In addition, the study showed "children whose parents read to them at least twice a week over the summer also improved comprehension skills more than children whose parents did not." (Phillips and Chin)

Public libraries all over the country are busily gearing up for the 2009 summer reading program "Be Creative at your Library." The program is sponsored by the Collaborative Summer Library Program (CSLP), which is a grassroots consortium of states working together to provide high-quality summer reading program materials for children at the lowest cost possible for their public libraries.

"Be Creative at your Library" is not only a wonderful free program that promotes parent/child involvement, but also gives kids an opportunity to have fun while learning valuable skills. Program coordinators often incorporate puppet shows, crafts, skits, and other fun activities to help children interact with the characters they read about and make various subjects come alive for them in a meaningful way. There's even a theme song for "Be Creative at your Library", sung by the children's cartoon character Billy Gorilly. The song was produced by Flying Kitten Music whose unique songs, stories, and educational materials are prime examples of the creative learning tools parents and kids can discover through the library.

To find out the details about dates, times, and registration for this summer's program, call or visit your local library. And to learn more about effective and engaging children's educational materials visit these websites: www.scholastic.com, www.billygorilly.com, www.pbskids.org.

Don't let your kids sit in the sun and bake ... Send them to camp out at the lake!

Where in the Valley of the Sun can you learn to canoe, kayak, row, motorboat, water ski, wake board, sail and fish all in one place? The Lake Pleasant Aquatics and Nature Camp, that's where! The Boy Scouts of America has teamed up with Maricopa County's Desert Outdoor Center at Lake Pleasant to host an annual summer camp for boy scouts from all over the Phoenix- Metro Valley area.

It may be hot on land, but scouts can stay cool while they earn aquatic merit badges, some of which are not offered anywhere else in Arizona. When it's time to get off the lake, scouts can retreat from the blistering summer sun into an air-conditioned education center and continue to earn nature merit badges in reptile and amphibian study, insect study, environmental study, archeology, geology, first aid and even cooking!

This provisional day camp runs Monday through Thursday, 9 a.m. to 4 p.m. for five weeks beginning June 8, 15, 22, July 6 and 13. Cost for camp is $195 per week with bus pick-up available around the Valley for an additional $25. For more information, please visit www.maricopa.gov/parks/doc/, call Natalie at 602-372-7470 Ext. 209, or register online at BSA Lake Pleasant Camp.
Colin Hay to perform in "The Camp" at Cave Creek Coffee Company & Wine Bar
May 13, 2009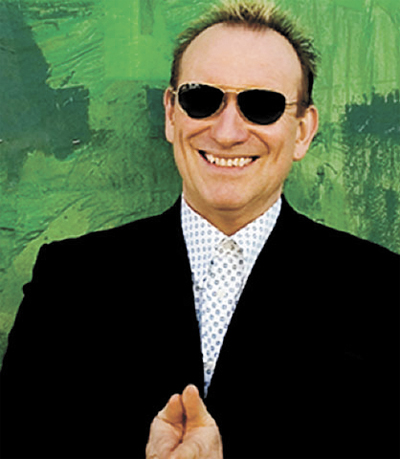 Extraordinary Former Men At Work Lead Vocalist/Principal Songwriter to Take The C4 Stage Friday, May 22 at 7:30 p.m.

CAVE CREEK – Former Men At Work lead vocalist/songwriter Colin Hay ("Down Under" "Who Can It Be Now?" "Overkill") will perform a very special evening of music at Cave Creek Coffee Company on Friday, May 22 at 7:30 p.m. (doors open at 7).

Hay, a Scottish-Australian musician, first landed on American shores as the frontman and principal songwriter of the hit-generating pop sensation, Men At Work, with his distinct visage gracing a number of intriguing, humorous videos that aired endlessly in the early days of MTV.

In the nineties, Hay continued to write and perform, parlaying his gifts as a performer and storyteller into such varied enterprises as a narrative television special and a one-man stage show entitled Colin Hay: Man at Work. His music made the migration from commercial radio to the world of film and television, gaining prominent placements in the hit television show, Scrubs, and the acclaimed movie, Garden State.

Hay's latest record, Are You Lookin' At Me, was released in April 2007. "When you have commercial success, it takes a while for the effects of that to leave you," Hay has said. "But after a while you stop asking 'Is that gonna get on the radio?' over and over. Now I just want to try to write cool songs that people will get something out of – the rest really doesn't matter."

Tickets ($35) are available now at c4 and online at: http://tickets.frontgatetickets.com/choose.php?pl=76&lid=30841&eid=3685.
Cave Creek Coffee Company is located at 6033 East Cave Creek Road. Phone: 480-488-0603. Web site: www.cavecreekcoffee.com.