My View
By Don Sorchych | May 6, 2009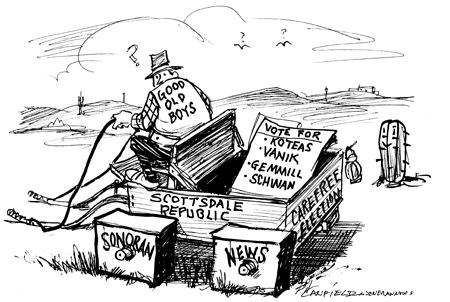 Carefree election • Cave Creek election

Two more issues of Sonoran News before the May 19 election.
As expected the wildly inaccurate, predatory, Scottsdale Republic gave its general election choices in Carefree. Is it any surprise they went for the status quo?

Recall in the primary election the Republic simply wrote to vote for the current council? They expressed surprise when only incumbents Bob Coady and Glenn Miller won in the primary as did challenger Douglas Stavoe.

They were even more perplexed when Mayor Wayne Fulcher, Vice Mayor Lloyd Meyer and Greg Gardener withdrew from the competition.

Left to compete for four seats were candidates Peter Koteas and Susan Vanik and incumbents Bob Gemmill and David Schwan.

The Republic headlined, never learning from history, "Proven records works for us," as they suggested voting for the four. Didn't they write that in the primary?

But wait a minute, not a word about write in candidates Jim Peirce and John Traynor? Well not by name, but they wrote, "The same cannot be said for two write in candidates, who opportunistically hopped into the race after the primary vote and after three other candidates dropped out."

Opportunistically? Write in candidates are legal and why not seek a very difficult road by applying as write-in candidates?

The issue here is the implied control of the town depending on which group gets a four person majority. Vote as the left wing rag suggests and the Good Old Boys will control the town. If even one write-in candidate wins, control goes to those who want open government, not Good Old Boy representation.

That is why Sonoran News strongly endorses Koteas and write-in candidates Peirce and Traynor.

Moreover, both the town, namely Town Clerk Betsy Wise and the Republic seem to be in cahoots. Both try to subdue chances of write-ins.

Someone, maybe Wise, printed on COINS, the official tax-supported web page, only the names of four candidates for the May 19 election. There was no name mention of write-in candidates.

Wise also had choice for an earlier date for mail-in votes but extended the date until, some say, many voters would be leaving for summer homes.

Every little bit may help incumbent candidates in a close election. Town hall is using every tactic imaginable to retain a council majority. Call their actions "job security."

The Republic, for its part, treats write-ins as unwelcome visitors, yet their resumes are more applicable than any incumbent.

The interesting requests by Attorney Michael Herrod for public, and more than public records are still active. I called Herrod three times without a murmur from him. My first, of a long list of questions for Herrod is: Who is your client for this request?

Times must be tough when Herrod gets involved in town politics. Herrod was once Carefree Town Attorney, 1986-1987, and in 1997. Attorneys I know would call his actions a conflict of interest since he was once a town legal official. If he had a client and profited from it he may be in violation. I have pointed out Herrod is a director in Carefree Kiwanis, a club more involved in politics than their charter allows.

Now we find the owner of the building where Carefree town hall resides is restricting political activity of non-slate candidates. Does he have that right?

Read all about it next week.

The Trenks of New Jersey and New York

Some say council Candidate Adam Trenk is a "tryer" whatever that means. We don't need someone to "try" from a lack of experience and knowledge.

I already mentioned his "endorsement" from unionized Cave Creek Rural Metro firemen. A friend got a telephone call from a Cave Creek fireman extolling the virtues of Trenk. My friend demurred saying he didn't like Trenk's platform attacking town administration. The fireman said, "Adam is right here, let me put him on."

My friend told Trenk exactly what he had told the fireman. Trenk said he had another call and would call later.

Trenk didn't.

We wonder if the union telephone calls were on the clock.

Trenk's friendly overtures to opponents Jim Bruce and Thomas McGuire have turned to bile. Trenk held a "forum" which was a Trenk rally, gave a power point presentation to his crowd of 26 and begged for support. It was a non-event although publicized with hand bills all over town.

Next was Trenk's fourth mailer where his Dark Side strategy emerged with youthful antipathy and scorn for town leaders.

Trenk's Dark Side connections became clearer even though he attended all their forums. Anna Marsolo and her husband's financial contribution as well as Charlie Spitzer's told their tale. Herb Natker's support at his rally and Grace Meeth's support add more than enough to peg him on the Dark Side.

His flyer with the message written in red was bogus and inaccurate. It denied what Cave Creek is and how it got that way. It reeked of eastern claims he can fix that which isn't broken.

Cave Creek advanced the quality of the council with the exit of Gilbert Lopez and Meeth, both on the Dark Side.

Trenk's latest flyer from his $17,000 plus record largess from out-of-town friends and family has this gem as a core statement; "During this campaign, my opponents have made it clear that they are friends of the status quo heading down the road that will turn us into just another Phoenix suburb. Their answers to our problems of budget gaps and suburbanization is to reuse old failed solutions, dramatically increase water and sewer rates, and to raise taxes!"

Trenk's statement proves he doesn't learn from even current history since what he wrote is false.

The Scottsdale Republic correctly endorsed Jim Bruce and Thomas McGuire. While it gave each a short paragraph it gave Trenk three paragraphs. In an opinion perilously close to Mayor Vincent Francia's Sonoran News guest editorial words, they suggested many positive Trenk qualities and said with the training he received from serving on committees, he should run again in two years.

Yeah, right! Silk purses can't be made of sow's ears.

We received volumes of Trenk family information from an avid reader. Linda Bentley has researched Internet public records and will begin a two-part series this week. Read about bankruptcies, lawsuits, political alliances and Trenk's family tree.