Trenk for Cave Creek Council an out-of-town family affair

By Linda Bentley | May 6, 2009
Shopping local in Scottsdale, Phoenix and McLean, Va.
CAVE CREEK – Everyone who was elected or reelected to council during the primary has a track record with the town.

Trenk came close to a primary victory, missing by only a few votes, which forced him into the May runoff election against Planning Commission Chair Jim Bruce, Councilman Thomas McGuire and Councilwoman Kim Brennan, until she withdrew her candidacy, for the remaining two council seats.

MORE ...
Rattlers out and about

By Linda Bentley | May 6, 2009
Keeping the rodent population down
Tom Whiting, a volunteer with the Arizona Herpetological Association, responded to a call from Tom and Siggy Shea to remove a rattlesnake from their back patio. While pulling out weeds in a flower bed, Siggy said she was alerted to the snake's presence by a cactus wren, which became increasingly more vocal as she got close to the snake. Although this particular snake wasn't very long, it appears to be well fed.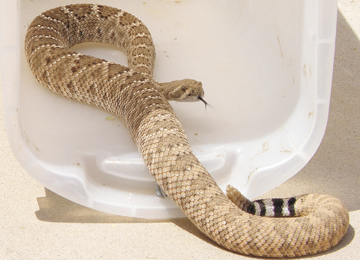 Whiting released the snake into a less populated area of the desert. Visit www.azherps.com for help with identifying snakes, most of which are harmless. All are quite helpful with keeping the rodent population at bay. If you spot a rattlesnake or Gila Monster where it poses a threat to humans or pets, call the Arizona Herpetological Association Hotline: 480-894-1625.


Carefree resident Ray Paul supports Koteas, Traynor on May 19

By Curtis Riggs | May 6, 2009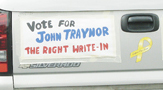 Homemade campaign stickers adorn truck
CAREFREE – Ten-year Carefree resident Ray Paul leaves little doubt about who he is supporting in the May 19 town council general election.

MORE ...

Pete Mohr surprised with H.U.G. Award

May 6, 2009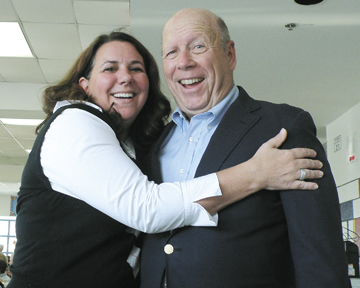 Cactus Shadows High School Principal Donna Lewis gave Sonoran News sports reporter Pete Mohr a hug at the awards dinner on May 1 in honor of his H.U.G. (Helping Us Grow) Award for his coverage of the CSHS Athletic Department over the past eight years, for being a "wonderful fixture" at CSHS athletic events and for being the voice of baseball Falcons at home games.
Photo by Linda Bentley

Meeth bows out on annexation

By Linda Bentley | May 6, 2009

CAVE CREEK – During Monday's meeting, Cave Creek Town Council approved the first reading of each of the three annexation ordinances by a vote of 6-1 with Councilwoman Grace Meeth dissenting.

MORE ...
Thieves Market draws 2,000 shoppers
May 6, 2009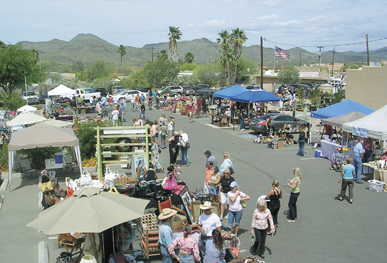 Vendors and shoppers alike deemed the first ever Thieves Market last Saturday a huge hit! The grass roots effort by local business owners, banding together to draw new faces to the businesses in Cave Creek, was an overwhelming success. Many Cave Creek Road merchants and 50 flea market vendors participated in the event, with more planned for the next Thieves Market on June 6. Whether you bring $5 or $50, you will find a treasure.
Photo by Rachel Karls-Gomes