First FAR library donation drop-off huge success
May 6, 2009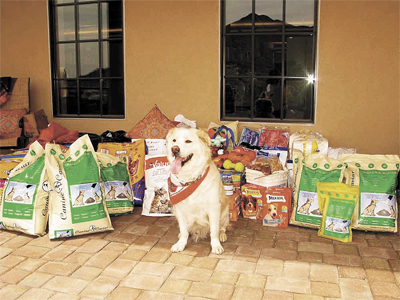 Courtesy Photo: The first Foothills Animal Rescue library donation drop-off was a tremendous success! We received so many items we were able to share with another animal rescue. We are hoping to have a monthly drop-off to coincide with the library book sale. As always, we appreciate Sonoran News' support of the effort to care for and place homeless animals in our community. Thanks again!
People and pets invited to May Fair at Pima North
May 6, 2009
Saturday, May 9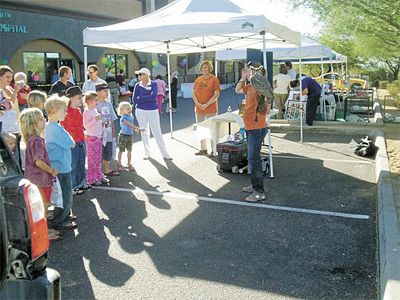 SCOTTSDALE – Pima North Animal Hospital is holding their May Fair at their facility at 8864 E. Pinnacle Peak Rd. (northeast corner off Pima) on Saturday, May 9 from 9 a.m. to 2 p.m.

The doctors and staff invite you and your pet to take part in the activities including "Bobbing for Bones," Rattlesnake Avoidance Training demo, pet or family portraits, a dog wash and lots of freebees and give a ways! There are free refreshments and treats for the whole family. Peter Oja will be conducting demos of Schutzhund training and also Free Canine Good Citizen Testing which will begin at 8 a.m.

Call 480-563-5432 for more information or visit www.pimanorth.com.
Ventana Academy graduates receive honors
May 6, 2009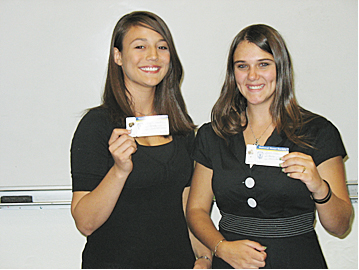 CAVE CREEK – Two graduates of Ventana Academy Charter School in Cave Creek have recently been inducted into the prestigious National Honor Society. Abby Gonder, 14 and Kellie Webb, 16 were recognized for their demonstrated excellence in the areas of Scholarship, Leadership, Service, and Character.

The National Honor Society (NHS) is the nation's premier organization established to recognize outstanding high school students. The local chapter of NHS strives to create enthusiasm for scholarship, to stimulate a desire to render service, to promote leadership, and to develop character in the students of secondary schools.

Abby and Kellie currently attend Arizona Agribusiness & Equine Center in Phoenix, a public charter high school that offers a rigorous college preparatory curriculum, and enables qualified secondary students to earn college-transferable credits while completing work for their high school diploma.

COURTESY Photo: Abby Gonder and Kellie Webb
CSHS student wins best group film
CAVE CREEK – Falcon Media Group is proud to present a STUworks Production of Moribund, written and directed by 16-year-old Cactus Shadows H.S. student Robyn Sturgis. Moribund won best group film at the 09 ZGI Film Festival in Sedona.

The film is about the struggle of a teenager to understand the meaning between life and death before his time runs out. "It was a great experience working with actors who could improvise on the spot if necessary," says Sturgis who wrote and directed the film.

The "Moribund" premier will be a free screening at 7 p.m. on Friday, May 8 at the Fine Arts Center, 33606 N. 60th St.

Falcon Media Group is part of the Career and Technical Education program at C.S.H.S., which teaches creative technologies, video and film production. For further information contact Bill Watters at wwatters@ccusd93.org or 480-575-2463.