My View
By Don Sorchych | April 29, 2009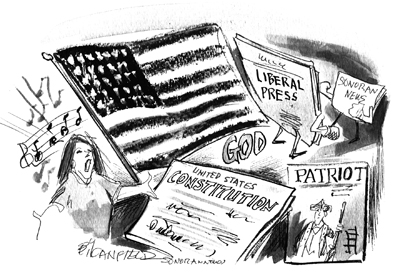 Tea Party • Elections

It seems to me events like tea parties should be restricted to constitutionalists; it tends to preserve the peace and brings like minds together. Personally, my dissonance with the Tea Party at Harold's was three fold.

Even though a stopped clock is right two times each day, I can't imagine singing from the same song sheet as Hugh Stevens, Carefree's Lament. Yet he was there as sort of a co-sponsor.

Fortunately, though, I didn't see any of his cohorts, his nasty PAC architects, who try to rule Carefree.

Secondly, 200 chairs for 600 people is painful if you can't sit down. Lastly, who gave councilman wanna be Adam Trenk the run of the party and flyers pinned all over the place?

I will tell you the event was outstanding, but I really didn't appreciate the local politicking by one candidate obviously favored by Harold's and maybe the Tea Party organizers.

However, the crowd was of a mind; constitutional, patriotic, dedicated and angry! The crowd was people the liberal main stream press calls "right wing" and "jingoist." Yes, we are and proud of it.

If voters hadn't realized what they did at election time, it has sunk in now we are on a fast track to socialism. Out came the flags, signs and commitment to get back what we have lost.

The salute to the flag, patriotic songs and heated speeches invigorated the audience. It was palpable.

Arch McGill put this Tea Party program together and was the right guy in the right place at the right time. McGill has quite a pedigree, once serving as the president of ATT.

The Tea Party was well organized, well advertised and however it happened, the audience was vocally tuned into the issues of the day.

The liberal press (is there any other kind?), except Sonoran News, call Tea Party events the work of "extremists." If pledging to the flag, singing patriotic songs and believing we should be guided by God and the constitution is extreme, then count me in.

In spite of my complaints about the politization of Kiwanis, their opening is always a thrilling pledge to our flag and a patriotic song. And both are done with gusto and respect.

Although many are fatalistic about the socialistic take over of the finest civilization in history, it will take grass roots to bring it back. So bring more!

Elections

Three more issues of Sonoran News before the May 19 elections.

The Cave Creek election to fill two seats on council seems quiet, except for the urgency of perhaps the youngest candidate ever.

Why is Adam Trenk insane with desire for an unforgiving, unpaid seat on a council of six and a mayor? He told one confidant he is "desperate" to win.

Is he anxious to begin his climb to that Valhalla of politics, Washington D.C.? Or, have his contributors of $17,381 begun to ask where their money went? Or, is it family pride, since seven so far are family who bet son, brother, cousin, whatever would win?

Maybe we are too far west to understand what drives New Jersey politics. But count me skeptical.

We have received calls asking where the forum is. We held a forum for Cave Creek. We were asked to run another and refused.

Trenk wrote a letter to Jim Bruce and Tom McGuire, his opponents. After sweet talking them he suggested the following, "Considering how important this election is for the future of Cave Creek and to encourage those who supported candidates other than ourselves on March 10 to come out once again to participate in the democratic process. I would therefore propose the following:

"That you, Jim Bruce, Thomas McGuire and I participate in a series of three town hall meetings – to be moderated by a mutually agreed upon, neutral third party - - over the course of the next few months."

More sweet talk and a close followed. Apparently Bruce and McGuire told Trenk to take a flying leap.

Trenk tried to get Mayor Vincent Francia to host such a forum. Francia advised Trenk it is not his decision. That decision resided with the two opponents. Francia had already publically announced for Bruce and McGuire.

Next. Trenk tried Councilman Richard Esser. He got similar answers.

So, while at the Tea Party, I was surprised to see a poster which blared, "Adam Trenk for Cave Creek Council. Open invitation to forum," and it gave time and location.

Surprisingly, the location was at town hall. Although Sonoran News has used that location for forums, which invited all candidates, this is not a forum; it is a rally for one candidate.
Bad use of taxpayer facilities.

Then, I got yet another expensive flyer in my mail box which gave Trenk's vision, overworked, mean-nothing phrases. Lots of things for one young person with one vote to accomplish. Most items are already in the town plan and his others are questionable, like one would expect from New Jersey.

Anyway, Linda Bentley will cover and report on Trenk's rally.

Dark Side support for Trenk emerges. Losing incumbent/candidate Grace Meeth, upon learning she lost, said, "Well at least Adam won."

That was the primary vote, and Meeth was wrong. He didn't get 50 percent plus one.
Then. Anna Marsolo, Queen of the Dark Side, came out for Trenk. She anticipated two newspapers would publish her tripe and they did. Interesting that she is against T.C. Thorstensen's rezoning when Trenk is an adamant proponent.

Marsolo hoped the papers would title her diatribe with the headline "Cave Creek Activist." Why would they when she isn't from Cave Creek and is a snitch whose complaint sent two business owners to jail over a mere sign?

How about. "County Resident Can't Vote in Cave Creek?" Or, "Dark Side Queen supports Trenk?"

There are abundant non-conforming signs in Cave Creek. Where is the snitch?

The Dark Side would love to have a mole in Executive Sessions; is that her angle?

Anyway, Cave Creek voters listen to other voters, not outside agitators. And they don't vote for upzonings of Thorstensen's type. That has been proven twice.

The Dark Side has been wrong too many times to have any credibility.