Wal-Mart reps meet with Olesen Road property owners

By Linda Bentley | April 29, 2009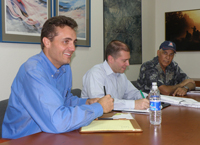 Wal-Mart Open House: 6 p.m. on May 6 at Black Mountain Baptist Church
CAVE CREEK – Residential property owners along the south side of Olesen Road between Cave Creek Road and 56th Street met with Wal-Mart Attorney Sean Lake and Engineer Brian Gillis on Tuesday to discuss the company's plans to build a 24-hour Supercenter across the road from them.

MORE ...
Mayor tickled pink over 3.489 percent interest rate

By Linda Bentley | April 29, 2009
Low interest rate plus stimulus funding, good news during bad times
CAVE CREEK – When town council voted last November to move forward with building a new $22.9 million wastewater treatment plant, they were only provided with an estimate of what interest rates might be from the Water Infrastructure Finance Authority of Arizona (WIFA).

MORE ...

Carefree campaign high jinks on the home stretch

By Linda Bentley | April 29, 2009

Early ballots available at town hall
CAREFREE – When the mayor, vice mayor and a councilman, of the five incumbents running in the March Primary Election, were forced into the May runoff, they each withdrew their candidacy.

MORE ...

Ry Eikleberry, 20, named Turf Paradise top jockey

By Pete Mohr | April 29, 2009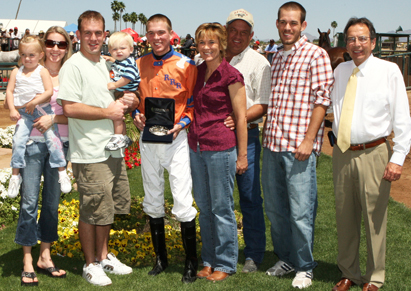 After last Sunday's 1st Race, Vince Francia, Director of Marketing & Media Communications, Turf Paradise Race Course, north Phoenix, presented Ry Eikleberry with the leading jockey award for the 2008-2009 racing season. Congratulating Ry were (adults, l-r) Shae (Bonson) Eikleberry [CSHS '01], holding Kylie, 3; brother Rustin Eikleberry [CSHS '99], holding Colt, 1; the winner; proud Creeker parents Pam and Kevin Eikleberry; brother Rhet Eikleberry [CSHS '04]; and Francia. Next stop for Ry: Churchill Downs! He'll make that dream come true!
Courtesy Photo/Shawn Coady, Coady Photography

Man crushed by stove hood

By Curtis Riggs | April 29, 2009

Heavy appliance renders fatal blow
CAVE CREEK – A west-side man died in a tragic accident in his home on Monday, April 20, according to Rural Metro Chief John Kraetz.

Nigel C. Bright, 42, of the 3900 block of Galvin Street, was crushed when the hood of a stove fell off the wall and landed on him resulting in a fatal head injury. Kratez said Bright heard a noise over by the wall and went to investigate when the stove hood came loose from the wall and landed on him.

"That thing had to weigh a couple of thousand pounds," Kraetz said.

While other occupants of the home were successful in getting the heavy hood off of Bright it was too late for firefighters/paramedics to save him. He was pronounced dead at the scene.
The incident happened at around 7:45 p.m. on Monday, April 20.
Black Mountain Photo Contest winner announced
April 29, 2009

First-place Black Mountain Photo Contest winner Mike Burns receives his award from Sonoran News publisher Don Sorchych. Looking on was award co-presenter Lyn Hitchon during the photo contest reception held at the Cave Creek Museum last week. Carefree resident Dena Johnson won the contest's People's Choice Award.

Obituaries