Behavioral problems? Think teeth, jaw and poll joint first
By Leslie Nichols | April 29, 2009
Welcome to For the Love of Horses! This column is for the modern horse owner who is seeking knowledge of new advancements and new ideas to improve their experience with their beloved horses. Knowledge is power. And with horses, knowledge also means greater enjoyment.

Head tossing, teeth grinding, ear pinning, stiffness in the jaw and neck, grumpiness … seem to have us running for the trainer or the "Horse For Sale" section in local classified ads.
However, each of these behaviors is an indication of physical pain. Now here's where it gets tricky – undesirable behaviors created by pain soon become bad habits and a poor attitude. However, before the habits and attitude can be reformed, the source of the pain must be isolated and removed.

Since so much of our communication is with our horse's mouth and head, it should always be the first place to go when looking for pain. If your horse is tossing his head, pulling the reins out of your hands, refusing to flex with one or both jaws, is tucking his head into his chest, travels with a high head, or is generally cranky, get your horse's teeth checked first. If that doesn't improve his attitude, have an equine chiropractor check and if needed, adjust your horse's jaw and poll joints.

In a matter of days, you will see a lessening of your horse's undesirable behaviors, letting you know you're on the right path. Then you can start a careful and patient retraining program to remove these unwanted behaviors completely. Good luck!

Leslie Nichols is a progressive horsemanship professional and is innovator of the Leslie Nichols Relaxation Program for horses and their owners, and The Fusion Method for Starting Horses.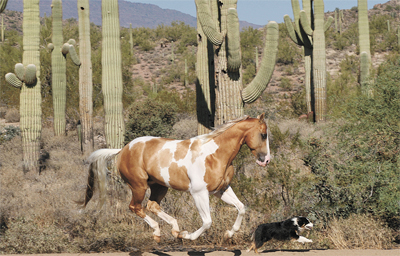 Courtesy Photo/Marilyn Sheldon, Blue Moon Studios: Double Shot A Gin, a Palomino Tobiano stallion owned by Sheri Chefalo of Cave Creek, is racing his best buddy, Zack, across the desert.