Thieves Market to bring shoppers to CC
By Curtis Riggs | April 29, 2009
Debuts Saturday, May 2

CAVE CREEK – For decades it has been the women in the community who step up to take on special projects or address particular problems.

The Cave Creek Mother's Club formed in the late 1950s to help the schools with the growing number of children in the area and to fill the void with needed necessary services. The Mother's Club published the community newspaper for a couple of decades and even put out in the first area telephone book. The group disbanded in the mid-1990s because there are now other groups to provide the services.

A new group of local businesswomen, shop owners and civic-minded wives and mothers has formed to help pull the community out of its present economic funk.

Initially called Rev It Up, its mission was, and still is, as Thieves Market, to create excitement while attracting new shoppers to town.

The women are now named the Thieves Market gang, after their monthly events. The Thieves Market will be held the first Saturday of the month from 7 a.m. to noon along Cave Creek Road from the Cave Creek Coffee Company east to Schoolhouse Road.

There will be sidewalk sales, trunk sales, weekend specials and other kinds of bargains at the local shops and restaurants.

The first Thieves Market will be Saturday, May 2.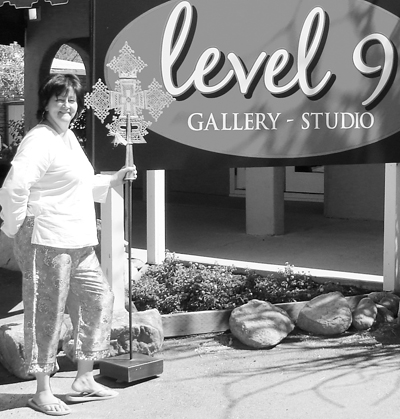 Thieves Market co-chair-woman Mickey Meulenbeek, of the Level 9 art gallery described the attitude of organizers and the Cave Creek merchants who will participate in the monthly events as "excited."

"Everyone says it's about time we did something like this," she said.

Valerie Watters, of Valerie's Furniture & Accents, called holding the monthly Thieves Markets to help businesses struggling with the stagnant economy part of "pulling the community together."

"My big thing is holding activities to get retail buyers up here and getting them to stay and spend money," she said.

There will also be a flea market featuring nearly 50 vendors in the parking lot West of Antique Emporium and South of Blue Coyote Gallery on Saturday morning. African baskets, collectibles, reclaimed furniture; purses and high-end women's clothing will be available.

Courtesy Photo: Thieves market co-chairwoman Mickey Meulenbeek.
Mullet Over
Seeking people to adopt thousands of wild horses
By James K. White | April 29, 2009

I have been informed that the Scottish government is offering a 10,000,000 pound (approx. $15,000,000) award for original, effective plans in the marine renewable energy field. I suppose that is great news for the Marines, but I am certain that I could never live through the basic training and shall never collect that reward. Interested parties should research the Saltire Prize.

There are numerous wild horses in ten of our Western states. Some of the herds are rather large with a total of at least 30,000 untamed equine creatures running free. The BLM (Bureau of Land Management) folks are actively seeking people to adopt thousands of these animals.

The world's most used telescope is likely the one at the Apache Point Observatory near Sunspot, New Mexico. The mirror is "only" eight feet across, but it has the latest technology and can nightly be used to cover over 300 times as much sky as can the Hubble. The eight footer can also download into a 73 terabyte database, which not only records images, but also calculates distances and does a basic element analysis. I have some 10X binoculars with which I can focus one side.

Do your ever wonder what to do with your time or wish that you had more time? Here's one for the deep thinkers amongst us: Scientists have calculated that time could not mathematically exist before the Universe's Big Bang which is thought to have occurred about 13.7 billion years ago.

The continent with the greatest quantity of fresh water is Antarctica. Okay, most of it is frozen, but Antarctica (with seven million cubic miles) has over 70 percent of the world's fresh water. Some ice shelves on the continent are in excess of 15,000 feet thick.

Maize or corn consistently has the greatest harvest totals of all agriculture crops on earth. I would have guessed wheat or rice and I would have been wrong, again.

The rather beautiful lake in Africa known as Lake Nyos can be quite deadly. At least 2,000 people and hundreds of thousands of other animals have been killed by toxic gases belching (without warning) from the water's depths. Many were killed in a single incident in August of 1986.

Did the moon seem to be farther away last night? Some very careful scientists have determined that our moon is moving away from the earth at a rate of 1.6 inches per year.
Well, good luck with your Saltire efforts and – have a great week.



Fifty dollars

I recently asked my friend 's little girl what she wanted to be when she grows up.

She said she wanted to be President some day. Both of her parents, liberal Democrats, were standing there, so I asked her, "If you were President what would be the first thing you would do?"

She replied, "I'd give food and houses to all the homeless people."

Her parents beamed.

"Wow ... what a worthy goal!" I told her, "But you don't have to wait until you're President to do that.

You can come over to my house and mow the lawn, pull weeds and sweep my yard and I'll pay you $50. Then I'll take you over to the grocery store where the homeless guy hangs out and you can give him the $50 to use toward food and a new house."

She thought that over for a few seconds, then she looked me straight in the eye and asked, "Why doesn't the homeless guy come over and do the work, and you can just pay him the $50?"

I said, "Welcome to the Republican Party."

Her parents still aren't speaking to me.