Bryan's Barbecue earns strong local following
By Curtis Riggs | April 29, 2009

People loving the brisket and pork

CAVE CREEK – Chef Bryan Dooley fulfilled a life-long dream early last month when he opened Bryan's Black Mountain Barbecue.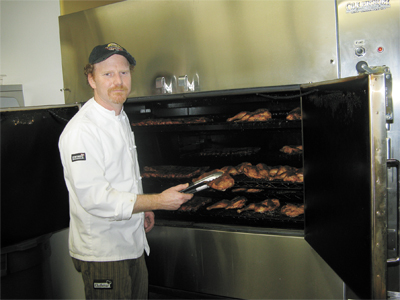 For Chef Bryan, a graduate of the Culinary Institute of America in New York City and a chef at the Fairmont Princess in Scottsdale for the past 13 years, the love affair with barbecue began in his Chicago backyard. It was here he began paying attention to his grandfather's mastery with barbecue ribs.

He remembers his childhood dream to some day open a restaurant. Every day he now opens Bryan's, which is located in the Las Tiendas Plaza in downtown Cave Creek.

"I didn't know it would be barbecue, but I'm glad it is," he said about capitalizing on his love of backyard barbecuing

His love affair with barbecue shifted when he met his wife, Donna. Her Texas roots caused him to grow a new appreciation for beef brisket and pulled pork, which are Lone Star State barbecue favorites.

"We decided not to replicate a regional style," he said about melding the Texas and Chicago barbecue styles at Bryan's Black Mountain Barbecue. "We took the best of both."

He admits his barbecue sauce, which he sells by the bottle at Bryan's along with a meat rub, is close to the "Southern style."

"There is a good amount of vinegar in it, but it is well balanced," he said.

The meat rub used at Bryan's gives the pork, chicken and brisket a spicy flavor.

The pulled pork and brisket served at Bryan's are slow-cooked for 14 hours. He cooks the St. Louis beef spare ribs for six hours.

The baked beans, coleslaw and cowboy bean side dishes are made fresh daily.
"I love getting up early and being here 18 hours a day," Bryan said. He gets to the shop at 6 a.m. "This is what I do."

The menu at Bryan's is small for good reason.

"We just wanted to do barbecue, but do it really well," he said. "We wanted to do a small menu, but have everything on it be really killer."

Photo by Curtis Riggs: Chef Bryan Dooley is at Bryan's Black Mountain Barbecue at sunrise daily to begin slow cooking the brisket, pork, chicken and ribs.
Chicago Blues Harmonica Ace Corky Siegel to perform

April 29, 2009

SCOTTSDALE – Scottsdale Center for the Performing Arts will present Corky Siegel's Chamber Blues as part of the Infiniti Cabaret Series on May 9 at 8 p.m. The performance is sponsored by Infiniti and presented by Arlene and Michael Lanes.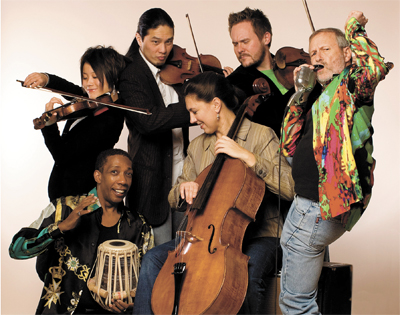 Performed in the Center's newly renovated atrium, this intimate, cabaret-style show offers table seating for two to four people as well as wine and food available for purchase from Arcadia Farms. Tickets are available for $25 through the Scottsdale Center for the Performing Arts' Website at www.scottsdaleperformingarts.org or the box office at 480-994-2787. Seating is limited.

Corky Siegel is known around the world as one of the great blues harmonica masters. New fans and longtime followers of Siegel's blues career have been quick to embrace his genre-busting Chamber Blues, which features Siegel on harmonica and piano, The West End String Quartet and percussionist Frank Donaldson. Fresh and innovative, this ground-breaking sound captures the sparkling qualities of classical music merged with the emotional melodic style of blues, all within an intimate chamber setting. Chamber Blues has earned tremendous acclaim throughout the country and continues to open new doors for classical and blues/jazz listeners alike.

Corky Siegel's career began when he formed the Siegel-Schwall Band that toured the major rock palaces and clubs of the 1960s and '70s. He was introduced to the blues through his very first steady engagement at the renowned blues club Peppers, where he performed with legends such as Willie Dixon, Little Walter, Muddy Waters and Howlin' Wolf. Siegel has since recorded numerous albums, including two projects for the prestigious Deutsche Grammophon classical label, and has performed as guest soloist with symphony orchestras world-wide, including the New York Philharmonic and the Boston Symphony Orchestra.

The Steinway piano is available for this performance through the generosity of Steinway of Phoenix.
Corky Siegel's Chamber Blues
8 p.m. on Saturday, May 9
Scottsdale Center for the Performing Arts, Atrium
7380 E. Second St. in downtown Scottsdale
Tickets:
www.scottsdaleperformingarts.org
or 480-994-2787
Courtesy Photo/Paul Natkin: Blues harmonica master Corky Siegel brings his genre-busting Chamber Blues to the Scottsdale Center for the Performing Arts' Infiniti Cabaret Series on May 9.