"Mac" shoots down CSHS twice, but Falcons retain Power Points as #1
By Pete Mohr | April 22, 2009
Saguaro (#9), here April 23

FALCON FIELD – April 20. It's my pleasure to introduce to Cactus Shadows Baseball fans the rejuvenated Falcons, who are now rarin' to go all the way to their first 4A Conference - Division I State Championship Saturday, May 16. With apologies to Country Music's Colin Raye, "That's my prediction, and I'm stickin' to it!"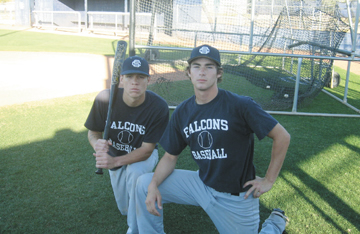 When the Falcons boarded their team bus at approximately 7:30 p.m. last Thursday for the 45-mile return from McClintock, they were just about as low as a baseball team could sink. In incredible (and dangerous!) darkness, they'd just been beaten by the Chargers in ten innings, 2-1, giving "Mac" an unexpected sweep of the two-game regular season series – and wasting two solid pitching performances by starter, "Mr. Thursday," Jackson Goulder and reliever Mike Basco, who hurled 5 and 4 1/3 innings, respectively, striking out 15 Chargers between them. The Falcon bats failed them.

But in Vegas, the boys who come around to break your hands (if you don't pay) pay off on the lights; and the scoreboard showed (if you could see it!) McClintock, 2 - CSHS, 1.

What happened at the outset of the team's postgame meeting rightfully must remain private – except to commend Logan Davis and Chris Sabanosh who risked stepping up to calm a tension that could've gotten ugly. I drove home with a heavy heart, fearful the Falcons, young men I genuinely care about, had been broken in spirit.

The next afternoon, I arrived at Falcon Field to take the accompanying photo. The team was finishing an obviously-spirited practice, laughing and joshing with one another as high school baseball players are want to do. They were enjoying themselves! What-in-the-world had come over these guys in less than 24 hours?!

Head Coach Tom Scala appropriately – and forthrightly – explained: "On the bus ride home, my coaches and I did some man-to-man, heart-to-heart soul-searching. It didn't take us long to recognize that it was time, right now, for everybody to relax, have fun, and get back to playing Cactus Shadows baseball. And all of that has to start with me. I think you can see it already has."

"Coach Tom," I want my readers to know how proud of you I am – and happy for your team. Heck, if it's possible, they want to win the State Championship even more than you!
And they'll take a "new" first-step toward that goal at Saguaro, Tuesday afternoon, April 21, then come home against the Sabercats, Thursday, April 23, before hosting Shadow Mountain the following Tuesday, April 28. All first pitches at 4 p.m. Basco got the start at Sag, with Captain Goulder working hard to stay unbeaten on Thursdays!

Oh, by the way, the Falcons retained their #1 ranking in A.I.A. power points, 0.50 ahead of (Tucson) Canyon del Oro. That ain't all bad!

Falcon fans, come out Thursday to back these 'Birds, who are flying upbeat again. They'll play like that, too! I gare-on-tee it!

Photo by Pete Mohr
ONE RUN – SHOULD'VE BEEN TWO! Senior Anthony Pena's (l.) 3rd inning double drove in junior Nick Francis with the Falcons' only run in their April 16 "darkness" loss (1-2) at McClintock. Francis "scored" again in the 5th, but was out at home on a horrible call by umpire Rick Nurka.

CSHS Netters to April 22-23 Regionals
By Pete Mohr | April 22, 2009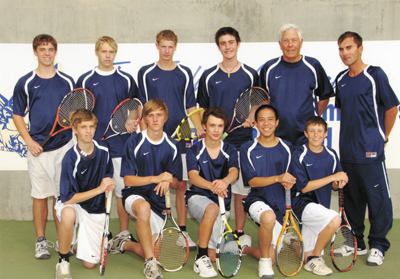 Head Coach Bob Dice's Falcon Boys (10-4) will take their best shot at Desert Sky Regionals April 22-23, at Scottsdale's La Camarilla Racquet & Fitness Club. 1st, 2nd and 3rd place finishers at Regionals qualify for State Tournament (Individuals). State Tournament (Team) competition kicks off Tuesday, April 29, with #11-ranked CSHS traveling to #6 (Tucson) Sabino. At this week's Regionals, Junior Dylan Brabec and Freshman Mason McConville will play singles. For the Falcons, Junior Kevin Siebs and Freshman Griffin Dales and Juniors Connor Weber and Zack Hoffmann will be the doubles entrants. Above (front, l-r) Dales, Ryan Leander (FR), McConville, Vincent Chien (SO), Tyler Brock (SO); (back, l-r) Weber, Christian Aldridge (JR), Sebastian Leis (JR), Liam Railson (SO), Coach Dice, Assistant Coach Rustam Urmeev.

Not available for photo: Brabec, Hoffmann, Siebs, Jay Swamy (SO). "Advantage, Falcons!"

Courtesy Photo/Cameo Studios
These cleats were made for football!


Aspiring Falcons playing CCCF need good football cleats and equipping your young gridster ain't gettin' any cheaper! Lending a helping hand are Creeker Denise Bergstrom and "Kids with Cleats," of which she is the energetic organizer.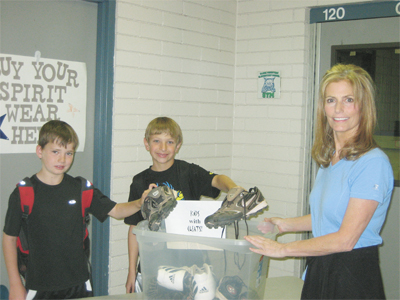 Pictured with Mrs. Bergstrom are (l. & r.) Black Mountain footballers Grady Demmitt, 8, and Kyle Krestan, 11. Every kid outgrows their football shoes (cleats). So dig 'em out of their closet and take them to the main office of any CCUSD elementary or middle school. They'll be cleaned, redistributed and sold (in the $3-$5 range) to participants in 2009 Youth Football. That's some kind of great price!

Collections will continue through May 15. The "new" cleats will be sold on equipment distribution day, with proceeds donated to the Sergeant John Daggett Scholarship Fund which provides financial assistance to deserving CCCF applicants. Sgt. Daggett, a Creeker and multi-sport athlete in his youth, was an Airborne Ranger killed in Iraq at age 22.

Organizer Bergstrom challenges. "Clean out your closets and support community youth football!" Direct any questions to dlbcmb@cox.net or www.cavecreekfootball.com. "Hut One! Hut Two!"

Courtesy Photo/Denise Bergstrom