Shadowbox Players perform One-Act wonders
By Stephanie Habib | Cactus Shadows High School | April 22, 2009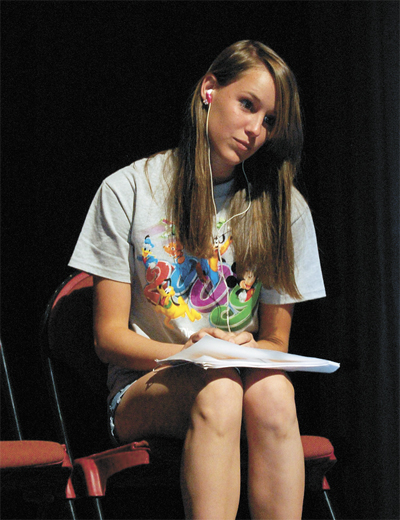 CAVE CREEK – After two successful runs of the classics this year, Pride & Prejudice and West Side Story, the Cactus Shadows Shadowbox Players will be presenting their final production of the 2008-2009 Season, the Senior-Directed One-Acts, from April 22 – 25.

This year, the One-Acts will consist of six one-act plays, featuring different directors and casts, to be performed in succession and split evenly over two consecutive nights.

On Wednesday and Friday night, April 22 and April 24, the bill will include Fieldson's First Fantastic Feature Free-for-all, directed and written by Doug Tze; Quandary directed and written by Ryan Gilboy; and Boiling People in My Coffee, directed by Alanah Nowotarski.

Fieldson's First Fantastic Feature Free-for-all is a fast-paced comedy which revolves around a competition between four pairs of contestants for a fully-furnished condominium. It features memorable characters who will worm their way into the hearts of audience members.

Next, the audience will be welcomed into the world of Quandary, best described by director Ryan Gilboy as "a bank heist gone wrong."

Wrapping up the evening will be Boiling People in My Coffee, a dark comedy about a mother and father who cannot bring themselves to deal with the death of their son, which culminates in their fairly regular exhumation of his body.

On Thursday, April 23 and Saturday, April 25, Candid directed by Shelby Rose; Life as a Techie or Something Like It directed by Heidi Aybar; and Restoration of the Young Mind, written and directed by Michael Schauble, will be performed.

The second evening of the One-Acts will begin with Candid. Candid is a dramatic one-act which brings to the forefront the core of the dysfunctional American family through the main character, TJ's, photo-presentation to his teacher.

Next to grace the Fine Arts Center stage will be Life as a Techie, or Something Like It, a comedy about a young boy, new to his school's theatre program, who tests the boundaries between two polar forces, the actors and the techies (technical theatre personnel).

Finally, Michael Schauble's powerful Restoration of the Young Mind probes the reality many high school students face through the stories of four young men and women who, alongside friends and family, face tough issues rooted in their personal identity. Audiences should be advised that there is mature content and language in some of the plays.

All performances are at the Cactus Shadows Fine Arts Center, located on 60th Street, south of Carefree Highway. Doors are scheduled to open half an hour before the 7:30 p.m. performances begin each night. Tickets are $5 and can be purchased at the door. They will not be sold in advance. Inquiries should be made to Linda Garvin at 480-575-2464.

Courtesy Photo Cori Gunter
Los Mesquites Taqueria revamping its menu

By Curtis Riggs | April 22, 2009

Will open patio this summer

CAVE CREEK – Los Mesquites Taqueria owner Bill Jung has been listening to his customers in the few months he has had his Mexican eatery at the entrance to the community.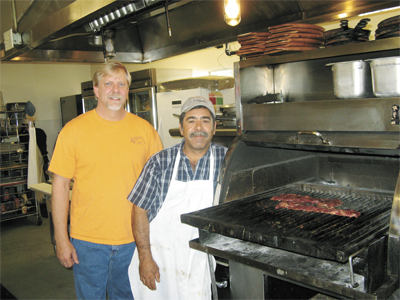 In a couple of weeks he will introduce a new menu, which will reflect what customers have said what they want to see coming out of the kitchen. The revamped menu will feature a new pork dish along with a new seafood enchilada. A couple of new vegetarian dishes will also be added.

"We have done the seafood in a couple of specials and it was received really well," said Jung. He has also heard several requests for more vegetarian dishes such as the spinach enchilada.

The new offerings will join Taqueria favorites such as enchiladas, quesadillas, chimichangas and fajitas. The Taqueria Mexican pizza has become a favorite with the regulars. The taco salad is enjoyed by light eaters.

The Taqueria will host a Dos Lunas Tequila promotion on May 1. There will be a Corralejo tequila promotion on May 5 for a Cinco de Mayo celebration.

While his staff has concentrated on revamping the menu at the Taqueria, Jung has focused on bringing a bit of old Mexico to the business at 37645 N. Cave Creek Road. He hopes people will gather near the cooker in the outside patio area at the Taqueria this summer.

"Grilling outside will be just like in old Mexico," Jung said about the atmosphere he wants to instill.

Adding to the South of the Border feeling are the bands of strolling Mariachis, which entertain diners at the Taqueria every other Friday night. Jung said children tend to follow the strolling musicians through the Taqueria as they play in different rooms.

Weekend breakfasts, served at the Taqueria since the beginning of the year, have evolved into an $8.95 breakfast buffet, which features both Mexican and American favorites.
The Taqueria offers live music on Sunday afternoons.

Jung appreciates the local Taqueria regulars who have helped to keep him in business the past four months.

"The customers seem to be pleased when they walk out, but we'll have to see how the Cave Creek summer treats us," he said.

Photo by Curtis Riggs: Los Mesquites Taqueria owner Bill Jung, left and chef Lupe Juarez will be introducing a new menu at the Cave Creek eatery in coming months. Gloria Garcia is the restaurant manager.