Sonoran Beauty Salon alive and well!!
By Curtis Riggs | April 15, 2009

CAVE CREEK – Even though the economy dealt them a bad hand this fall Nanette and David Cicinelli and the others at Sonoran Beauty Salon have rebounded and are alive and well in Cave Creek.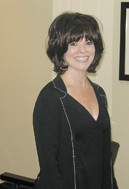 The Cicinelli's, who have lived in Carefree for nine years, operated the Sonoran Beauty Salon at the Spa at Rancho Mañana for nearly nine years before the bankruptcy of a principal owner of the Rancho Mañana spa/casitas in September. The Cicinelli's received only a weekend's notice about the closing of the spa and had to scramble to quickly find a new location.

Within a couple of weeks they were open in the La Kanza building just in front of the old Quantum Art building east of the intersection of Cave Creek and Schoolhouse roads.

"We were out of operation for two weeks, but you can't have any down time," said Nanette, who along with David operated another salon at the Hyatt Regency in downtown Phoenix for several years.

Wanting to stay in Cave Creek was nothing new to the Cicinelli's, who have made a concerted effort to grow and prosper here for many years.

"Ever since we came to Arizona we wanted to be in Cave Creek," she said. "The business opportunity at Rancho Mañana opened the doors for us to be up here."

Now they want to let their old customers and anyone else in need of a good hair styling, nail treatment or facial know they are still in Cave Creek where they want to be.

David designed the state-of-the-art facility. Flowers and soothing music create a welcoming ambiance. The color balanced LED lighting above each stylist station is perfect for styling hair and the blow dryers used by the stylists hang from the ceiling within easy reach.
Despite having to regroup this fall to stay alive in Cave Creek stylists Nanette, Rosie and Dawn have been styling hair together for eight years.

Excellent customer service is at a premium level at Sonoran Beauty Salon. Anyone coming through the door receives a friendly greeting. New clients feel welcome and part of the Sonoran Beauty Salon family in no time because of the focus on friendliness and familiarity at the salon.

"People feel like we are an extended family and we are," Nanette said about projecting a welcoming atmosphere to keep regulars coming back.

The salon will add the Venee line of skincare products next month. Three core facials will be offered.

"At the spa they provided skincare and now half our clients get facials so we are adding it to round off the business," David said.

New clients receive a 20 percent discount.

Photo by Curtis Riggs: Nanette Cicintelli
Free heart presentation, wine tasting for women
April 15, 2009
SCOTTSDALE – While thumping hearts and swirling wine are normally reserved for romance, they'll be the subject of an informative and free Scottsdale Healthcare presentation for women on April 22.

"Women: Let's Have a Heart-To-Heart Talk" will feature cardiologist Walid Alami, MD., who will discuss heart attack symptoms in women, the importance of knowing your cholesterol and blood pressure numbers, and varicose veins.

Following his presentation, "Sassy Sommelier" Lizbeth Congiusti, who teaches wine-related community college courses and conducts numerous Valley wine tastings, will share insights on wine etiquette. Attendees will be able to participate in a wine tasting.

The presentation will be held 6:30 – 8:30 p.m. at Scottsdale Healthcare Thompson Peak, 7400 E. Thompson Peak Parkway, Scottsdale. For reservations, call 480-882-4636.