Desert Foothills Theater's 2nd Annual "Foothills Follies"
April 15, 2009

Saturday, April 18 at Carefree Town Center Amphitheatre

CAVE CREEK – Back by popular demand, Desert Foothills Theater, (DFT), a division of the Foothills Community Foundation, will present the 2nd Annual "Foothills Follies" talent show from 5 – 7 p.m. on Saturday, April 18 at the Carefree Town Gardens Amphitheatre on Easy Street.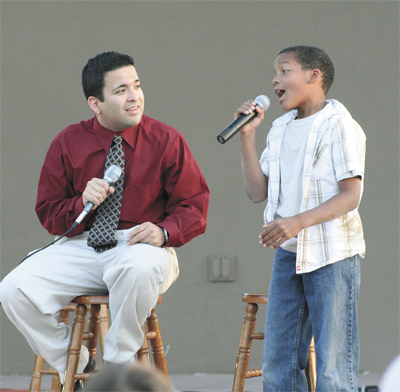 The fun-filled variety show is directed by long-time DFT supporter and co-owner of Darknight Productions, Diedre Kaye. Her partner, Alexx Stuart will emcee the event.

"Those who attended last year's show may remember Scott MacIntyre, who went on to become one of the top eight American Idol contestants this season," Kaye said. "This year's show features more great talent, including some past DFT artists and new performers as well."

Performers range in age from 5 to 75 and come from all corners of the Valley. Artists selling their CDs at the event will donate $5 of each sale to DFT. Highlights of the 20 acts include:
Jacob Spinney, a mental illusionist from Phoenix who can read audience members' thoughts, influence the way they think, and even erase their memories causing them to remember events that never happened.

Kevin Glenn, of Carefree, is a talented singer, composer, teacher and music director.
The Desert Cactus Kickers, also know as the Cave Creek Dancing Grannies. This tap dance group is comprised of 10 ladies who are either Grannies or 50+ years old.

Alaina Crabtree, a talented 16-year-old country singer from Phoenix who held the titles of Miss Arizona American Coed (preteen) and Miss Arizona Junior National Teenager. She looks forward to auditioning for American Idol.

Sonia Alejandra Rivera, 17, of Avondale, started singing at the age of seven, and it soon became her passion. She now writes songs and loves to sing in Spanish.

"This is a fun, family event that everyone will enjoy. The talent includes dancing, singing and mental magic! Bring your picnic dinner or purchase something from any of the nearby restaurants. Chairs will be set up, but you can bring a blanket for the kids to sit on up front and just plan on enjoying local talent that will make you smile," Kaye said.

Tickets cost $10 per adult and $5 per child. To order tickets for the April 18 "Foothills Follies" fund-raising event, visit www.desertfoothillstheater.com or call 480-488-1981.

Courtesy Photo/MERIBETH REEVES
(l-r) Ben Medina and Mason Reeves perform together in the 2008 Foothills Follies. Mason will be returning to perform in this year's Desert Foothills Theater Foothills Follies on Saturday, April 18, 5 p.m. at the Carefree Garden Amphitheater in downtown Carefree.