Allred family donates $10,000 toward open space

By Linda Bentley | April 8, 2009
CAVE CREEK – Monday night's council meeting, during which council approved every agenda item, although not necessarily unanimously, lasted precisely one hour.

Mayor Vincent Francia announced the Allred family had donated $10,000 toward the purchase of open space acreage.

MORE ...
Francom outlines need for smaller, more frequent water rate increases

By Curtis Riggs | April 8, 2009
CAREFREE – Carefree Water Company General Manager Stan Francom told the Carefree Town Council about the need for smaller, more frequent water rate increases at Tuesday's Water Company Board of Directors meeting.

"During past budget consideration meetings our stated goals were to not go long periods between rate increases so rate increases would not be so large," Francom told the board.

MORE ...

Fourth grader scores big win in young composers competition

By Linda Bentley | April 8, 2009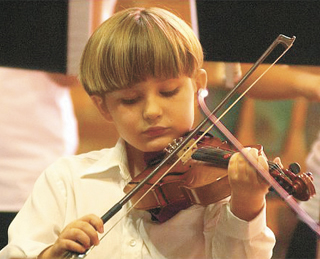 Sometimes daydreaming really does pay off
CAVE CREEK – Graham Cohen, a fourth grade student in Terry Doub's class at Lone Mountain Elementary School, recently learned he had won a Morton Gould Young Composer Award from the American Society of Composers, Authors and Publishers (ASCAP) for his composition "Infernal Fantasy," which he says was inspired by daydreaming.

MORE ...
Spring in the
desert is in
full bloom

Photo by Linda Covey

"Desert color is popping up all around us with the fabulous warm weather. These cactus flowers reside at the Boulder's Resort in Carefree.
They are so
perfectly refined by mother nature."



Peirce files as write-in candidate

By Curtis Riggs | April 8, 2009
Gardner remarks spur candidacy
CAREFREE – The withdrawal of three council incumbents and the remarks by one of them about still having control of the council caused write-in candidate Jim Peirce to seek one of the four open council seats.

"I am particularly concerned that a present councilman (Greg Gardner) who withdrew from the general election allegedly wrote that the new mayor would be chosen from among three of the group of four slated to be elected without opposition ..."

MORE ...
Red, White & Blue Fiesta Days
Photo by Curtis Riggs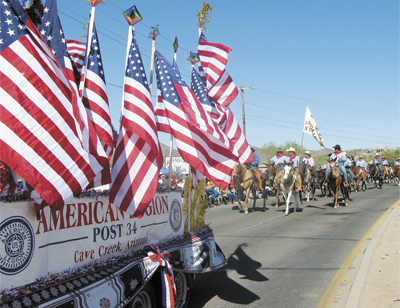 Old Glory colors were the colors of the day, as proudly flown on the Cave Creek American Legion Post 34 float last Saturday morning for the annual Fiesta Days Parade.







Obituary