Desert Foothills Library donors honored
April 1, 2009
Appreciation Reception held March 24

CAVE CREEK – Desert Foothills Library held its Annual Appreciation Reception last Tuesday evening. The invitation only event, attended by over 240 guests, serves as an opportunity to thank Friends of the Library who contribute $150 or more for their financial support. This is the first reception held in the library since the expansion project was completed.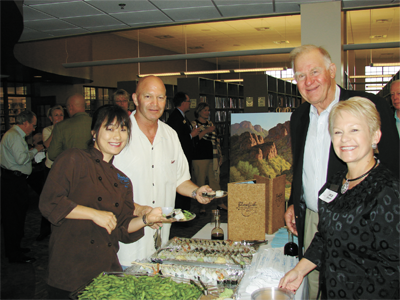 Foothills Caring Corps provided a van to transport guests parked off site to the library.
Thanks and gratitude are extended to everyone involved in making the event such an enjoyable evening.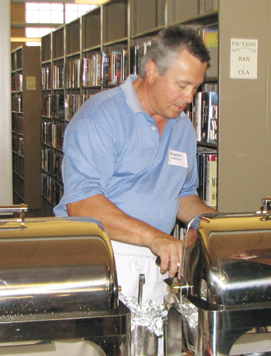 Our community is encouraged to thank and support these local businesses for generously donating food and beverages: Blowfish, Carefree Station, El Encanto, Big Buns, Café Bink, Harold's, English Tea Room, Cartwright's, Tonto Bar and Grill, and AZ Wine.

Photos: Blowfish owner, Kyongmi Ahn and partner, Barry Kirshner serving DFL President Jon Coates and Kris Prokus, Library Director.

Robert Garick of Carefree Station.

Team in Training Fundraiser at The Buffalo Chip April 4
April 1, 2009

CAVE CREEK – Team in Training's Grand Canyon Hike Team will be holding a fundraiser at the Buffalo Chip Saloon & Steakhouse in Cave Creek from 5 – 8:30 p.m. Saturday, April 4 and invites you to join them. There will be a silent auction and 50/50 raffle to benefit the Leukemia & Lymphoma Society, a non-profit health organization dedicated entirely to finding a cure for leukemia, lymphoma, Hodgkin's disease and myeloma. There are 57 chapters of the Leukemia & Lymphoma Society that support research, patient financial aid, education and community services and the Desert Mountain Chapter is here in Phoenix.
There will be food served all day and dancing begins at 9 p.m. TNT is expecting a great turnout as it is also Fiesta Days in Cave Creek. There are also a lot of art festivals in the area that weekend and Arizona Bike Week so they are hoping you will come to Cave Creek for the day and then join them for the fun.

Sheila Sievert, President of Megahertz Computer Solutions LLC, a local computer company serving the Desert Foothills area for over 11 years, is a member of the TNT team and contacted her long time friend Larry Wendt, owner of the Buffalo Chip Saloon & Steakhouse about hosting an event for Team in Training.

"Larry was very happy to help us and we appreciate his generosity very much," said Ms. Sievert. "We are hiking the first weekend of May and have been training and fundraising since February. Each member is asked to raise a minimum of $2,900 for the organization."

If you are unable to attend and would like to make a donation please mail a check made out to the Leukemia & Lymphoma Society to Sheila Sievert, P.O. Box 55, Cave Creek, AZ 85327 or donate online at http://pages.teamintraining.org/dm/CanyonS109/ssievert.