Pressure off candidates after 3 withdraw from May election

By Curtis Riggs | March 25, 2009
Koteas, Vanik, Gemmill, Schwan still in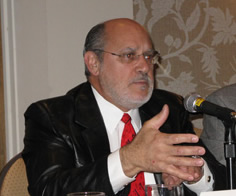 CAREFREE – Things changed drastically for first-time town council candidates Peter Koteas (photo, left), Susan Vanik and incumbents Bob Gemmill and David Schwan last week with the withdrawal of three key incumbents from the May 19 general election.

Last week, citing their poor showings in the March 10 primary, Mayor Wayne Fulcher, Vice Mayor Lloyd Meyer and Councilman Greg Gardner said they would not be vying for the four open council seats.

Before the withdrawals were announced, Koteas, a business consultant who has lived in Carefree 14 years, was wondering why he could not have picked eight extra votes from longtime Councilman Bob Coady on March 10 because Coady had many votes to spare among the 800 he collected.

Eight more votes would have put Koteas at the 623 he needed to win election on March 10. Gardner trailed Koteas by only two votes.

"With eight more votes I would be a lot better," Koteas said when pondering his political future before the three withdrawals were announced.

Vanik is 25 votes back, with Fulcher and Meyer finishing just below her.

Incumbent Gemmill finished five votes below Fulcher and Schwan trailed Gemmill by 12 votes in the March 10 official results.

Barring a successful write-in campaign for the May 19 election it would appear the four candidates still in the race will be elected.

Koteas wants improved communication between town official and citizens and fewer decisions being made behind closed doors by the Carefree Town Council.

He said the March 10 results showed a "lack of confidence" in council incumbents.

"It showed their inability to gather votes beyond their core groups," he said.