My View
By Don Sorchych | March 25, 2009
Experiences with Wilbur

The obituary for Wilbur Stites brings a flood of memories. Wilbur, commonly called Bill, was my oldest sister's husband. Jeane and Bill met when Bill was headed for a rehab camp after bailing out of a B-24 bomber in Europe.

Although years sometimes separated visits we had a common bond with the outdoors. After receiving his Master's Degree in Journalism he joined the Illinois Game and Fish Department and wrote about and filmed the game and fish issues of Illinois.

While he was still at the University of Illinois in Champaign/Urbana, I drove down for a day of rabbit hunting from northern Illinois.

We discovered a grassy field of about an acre between planted fields. With each pass through the field rabbits would scoot out of their burrows in the grass and we would shoot them.

I was using a Model 12 Winchester 12 gauge shotgun and he was using a semi-automatic .22 rifle. He could kill running rabbits as well as I could with my shotgun.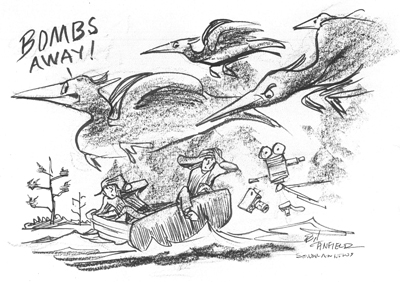 We killed about 15 rabbits, cleaned and gutted them and took them to Jeane and Bill's apartment. Not finding containers big enough to wash the rabbits, we put them in their bathtub.

Jeane still doesn't find that convenient use of her bathtub funny.

We used to go to the town dump at Depue, Illinois and shoot rats. When shooting slowed, I would toss tiny perfume bottles in the air and Bill would bust them with his .22, seldom missing.

While at U of I, Bill authored a thesis about catching smallmouth bass in small streams, once catching a five-pound smallmouth under a bridge south of Champaign. That is a sizable fish of that species since the world's record is a controversial 11lb. 15oz.

Bill's friendship with employees in the field of game and fish gave them an idea. They damned the stream he fished, tagged smallmouth bass and proved the bass have a homing instinct. A long report was published on their findings.

Later Bill led the way to explore Brush Creek and Coal Hollow Creek in north central Illinois where I lived. He was an expert fly fisherman and enjoyed early morning fishing and eating fresh-caught smallmouth for breakfast.

After his tutoring I spent many days in those streams catching smallmouth and an occasional channel catfish while fly fishing or spin casting.

While still in high school I guided members of the Depue Rod and Gun Club on duck and goose hunting forays. The caretaker was a gentleman named Joe Peterson and my employment there gave me access to their equipment.

Lake Depue, most of which was owned by the gun club, was an Illinois River backwater and the inlet between the two bodies was near a rare Heron Roost, one of the few in the state.
Bill found out about it and asked if I could get him there since he wanted to film the birds in their nesting habitat. I borrowed a seine boat with an outboard engine from Peterson and we embarked in late winter.

It was cold and ice was still floating in the murky water. As we got to the rookery we could see the huge nests atop tall willow trees, dozens of them. Most nests had a bird in it and some sat on branches.

The water became shallower and perhaps three feet of water was under the nesting trees. I killed the engine and poled the boat under the trees while Bill filmed the event. We, as quietly as possible, slowly moved near the center of the roosting area.

Suddenly alarms sounded from the birds, they all leaped, flew and simultaneously defecated. It rained down on us and the stench was abominable! Herons, after all, have a full time diet of fish and the smell is worse after digestion.

We retched while I poled madly to open water where we jumped into about five feet of water and floating ice. We scraped off what we could, climbed in the boat and raced for the gun club's dock. Shivering and still retching we hurried to my house in Bill's state car to shower, get warm and change clothes.

Peterson called me later to ask what the hell was in the boat and asked that I clean it. The smell had not abated the next day.

We hunted whatever there was to hunt before Bill migrated to the Wisconsin Conservation Department. That meant waterfowl, pheasants, quail, squirrels, rabbits – and mushrooms, especially morels in the spring time.

Once while hunting mourning doves Bill and Don Quinn (diseased husband of my middle sister Betty, also diseased) saw a duck drop, shot by a group at the other side of the field. Bill said as an official of Illinois Game and Fish he would have to arrest the group if they picked up the dead hen mallard. It was, of course, out of season for ducks.

Soon, a group drove near them in a Cadillac, stopped, and one jumped out and retrieved the hen. Bill identified himself and said they were under arrest unless they identified who shot the duck so he could arrest him.

Silence.

One hunter noticed Bill's Mason ring, called him to the side, and flashed his Mason ring saying, "As fellow a Mason how about letting me pay a fine and leave?" Bill asked if he was attempting a bribe, and he said of course not. Bill took their expensive shotguns, cited each hunter and locked their shotguns in the Depue bank overnight.

A judge found the group guilty and fined them since no one admitted to out-of-season hunting.

After Bill and Jeane moved to Wisconsin I was in Florida or here and I seldom saw them. Their daughter Linda and I hunted Elk together in Colorado in the nineties. Their son Wilbur Jr. earned his Ph.D in Steven's Point, WI.

During his early years, Bill was offered ground floor deals with emerging television companies but stayed with the outdoors. He once said, "Can you imagine being paid for what you love to do?"

But most of all Bill had the good fortune to marry Jeane who is much like my mother's mother, Grandma Minnie – an angel on earth. Jeane and I have had a wonderful relationship with not one unkind word in our lives. I adore her as does my wife Shari Jo.