April 18 marks open space acquisition kick-off event

By Linda Bentley | March 25, 2009
Shovel-ready arsenic remediation project gets in line for stimulus funds




CAVE CREEK – During Tuesday's Call to the Public, Korina Riggin jokingly said the mayor had volunteered her services while announcing the town's website (www.CaveCreek.org) now has a section for art galleries, outdoor recreation, history and more under the "Visitors" tab.
MORE ...
Tatum Ranch man charged with felony assault

By Linda Bentley | March 18, 2009
PHOENIX – Tatum Ranch resident Joshua Brett Parsons, 28, was taken into custody at 6:30 p.m. on Saturday by Phoenix police and charged with two felony counts of aggravated assault with a deadly weapon in violation of an order of protection.

MORE ...

Sunday shooting at the Knolls leaves one serious, one stable

By Linda Bentley | March 25, 2009

CAVE CREEK – A Saturday night confrontation led to the 5:40 a.m. Sunday shooting of two men in their 20s residing at 6057 E. Knolls Way S. by a suspect reported to be a 43-year-old Desert Storm veteran, who Maricopa County Sheriff's deputies have taken into custody.
MORE ...
Spring color brings more entries for BMC photo contest

By Curtis Riggs | March 25, 2009
Time to choose People's Choice winner
DESERT FOOTHILLS – Spring wildflowers and the greenery, which comes with significant winter rains, caused many more people to enter the Black Mountain Photo Contest this year.

MORE ...

Lawsuits de Fressadi

By Linda Bentley | March 25, 2009
Town sued for allowing adjacent property owners sewer hook-ups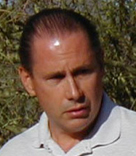 CAVE CREEK – Several years ago, Arek Fressadi was attempting to create a subdivision, which he initially advertised as "Casas de Fressadi," in the vicinity of School House and Military roads. Without going through the proper procedures, he installed approximately 1,000 feet of eight-inch sewer line "in hard dig conditions, encased in concrete to prevent scouring through washes pursuant to Cave Creek Permit Numbers 02-256, 02-260, 02-263 and 02-031 …"

MORE ...

Three incumbents withdraw from May election after poor showing
By Curtis Riggs | March 25, 2009
CAREFREE – The new Carefree Town Council will look much different when it is seated in June after the withdrawal of Mayor Wayne Fulcher, Vice Mayor Lloyd Meyer and longtime Councilman Greg Gardner from the May 19 general election after they failed to be elected in the March 10 primary.

MORE ...
Obituary
Wilbur D. Stites