"Frozen Falcons" in 7-2 State Championship win
By Pete Mohr | March 25, 2009
JOBING.COM ARENA – March 22. Not three minutes into the 3rd period came the voice of the impartial Public Address announcer: "Cactus Shadows goal scored by No. 18, Ryan Francis, his third of the game! A 'hat trick'! Assisted by No. 17, Shawn Hunter. Time of the goal: two minutes, thirty-eight seconds of the period. Francis … from Hunter."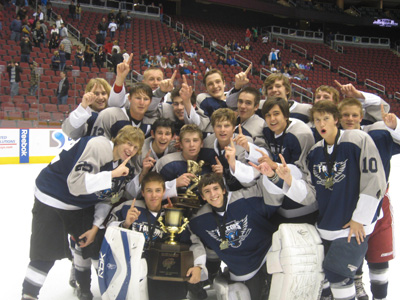 Francis's tally, following Nick Spinasanta's go-ahead backhander only 20 seconds earlier, put the Frozens up, 4-2, essentially treeing the Mesquite Wildcats for good. The last three of the 3rd period's five get-the-message goals followed: Alternate Captain Ryan Mohr's unassisted rush at 9:12; senior Jake Theusch's "twine whine" at 11:39 (assisted by juniors Nathan Chetrit and Jesse Walz); and senior Anthony Green's grand finale at 12:58 (assisted by Francis and Spinasanta). Count down the last ten seconds…then gloves and sticks into the air! The Frozens rushed onto the ice to begin celebrating their first State Championship!

Coach Shawn O'Mara: "Even though we were down 0-1 at the end of the 1st period, we came out confident that we were going to win the game – once the chippy ice had been resurfaced! Then we cranked it up; and our speed just wore 'em down. From the 1st period, we could see that their big defensemen were slow, and we took advantage of that. After disappointments in the last two championship games (2007, 6-7, to Cactus), (2008, 4-6, to Mesquite), our guys were determined to win this one -- and they did! My coaches and I couldn't be happier for them -- and prouder of their hard work that made it happen."

The Frozens first line (strength-and-speed Mohr, centering for Spinasanta and Francis) dominated all the Playoffs, scoring 14 total goals in three games! Alternate Captain Hunter led a backline (Trevor Smith, Jesse Walz, Trevor Douglass, Nathan Chetrit, Steven Nystrom) that played with toughness and consistently disciplined positioning.

And in goal? "Phenomenal!" was how Acting Head Coach Joel Van Conant described Scott Moggel's performance against SDO; and the acrobatic freshman topped himself with 31 and 34 saves in the Semis and Finals, respectively.
Congratulations to the hard-skating "Champs," their coaches, and last – but certainly not least – Team Manager Diane Kohl!

Photo: Pete Mohr. 2008-2009 Varsity "B" Division State Champions!

Varsity Hockey Roster
Nicholas Beresford SR
Nathan Chetrit JR
Trevor Douglass SO
Ryan Francis SO
Anthony Green SR
* Shawn Hunter JR
Mitchell Lyons SO
Scott Moggel (G) FR
* Ryan Mohr SR
Steven Nystrom SR
Randy Penka-Shack (G) SO
Trevor Smith SO
Brian Speed SR
Nicolas Spinsanta SR
?Zach Staudenmaier SO
Jake Theusch SR
Devin Van Conant SO
Jesse Walz JR

(G) Goaltenders
* Alternate Captains
"Okies" rally over Falcs, 8-7; 'Birds edge Mingus, 6-4
By Pete Mohr | March 25, 2009

FALCON FIELD – Here came "The Big Dogs!" That is, the Chaparral Firebirds, 4A-Division I defending champs, Tuesday, March 24. Last time they came up the hill (in March 2008), the Baseball Falcons perhaps should've "stayed on the porch": Chappies, 20 -'Birds, 1. Nah, they would never "hide" to that extent! I long ago gave highest marks to Head Coach Tom Scala and his squad for their resiliency in recovering from that Saturday morning disaster and going on to a 20-10 season that included the Quarterfinals (a hard-fought loss at [Tucson] Canyon del Oro) in the State Playoffs.

"Will the Falcons be out for revenge?" I asked Coach Scala after practice, Monday, March 23. "No," was his quick response. "This is a new year. We're 9-3. Both our pitching and defense are stronger. We're hitting for average – not power. Overall, at this stage of the season -- still early – I think we're a better team. We're just going to go out there against Chaparral and play our best to get the job done." Is Coach Scala singing in the proverbial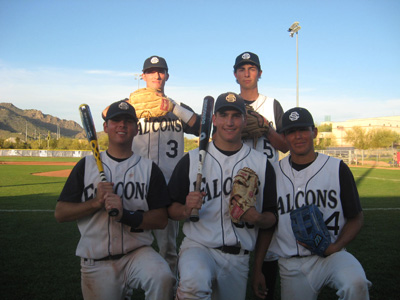 shower? Having seen the Falcs in action five times (including three "mercy" wins), I agree with his assessment.

The 'Birds should be 10-2; but playing at Thunderbird, Tuesday night, March 16, questionable strategy let the Sand Springs, Oklahoma Charles S. Hamilton High School "Sandites" rally for three runs in the bottom of the 7th to win the nail-biter, thereby ending the Falcons' five-game winning streak and sending them back to their 60th Street roost from the Semifinals of the "Spring Classic" in which the 'Birds were looking like a "lock" to repeat as Champions.

The Falcons shook it off in fine style. Sparked by first baseman Chris Sabanosh's opposite field HR in the bottom of the 1st and second baseman Austin ("Ozzie") Edswards' outstanding defensive play, the Falcs rebounded at home, March 18, to edge Mingus, 6-4. The Marauders are 4A-II defending champs.

Photo: Pete Mohr. READY FOR THE CHAPPIES! (front, l-r) 1st baseman Chris Sabanosh (two hits vs. Sand Springs; three-run HR vs. Mingus), pitcher-outfielder Jackson Goulder (three hits vs. Sand Springs; starter & winner vs. Mingus; starting pitcher at Chaparral, March 26), Ismael Castro ("save" vs. Mingus; starting pitcher (H) vs. Chaparral, March 24); (rear, l & r) outfielder Jay Burke (three critical defensive plays vs. Sand Springs), 2nd baseman Austin Edwards (strong defensive play vs. Sand Springs and Mingus).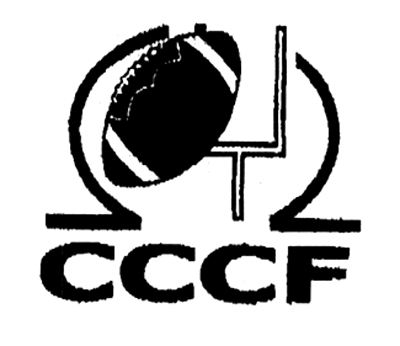 Youth Football Registration
First Registration!
When: Saturday, April 4, 9 a.m. to Noon
Where: Black Mountain Elementary cafeteria
Flag Football: Ages 6-8 (no weight restrictions) Fee $125
Tackler Football: Ages 7-14 (weights 45 lbs. min.;
169 lbs. max.) Fee: $135 (if paid April 4)
Association Fees (by beginning of season:
Flag, $85; Tackle, $175)
–Registrant and a legal guardian must be present
–Proof of residency (original plus one copy)
–Birth certificate (original plus two copies)
CCCYF website: www.cavecreekfootball.com